Pete Carroll Just Made The Biggest Screw-Up in Super Bowl History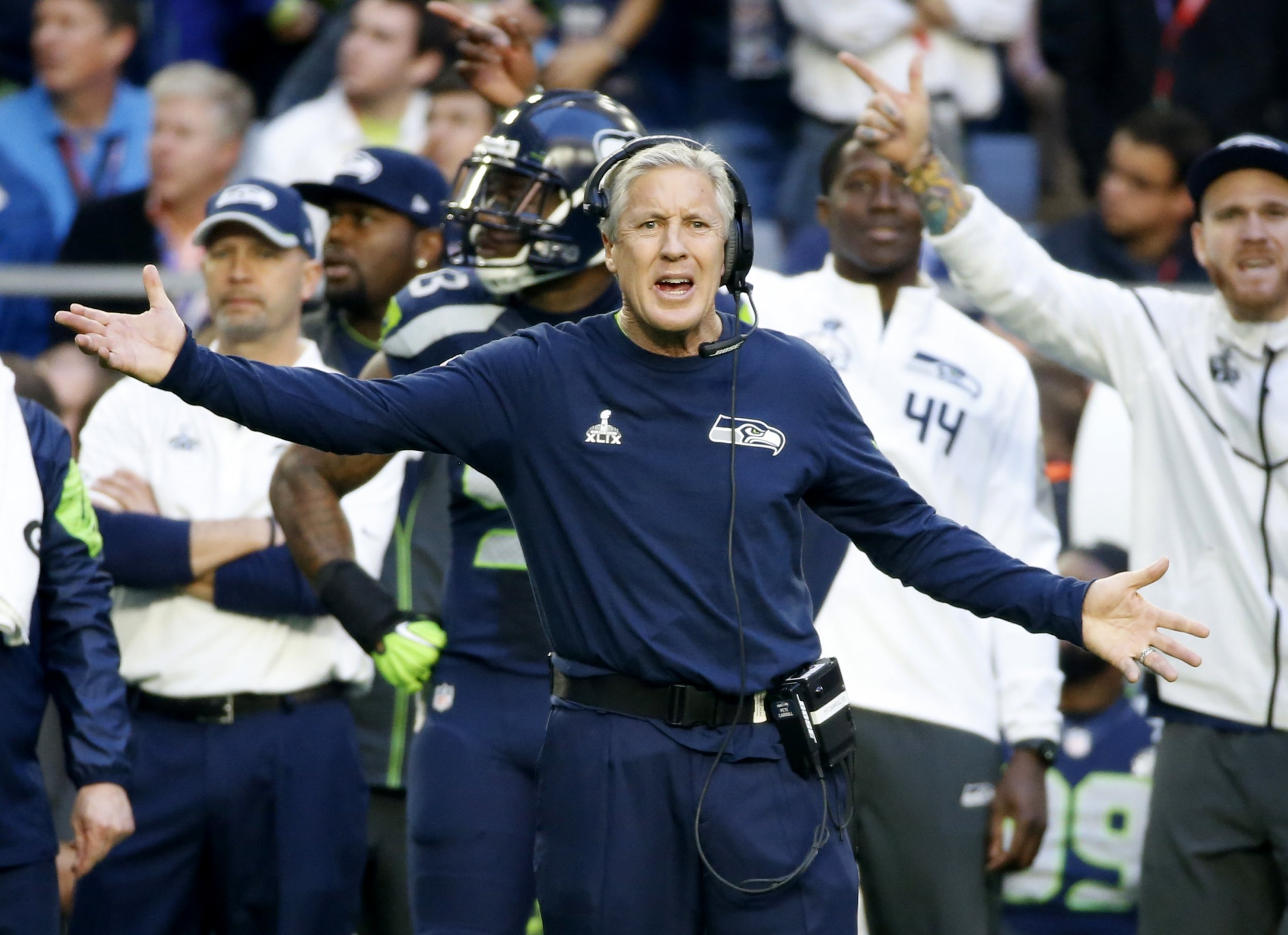 Whether anyone from the New England Patriots deflated 11 footballs a fortnight ago remains under investigation. But the whole world knows Pete Carroll committed a much bigger crime: He let the air out of an entire city.
One yard. That's all the Seattle Seahawks needed to win Super Bowl XLIX against the Patriots. Three feet. The Seahawks had three downs and the most punishing running back, Marshawn Lynch, a.k.a. "Beast Mode," to pick that up. And Carroll, the Seahawk coach, opted to throw the football. Seattle passed the ball, and in so doing passed on an opportunity to become the first repeat Super Bowl champion in a decade.
Seahawk quarterback Russell Wilson took the snap, dropped one step, and fired a dart to receiver Ricardo Lockette, who was running a slant route off a pick. As Lockette made his cut, New England defensive back Malcolm Butler, an undrafted free agent rookie out of a school most fans do not even know exists (West Alabama), sprang forward and intercepted the pass. Butler made an incredible play; but why did he even have that opportunity?
"That's my fault, totally," Carroll told NBC's post-game show moments after the most inscrutable coaching decision in Super Bowl history. And while Carroll admirably accepted the blame, and while he may have taken the bullet for offensive coordinator Darrell Bevell ("There's really nobody to blame but me," Carroll said in the press conference afterward, "and I don't want [my players] to think anything other than that"), this question remains: Why?
For 59 minutes, Super Bowl XLIX had been a heavyweight bout. The Patriots led by a touchdown twice. Then Seattle scored 17 consecutive points to take a 24-14 lead into the fourth quarter. Then New England quarterback Tom Brady led the Patriots on a pair of vintage drives, both ending in touchdown receptions by a possibly concussed Julian Edelman.
The score was 28-24, Pats, with less than two minutes to play. Brady and New England coach Bill Belichick stood at the threshold of a fourth Super Bowl conquest, which would tie a record for quarterbacks and coaches, respectively. Seattle, given one final opportunity, could become the first team since the 2004 and 2005 Patriots to win back-to-back Vince Lombardi trophies.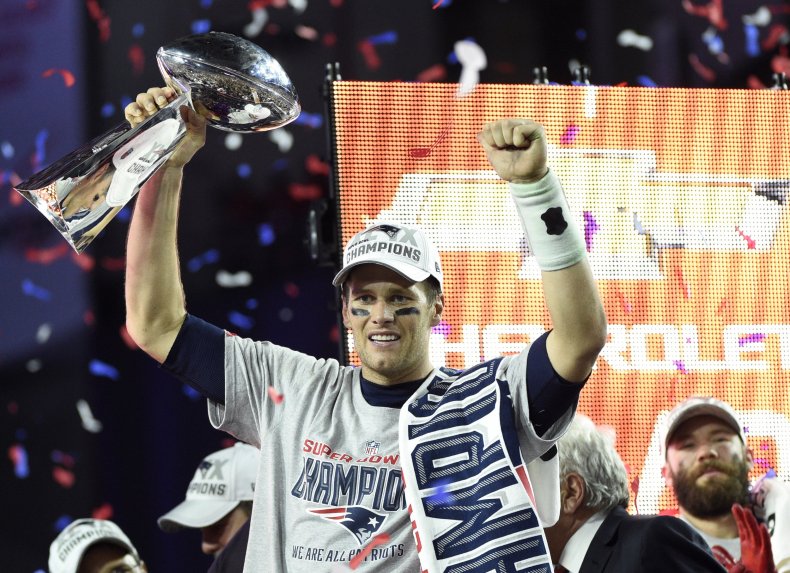 With 1:14 remaining and the football on the New England 38, Wilson lofted a pass down the right sideline to Jermaine Kearse that he and Butler treated as a jump ball. The ball ricocheted from Kearse's left hand to his right and then he fell onto his back.
"And it's broken up again," said NBC play-by-play man Al Michaels.
Not quite. As Kearse lay on his back, the pigskin pinballed from his left thigh to his right thigh and finally into his two oversize paws. This in the same stadium where David Tyree of the New York Giants had made a catch off his helmet in a Super Bowl against the Patriots seven years ago that still haunts every Pats fan from Foxboro to Phoenix. When Kearse made that ridiculous catch, NBC's cameras cut to a sideline shot of Brady, who shook his head once as if he was thinking, "Not again!"
To that moment Brady had completed 37 passes, a Super Bowl record, and thrown four touchdowns. This was assuredly a legacy moment for the 15-year veteran. Yes, he was vying for a fourth Super Bowl victory, but it had been 10 years since the third. The Patriots had been to a pair of Super Bowls since defeating the Philadelphia Eagles in Jacksonville in 2005, but had lost both to 1) the New York Giants on 2) game-winning drives set up by circus catches (Tyree's in 2008 and Mario Manningham's in 2012). Now this?
On first-and-goal from the five, Marshawn Lynch gained four yards off-tackle left. No one in the NFL runs angrier than Beast Mode, who carries the football as if he wants to accumulate casualties, not just yardage. Second down and goal from the one-yard line now, the clock ticking. Under 50 seconds...under 40...and you had to begin to wonder, if Bill Belichick really is the greatest football coach of this millennium, as many purport him to be, why had he not used one of New England's two remaining timeouts? Certainly Seattle was about to score and what good would either timeout be if there were only scant seconds left in which to use them.
Second down. The Patriots were reeling: First, Kearse's catch sent down by the Fates, and that followed immediately by Lynch's run. Another handoff to Lynch as the clock crossed the :30 mark was surely a fait accompli.
Instead, there came Wilson's throw.
"We're going to leave them no time and we had our plays to do it," Carroll explained afterward. "We sent in our personnel, they sent in [their] goal-line [package]. It's not the right matchup for us to run the football, so on second down we throw the ball really to kind of waste a play."
Waste a play?!? The cart belongs behind the horse, Pete.
Only two weeks ago, in the NFC Championship, Seattle won because Carroll took bold risks while his Green Bay Packer counterpart, Mike McCarthy, was almost criminally circumspect. Twice the Packers faced fourth-and-goal from the Seattle one-yard-line and, granted, it was the first quarter, but both times McCarthy settled for field goals. Who knew then that McCarthy would not be the most criticized coach of this NFL postseason for a decision he made one yard from paydirt?
As charismatic and successful as Carroll has been in the past decade, he has a penchant for self-immolation in climactic moments. As the coach at Southern California, he faced a game-clinching fourth-and-two in the 2006 BCS national championship game versus Texas. The team had the best player in football that year, and in many a year--tailback Reggie Bush--on its roster, and yet Carroll had him on the sideline for that pivotal play.
USC failed on fourth down and the Longhorns rallied to win. At the time, Carroll also cited the personnel package he faced. Head coaches who win multiple championships at the college or pro level, men such as Belichick and Carroll, are highly intelligent people. Sometimes, alas, you can be too smart for your own good.
There are few bigger moments in sport than the final seconds of a Super Bowl with the outcome in doubt and the ball just a yard from paydirt. No doubt, Butler, the Patriots rookie, made quite the unlikely proactive play, given his inexperience and the magnitude of the moment. But he should have never been given the chance.
In the biggest contest in American sport, no dumber call stands out in memory. The Seahawks will insist that this one play will not define them, but it will forever be a part of their lore. Seattle had a second Super Bowl ring in their hands and the most punishing runner on God's green earth in their backfield. And they threw it away.