Pete Davidson Can't Stop Gushing Over Girlfriend Ariana Grande on Social Media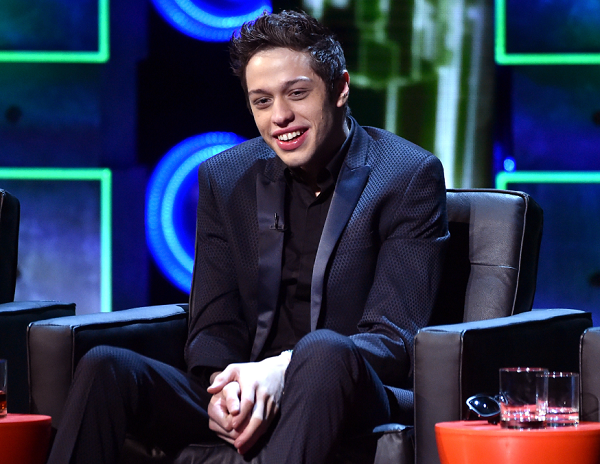 If anyone is happy about Ariana Grande's blossoming romance with Pete Davidson, it's Pete Davidson.
Since news first broke in May that Grande was dating the Saturday Night Live star, Davidson has been relentlessly gushing over his new girlfriend on social media. He shared Instagram photos of the two in their best Hogwarts couture, glimpses of her sock-covered feet in videos and messages about how "f**king lit" she is in Instagram Stories of her performances.
Perhaps the most telling sign of how excited Davidson is over his new relationship is the two tattoos he recently got dedicated to the Dangerous Woman singer.
Davidson's go-to tattoo artist London Reece shared images of the comedian's latest ink honoring Grande on Sunday, which featured a black bunny mask tattooed on Davidson's neck and Grande's initials on his thumb. "We had a good night," Reese captioned the black-and-white photo.
While some people on social media have accused Davidson of going overboard with the public displays of affection, 24-year-old Grande appears to be a big fan of her boyfriend's adoration. After catching wind of Davidson's Instagram coverage of her performance in Los Angeles over the weekend, Grande did a little social media gushing of her own, writing on Instagram Stories that Davidson is "the best person on earth" and she was "so lucky and happy and grateful."
When rumors of the romance first surfaced, some fans commented on Davidson's battle with mental illness and suggested he was not a good fit for Grande, who had broken up with her former boyfriend, rapper Mac Miller, barely two weeks before the public discovered she was dating Davidson.
In a response on Instagram Stories on May 25, Davidson, who was diagnosed with borderline personality disorder in December 2016, criticized fans for not thinking he was capable of being in a happy and healthy relationship despite his illness. "Normally I wouldn't comment on something like this cause f**k you. But I been hearing a lot of 'people with BPD can't be in relationships' talk. I just wanna let you know that's not true," he wrote.
"Just because someone has a mental illness does not mean they can't be happy and in a relationship. It also doesn't mean that person makes the relationship toxic. Everybody is different and there are a lot of treatments for mental illnesses and I have done/am doing all of them," he continued.
Meanwhile, Davidson's ex, Cazzie David, whom he also broke up with shortly before hooking up with Grande, has been steering clear of all her ex's social media loving. In her first Instagram post since Grande and Davidson's relationship was revealed, David wrote: "Been in Africa, what'd I miss??"