Pete Davidson's Dan Crenshaw Apology Revisited After Tucker Carlson Mocking
Comedian Peter Davidson's apology to Representative Dan Crenshaw in 2018 has resurfaced recently online after Fox News host Tucker Carlson mocked the Texas congressman.
Carlson was discussing the $40 billion aid that the U.S. plans to send to Ukraine with former Hawaii congresswoman Tulsi Gabbard during his show Tucker Carlson Tonight on Monday when he referred to Crenshaw, a former Navy SEAL who lost an eye while fighting in Afghanistan, as "eyepatch McCain." This caused some Twitter users to cite an 2018 incident when Fox News got mad over a joke made by Saturday Night Live's Pete Davidson.
During this segment on his show, Carlson argued against that aid and noted that the baby formula shortage should be prioritized over helping Ukrainians fight Russia's invasion.
Carlson's remarks came after Crenshaw, who supports the U.S. aid package to Ukraine, said recently that: "It's not America first when you let Russia and China do whatever they want around the world and establish their version of the global order, that puts America last because we can't prosper in a global order led by Russia and China."
He also said during the TV appearance with Trey Gowdy that the baby formula shortage is not a "money issue" but it is more of a manufacturing problem.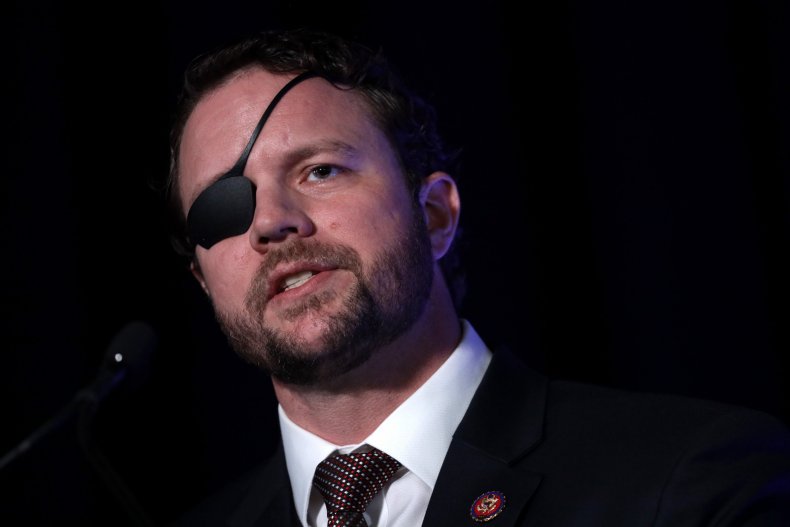 However, Carlson on Monday criticized Congress' current priorities as he took a shot at the Republican Texas Representative.
"Why is Congress so focused on Ukraine but you can't find baby formula, you can't even fill your truck because things in our economy are declining really rapidly," Carlson said. "Don't ask questions, according to Congressman Dan Crenshaw of Texas, asking questions like that, really any questions at all, thinking you're a citizen, makes you pro-Russia."
In response, a number of Twitter users have slammed Carlson for mocking Crenshaw and referenced a former instance when Davidson publicly made similar comments in November 2018 about the Republican congressman's war injury.
"When Pete Davidson, an SNL *comedian*, made a joke about Crenshaw's eyepatch, he had to go back on TV to apologize in person," said film critic Christopher Orr on Twitter. "But Tucker won't have to do anything. Because there is zero accountability for anyone in the GOP, as long as they're punching from the further right.
"I'm old enough to remember when Pete Davidson had to apologise to Crenshaw publicly on live TV for mocking his eyepatch," said another Twitter user on Monday.
In November 2018, Davidson said that Crenshaw's eyepatch makes him look like the "hitman in a porno movie."
"You may be surprised to hear he's a congressional candidate from Texas and not a hitman in a porno movie," Davidson said. "I'm sorry, I know he lost his eye in war, or whatever."
Crenshaw later expressed that he would like an apology from Davidson, but said he wasn't demanding one.
"I do not demand an apology. He probably should apologize, but I don't want some hollow apology. I think he has exposed himself for who he really is," Crenshaw said during an appearance on CNN's New Day at the time. "I wish him well."
Davidson ended up publicly apologizing to Crenshaw on the Saturday show, saying, "On behalf of the show and myself, I apologize. I mean this from the bottom of my heart. It was a poor choice of words. The man is a war hero, and he deserves all the respect in the world."
Update 5/17/22, 1:21 p.m. ET: This story has been updated to include Carlson's comment in his interview with Trey Gowdy.