'SNL' Star Pete Davidson and 'Girlfriend' Kate Beckinsale's 20-Year Age Difference 'Doesn't Really Bother' Them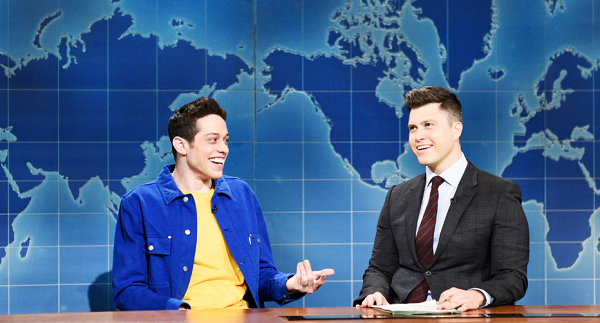 Pete Davidson and Kate Beckinsale's age difference really isn't that big of a deal to the couple. The 25-year-old comedian appeared on the latest segment of Saturday Night Live's "Weekend Update" and dished his thoughts about the 20-year age gap he shares with Beckinsale, who is 45.
While the pair have yet to officially confirm their relationship status, when "Weekend Update" host Colin Jost asked Davidson about his "new girlfriend situation" in reference to Beckinsale, Davidson addressed their age. "Apparently people have a crazy fascination with our age difference, but it doesn't really bother us," Davidson said on Saturday.
"But then again, I'm new to this," he continued. "So if you have questions about a relationship with a big age difference just ask Leonardo DiCaprio, Jason Statham, Michael Douglas, Richard Gere, Jeff Goldblum, Scott Disick, Dane Cook, Derrick Jeter, Bruce Willis, Harrison Ford, Tommie Lee, Alec Baldwin, Sean Penn and whoever the president of France is, Mel Gibson, Billy Joel, Mick Jagger, Sylvester Stallone, Eddie Murphy, Kelsey Grammar, Larry King, Larry King, Larry King, Rod Stewart and Donald Trump."
Following his short-lived romance with Ariana Grande, whom he was engaged to in 2018, whispers of his relationship with Beckinsale began to swirl after the duo were spotted leaving a Golden Globes after party together in January.
Beckinsale was previously linked to comedian Matt Rife, who was 22 years younger than her during the time of their relationship. Rife recently told TMZ he was happy to hear his ex was moving on with her love life.
"We dated for a year and it was complicated, for use. A lot of ups and downs, but she's moved on and I'm happy. I'm hoping that they both found or are getting out of it whatever they want to get out of it," Rife said in early March.
As for his advice for Davidson, Rife teased: "Man to man? Run."
Jokes aside, the 23-year-old hoped the new couple enjoys their romantic bliss while they can. "I hope they're both happy. I hope that it can build to where it's an established relationship," he said. "I haven't spoken to her in a while. I haven't spoken to Pete in the same amount of time, if not longer. I wish them both the best. I hope they're happy. I don't have any solid advice, just be careful."