Pete Davidson's Facing a 'Weird Time,' Machine Gun Kelly Says Following 'SNL' Star's Cryptic Instagram Post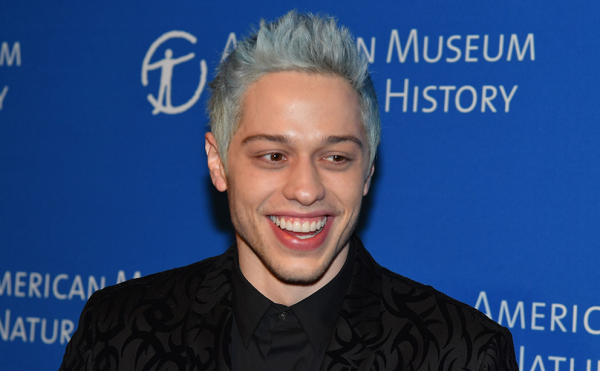 Machine Gun Kelly gave an update on Pete Davidson following the comedian's cryptic and alarming Instagram post over the weekend. Kelly, whose real name is Richard Colson Baker, didn't reveal too many details on Davidson's state, but told TMZ cameras, "It's just a weird time for us all right now."
Kelly traveled to New York to check on his friend after Davidson posted a message on Instagram detailing suicidal thoughts. "I really don't want to be on this earth anymore," he wrote on Saturday. "I'm doing my best to stay here for you but I actually don't know how much longer I can last. All I've ever tried to do was help people. Just remember I told you so."
Davidson deleted his social media account shortly after the post on Saturday.
The "Bad Things" rapper was quick to respond to Davidson's disturbing post and notified fans he was going to check on him immediately. "I'm in the plane now on the way to see Pete. Gonna make sure he's good, I promise. Can't have my boy in the darkness like that," Kelly tweeted.
Davidson did appear on Saturday Night Live during its usual timeslot on Saturday, albeit in a limited capacity. He embodied Remi Malek in a prerecorded segment on celebrities vying to host the 2019 Oscars. Davidson also introduced the night's performers, Miley Cyrus, Mark Ronson and Sean Ono Lennon.
Shortly after SNL aired, Davidson was spotted out with Kelly in New York City.
Davidson's ex-fiancée Ariana Grande reportedly popped up at SNL studios on Saturday with hopes of checking on the actor. However, he reportedly refused to see her. TMZ confirmed Grande arrived at the 30 Rock building in New York, where SNL is filmed, requesting to see Davidson.
The singer, who was in a brief relationship with Davidson earlier this year, tweeted Davidson following his cryptic Instagram message. "I'm downstairs and I'm not going anywhere if you need anyone or anything," she wrote. "I know you have everyone u need and that's not me, but I'm here too."
Grande has since deleted the tweet.