Pete Davidson Stars in Christmas-Themed Parody of Eminem's 'Stan' on SNL
Pete Davidson starred in Saturday Night Live's Christmas-themed parody of Eminem's "Stan"—with a surprise cameo from the rapper himself.
The spoof begins with elves reading out letters to Santa Claus until one of the elves is hesitant to read a "weird" one. That letter is from Stu, played by Davidson, an obsessed Santa fan who is desperate a PlayStation 5 for Christmas.
Echoing the original music video for "Stan", Davidson appears in a white tank top and has bleached blond hair in the skit. He is seen writing a rambling letter hunched over a desk in his basement, where the walls are adorned with pictures of Santa.
"Dear Santa, I can't believe the year is almost over. It's getting colder, I'm a year older but I'm still your soldier," Davidson raps while writing.
"You're my hero 'cause you always bring me the assist. So once again, we're back to zero, here we go, my Christmas list. I won't be greedy or needy or ask you for too much, I just want one thing, and hope you still got that magic touch, 'cause getting this present is the only thing keep me alive... dear Santa Claus, please bring me a PS5."
Davidson the lists the stores he tried to buy the sought-after games console, before realizing that Santa could make him one. "Don't forget, bring my gift, truly yours I believe in you," he signs off.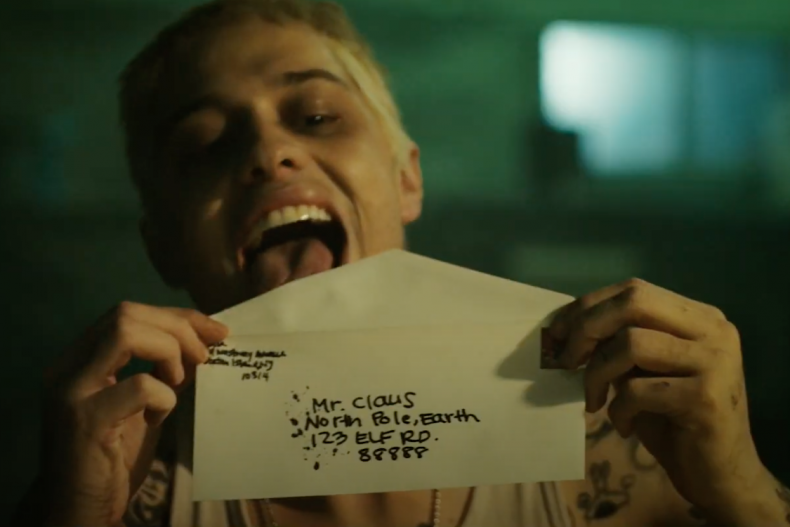 But as his letters to Kriss Kringle go unanswered, Davidson's messages get angrier. "If you can't help your biggest fan, then you should just retire or next time you slide down my chimney, I'll set your a** on fire," he raps.
Kate McKinnon then makes an appearance as Davidson's mother, mirroring the role originally played by British singer Dido.
Bowen Yang also makes an unexpected appearance in the parody video as Elton John, who memorably sang a duet of "Stan" with Eminem at the 2001 Grammy Awards.
Davidson's last appearance in the parody shows him driving in the rain, even angrier that Santa was unable to give him what he wanted.
Calling Santa "a two-faced son of a b*tch," Davidson raps: "I hope you crash your sleigh and end up face down in a ditch."
He adds: "I guess even the great Saint Nick can't track down a PS5, hey Santa, I drank a fifth of eggnog, dare me to drive?"
At the end of the video, Eminem is seen on the old television in Davidson's basement, wearing a Christmas sweater and opening a present addressed "To Shady, from Santa."
Inside, he finds the console that Davison had coveted. "That's crazy. A PS5? I didn't even ask for this! I guess Shady must have been a good boy this year," the rapper says. He adds: "Sorry, Stu. You f**ked up."