Pete Davidson Reveals He Received Death Threat Over Dating Ariana Grande
Ariana Grande's whirlwind engagement to Pete Davidson took the world by storm, and the Saturday Night Live star suggested some fans still aren't amused by it. Davidson said he's been subjected to death threats due to his involvement with the pop songstress.
Davidson appeared on SiriusXM's The Howard Stern Show on Monday, where he opened up about being on the receiving end of death threats.
"I got a death threat," Davidson told host Howard Stern. "Someone wanted to shoot me in the face because she's so hot. Do you know how insane that is? I was like, 'Am I that ugly that people want to shoot me in the face?' They're like, 'No, f*** this guy.' I'm like, 'What did I do?'"
Newsweek subscription offers >
Grande, 25, and Davidson, 24, began dating in May following the announcements of their respective breakups with Cazzie David and the late rapper Mac Miller. Three weeks after their relationship became public, the pair confirmed they were engaged.
Davidson and Grande have drawn intense scrutiny upon unveiling their relationship. When some fans alleged the Set It Up actor was unfit to date the "God Is a Woman" singer due to his borderline personality disorder diagnosis, Davidson challenged those claims on social media.
"Just because someone has a mental illness does not mean they can't be happy and in a relationship. It also doesn't mean that person makes the relationship toxic," he wrote in a since deleted Instagram Story post. "Everybody is different and there are a lot of treatments for mental illnesses and I have done/am doing all of them."
Grande also defended her fiancé after Barstool Sports said Davidson had "butthole eyes." The Nickelodeon alum, in turn, replied on Twitter by saying: "Y'all do kno this man has an auto immune disease…right?"
Newsweek subscription offers >
Despite the ongoing criticism, Davidson and Grande appear to be all-in with their relationship. In June, Davidson went on The Tonight Show and addressed the quick engagement. "I feel like I won a contest. So sick. It's f***ing lit, Jimmy," Davidson told host Jimmy Fallon. "It's so funny.... Some dude comes up to me, and he's like, 'Yo man, you like gave me hope.' I was like, 'I didn't know I was that ugly!' Jesus! I'm a lucky motherf***er."
Grande, equally, expressed her love for Davidson during an interview with Michael Strahan on Good Morning America in August. "It's just, like, a feeling," she explained at the time. "I know that's so cheesy, people are always like, 'When you know, you know,' and you're like, 'Oh yeah. Whatever. OK.' I mean, he ticks every box, and it gets better every day. And I'm very grateful."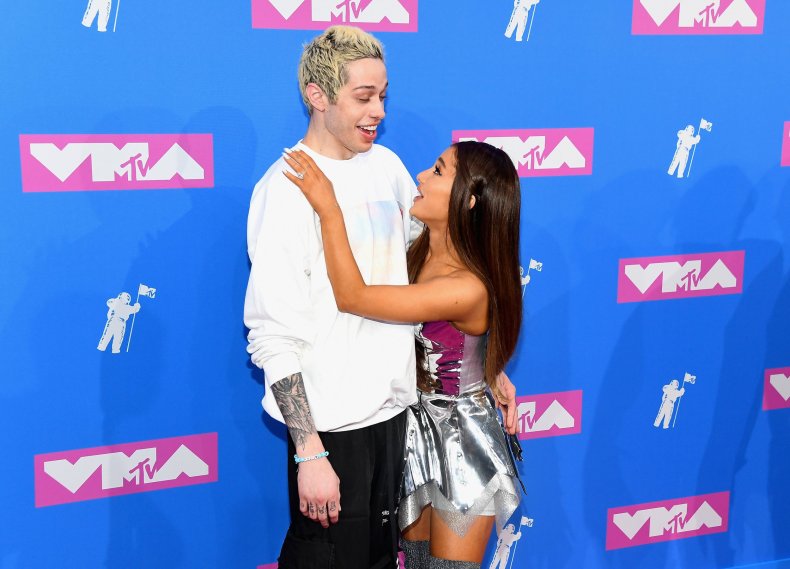 Pete Davidson Reveals He Received Death Threat Over Dating Ariana Grande | Culture