Comedian Pete Davidson didn't hold back when talking about his ex-fiancee Ariana Grande in a new interview. The Saturday Night Live star told Charlamagne Tha God it's "the worst" that people see him for his broken relationship instead of his professional achievements.
"It's the worst," Davidson responded to the question. "It hurts. It definitely hurts. Because, you know, I've been doing this for like 10 years. So it sucks for a six-month thing to just completely take over that."
Davidson and Grande began dating and were quickly engaged, in 2018. The couple broke up after Grande's ex-boyfriend Mac Miller died of an accidental overdose in September 2018. Davidson admitted he knew the relationship was over when Miller died.
"I pretty much knew it was around over after that," he said. "That was really horrible, and I can't imagine what that s*** is like. All I do know is that she really loved the s*** out of him, and she wasn't putting on a show or anything. That was f***** up. Prayers to his family and all of his friends."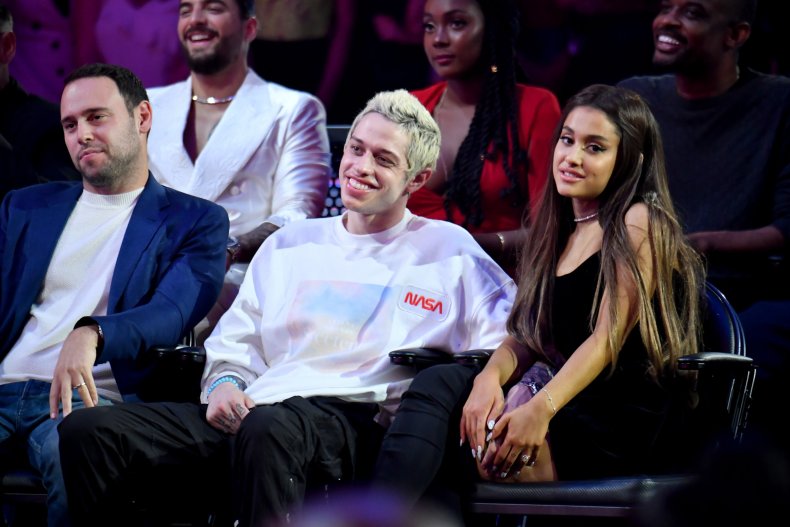 Davidson and Grande lived together in New York City after their engagement. They famously adopted a pet pig, Piggy Smallz, together, as well as got a list of matching tattoos. Grande released a love song titled Pete Davidson as a part of her Sweetener record in August 2018.
To many, Grande's high-level of fame introduced Davidson to the world. He previously dated actor Cazzie David and comedian Carly Aquilino. Much of the pop world didn't know Davidson's work, so his identity quickly became tied to Grande's persona and the comments she made about him.
Grande often made comments that Davidson was well endowed. Even in her "Thank U, Next" video, which aired after the couple broke up, Grande is seen writing the word "HUUUUUGE" under a photo of Davidson. He admitted the constant references to his "Big D*** Energy" have taken a toll on him.
"It's definitely a bit of a punch in the gut," he explained. "You definitely want someone to be like, 'Hey man, good work.' Not like, 'Hey, nice d***.'"
Davidson released his first Netflix comedy special on the streaming platform Tuesday. Alive From New York was released after a trailer that some found offensive to the LGBTQ+ community. In the preview, Davidson is seen joking about having a gay friend he was uncertain is gay. "It's that gay dude that will, like, run up on your girlfriend and squeeze her boobs and slap her *** and be like, 'Damn girl, you look great!' I don't find that ******* funny — like at all," he said.
The video was called out by some angry viewers for perpetuating gay stereotypes and endorsing homophobia.