Pete Du Pont, Former Delaware Governor and 1988 GOP Presidential Hopeful, Dies at 86
Pete du Pont, the former governor of Delaware who was once a presidential hopeful for the GOP, has died aged 86.
Du Pont died on Saturday at his home in Wilmington after batting a "long illness," his former chief of staff Bob Perkins told The Delaware News Journal.
A memorial service will be held at a later date due to the coronavirus pandemic, the newspaper reported.
Delaware Gov. John Carney was among those paying tribute to du Pont following his death.
"Delaware lost a real leader today," Carney wrote on Twitter. "Governor du Pont was a good and decent man who loved Delaware."
He was born Pierre S. Du Pont IV on January 22, 1935 into a wealthy family whose ancestor, E.I. du Pont de Nemours founded the Du Pont Company. The chemical giant developed Teflon, among other things.
He was educated at Phillips Exeter Academy, Princeton University and Harvard Law School.
At Princeton, he went on a blind date with a Vassar student who turned out to be Jane Fonda, the actress. "I don't remember much about it except going to pick her up somewhere in New York City. I knocked on the door and her father opened it. Henry Fonda. I was speechless,″ he once told the The Wilmington News-Journal.
He met his wife Elise Wood, then a Bryn Mawr student as well as heiress to the Wawa Dairy fortune, on the Princeton campus after a football game. The pair wed in 1957, and went on to have four children—three sons and a daughter.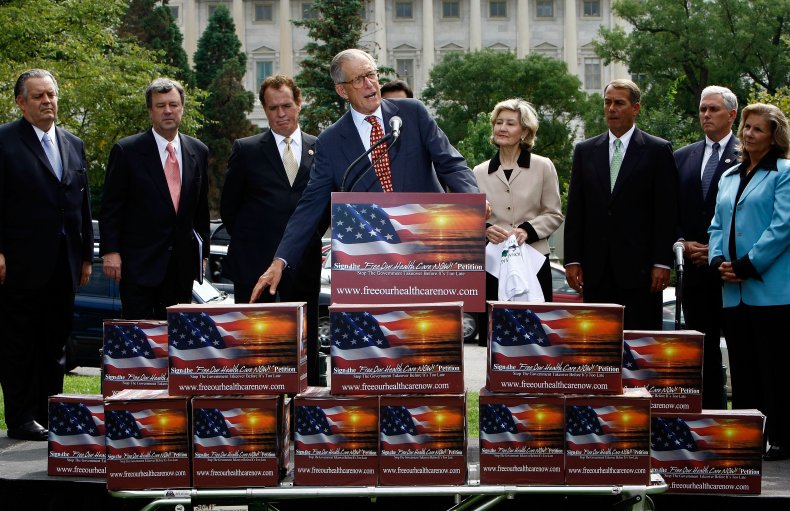 After graduating from Princeton, du Pont enlisted in the Navy and was stationed in Rhode Island and then Maine. It was in Maine, the News Journal reported, that he became interested in the law.
But despite excelling academically at Harvard Law, he returned to Wilmington to join the family business following his graduation.
"I had lots of good opportunities there, but in an enormous company like that, the chance of being in charge and leading really is 30 years away," he told The Washington Post in 1988 of his decision to go into politics. "That's a long horizon."
His political career began in the Delaware House of Representatives in 1969, after running unopposed. But not long afterwards, he won the election to represent the state in the U.S. House.
He was a U.S. Representative from 1971 to 1977, but according to the News Journal, he wielded little influence in Congress and an aide described him as bored during that time.
According to the Post, du Pont contemplated challenging Joe Biden for the state's Senate seat several times—but ultimately decided to run for governor in 1976.
The state was in was in crisis at the time, with 9 percent unemployment, and no-one before du Pont had served two terms as governor in decades.
"We took the attitude, well, you know, if we're not going to get reelected anyhow, maybe we just ought to go into office and really do what needs to be done and straighten the place out," he told the Post. "And so we did."
According to the News Journal, he led efforts to limit excess spending and dramatically cut income taxes during his eight years in office. He also implemented school desegregation.
Du Pont, whose hero was Winston Churchill, became the the first candidate to announce his run for the presidency in the 1988 election in September 1986.
He sought to improve his slim chances with a series of controversial proposals, The New York Times reported at the time, including mandatory drug testing of all teenagers.
But he dropped out of the race after disappointing finishes in the Iowa and New Hampshire primaries. The Republican nomination, and presidency, was ultimately won by George H. W. Bush.
Du Pont was later a director with the Delaware law firm of Richards, Layton, and Finger and served as chairman of the National Center for Policy Analysis from 2000 to 2012.