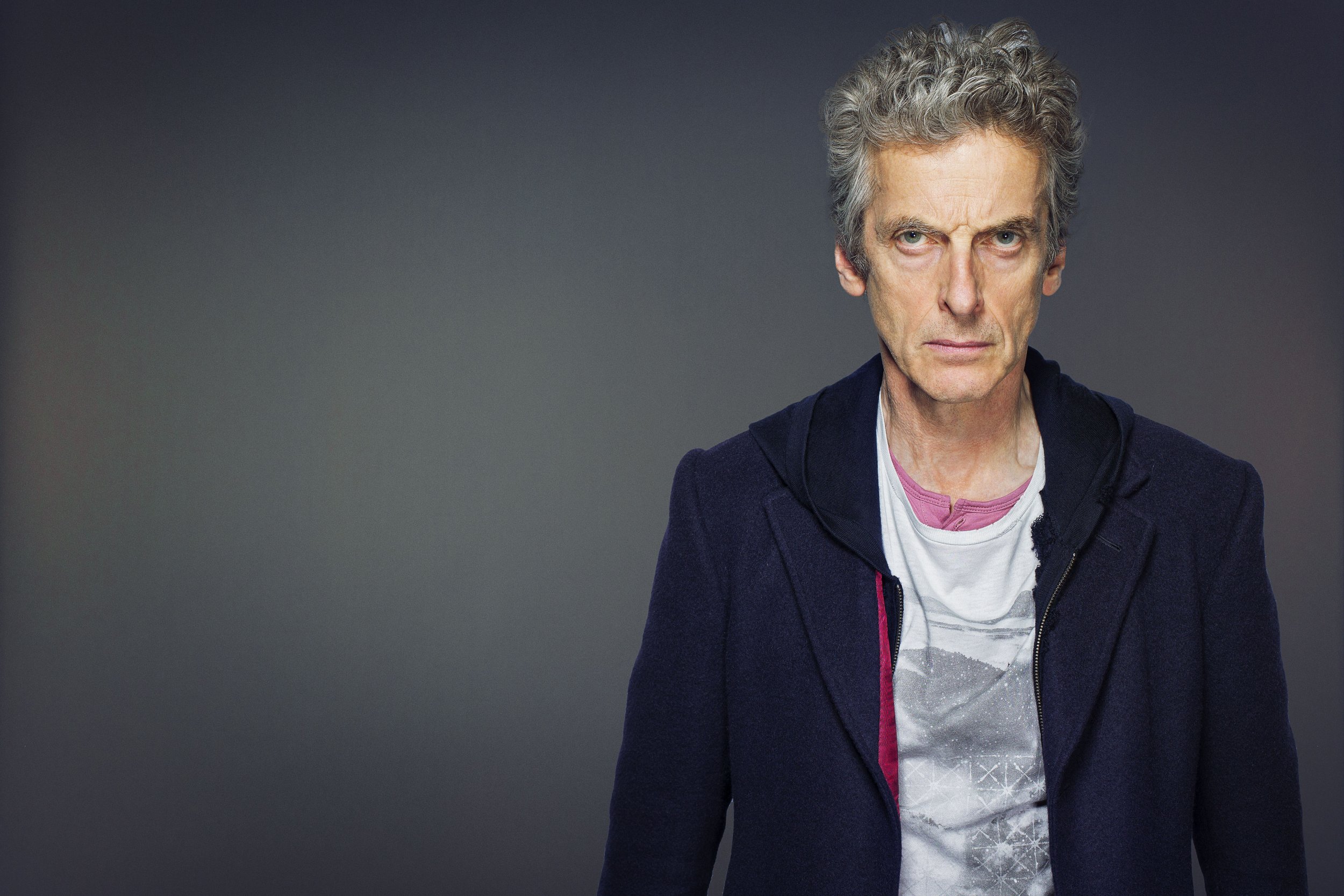 Peter Capaldi jumps out of his chair and leaps across the plush furniture in a London hotel room. No, he's not in the middle of filming a scene for Doctor Who, the flagship BBC show on which he's been steering the TARDIS for nearly three years. Rather, he's displaying proof of his recovery from the keyhole surgery he had to repair a torn meniscus in his knee that he sustained while filming the ninth season last year. Eerily, he adds, it's the exact same injury incurred by his Who predecessor Matt Smith during his time on the show. Ah, the dangers of battling Daleks and Zygons.
"It's an athletic injury—you run down a corridor, you swivel at the end of the corridor, you pivot on one leg and you twist the [knee]," Capaldi tells Newsweek. "We couldn't fix it while we were filming so I had to wait. The doctor said to me, 'You mustn't jump, crouch or run,' which is precisely my job—jumping, crouching and running! But it's great now, I'm dying to get going [on season 10]."
It's a testament to the 57-year-old actor's work ethic that he's willing to injure himself for his craft. Twenty-plus years Smith's senior, Capaldi admits he felt he had to prove he could keep up with the physicality of the part when he took the role in 2013. "You probably feel, 'I definitely will take the athletic route just to prove that I can do it,'" he said. "If you're not getting injured, you're not doing it properly. You have to throw yourself into it, you have to jump over the table and chase the Zygons.
"The show's a great workout, it really keeps you healthy. Rather naively, at first I thought, 'I've got to make time to go to the gym, or go on a treadmill.' The show's the treadmill, you do enough exercise in the show, you never have to go to the gym."
Work on Doctor Who 's 2016 Christmas special and tenth season is due to begin later this year, but Capaldi has been enjoying a longer-than-usual break. That's because BBC boss Charlotte Moore has pushed back the next series to 2017, meaning there'll be no new episodes this year except the festive offering on Christmas Day. The decision comes as executive producer Steven Moffat—the man in charge of the show for the last five years—steps down from his post. He'll be replaced by Broadchurch creator Chris Chibnall in 2018.
"He's an astonishing talent, but he's a human being, and I don't think he can continue working at this rate," says Capaldi of Moffat, a lifelong Doctor Who fan and devoted showrunner. "The cost of doing Doctor Who to an individual is immense. He takes the greatest weight on his shoulders, he loves the show and he's absolutely responsible for it and feels that responsibility gravely—and with delight as well. He loves this job so I think it's very, very difficult for him to leave. But I think he has to, otherwise he might have a heart attack."
As for Capaldi, the jury is still out on whether he'll be leaving at the end of Moffat's tenure in 2017. A new producer usually means a new Doctor, but the actor says BBC bosses have asked him to stay.
"I don't know yet. It's such a long time until we get to that point," he says. "I love doing Doctor Who. Obviously things are going to change with it and I might want to carry on and see what that's like—or I might not. It's a very difficult decision to make, as Steven says, when it's time to say goodbye. I've not made that decision yet."
He's had some talks with new showrunner Chris Chibnall, he admits, but remains vague on what may have come from their discussions. "I think he's great, he's got great ideas. I don't really think any of us are certain what's going to happen in two years' time," he says.
Hurtling through time and space back to the present day, then, and there's much more to come from Moffat before he cedes the keys to the TARDIS—including the casting of a new companion to replace Clara Oswald, played by Jenna Coleman. While Capaldi's yet to come to terms with her departure at the end of season nine ("It'll be sad having her not turn up," he says) he's equally excited about the casting process for the Time Lord's next assistant. "We are close," he teases.
With the Oscars recently put to task for the lack of minorities among the acting nominees, there is more awareness now than ever before around diversity in film and television. It seems Doctor Who's producers have recognized this in filling the new part. Have there been candidates from diverse ethnic backgrounds? Capaldi replies with an emphatic "Yes. Definitely."
The show, he says, has been making a conscious move towards more diversity. "The thing about Doctor Who is, it's at its best when it reflects the culture and the times that it's in. Because it's a very successful show, sometimes it just digs its own groove of success, and I think it's time for us to be more recognizable as being in the 21st century."
Like James Bond, the Doctor is a cultural institution—one that, thus far, has been reserved for white, male actors. But Capaldi feels that too could change. He agrees that if and when he hands in his sonic screwdriver, the next Doctor should be a minority, or even a woman. "I think it's important the show reflects the times," he explains. "The world's in a tough place at the moment and the Doctor is a hero for all times. So I think he, or she, or it—because he's not a human being—should reflect the times. But it also has to be somebody who works within the creative hub of the show."
Capaldi is charming and amiable in equal measure—the opposite of Malcolm Tucker, his tempestuous Thick of It spin doctor with a penchant for swearing.
He is thoughtful and careful with his words, even when he's criticizing the BBC's decision to shuffle Doctor Who's schedule in late 2015. The veteran sci-fi drama was pushed back in the Saturday line-up, behind ballroom dancing reality show Strictly Come Dancing , in a time slot deemed too late for younger viewers. "It does frustrate me," says Capaldi. "If you're going to have a family show, I think you have to build up a little ritual around it—and that ritual usually starts with having it on at the same time [every week]. Even I didn't know what time it was on because it got later and later and later."
Perhaps, as is the fate of so many seemingly happy marriages, the BBC has taken the Doctor for granted? "Undoubtedly," he says. "The BBC is an incredible organization, but...sometimes people there think, That's looking after itself. And it's not being looked after. I think maybe their eye was taken off the ball, or the show was seen as a thing they could just push around. It's not. It's a special thing."
The later time slot prompted tabloid hyperbole of a "ratings crisis," something the star admits he begrudgingly keeps tabs on. "I have to pay attention to ratings—I'd rather not—but it's the way the business is," he says. "I think overnight ratings are a thing of the past. You can't really measure the success of the show by its overnight ratings, which is what the papers do. But there's still a place for families to sit down and watch the show—that's still a great, fun thing to do. That's what the show's success has been based on. That has to be protected."
While it's inevitable that there will be another Doctor at some point, there is only one Malcolm Tucker. Has there been any talk with Thick of It creator Armando Iannucci—now guiding Julia Louis-Dreyfus to Emmy glory on HBO's Veep—of new adventures for Capaldi's iconic, BAFTA-winning character? "I suspect [Iannucci] might want to do something that's not about politics for a while, we have talked about some things in that direction," he says. "But never say 'never again.' It's a delight to find that people are still so interested in Malcolm and that he still lives."
In a cameo in Veep , perhaps? The thought of Malcolm Tucker meeting Selina Meyer, the White House comedy's sometimes hapless commander-in-chief, would be fantasy fodder for political wonks everywhere. Capaldi ponders. "He wouldn't want to let her know he was impressed by her, so he'd be a little bit too aggressive and swear a bit too much, and almost blow it," he says. "But then she might quite like that. I think he'd find her very attractive, probably."
After three years and counting on Doctor Who, Capaldi admits a return to comedy could be on the cards. "It would be fun to do something that is funny, or dark, or strange—but then Doctor Who is all of those things."
Then, in the way only a man who has travelled through time and space can, he calmly predicts: "There will be time."
Doctor Who Season 9 is out now on DVD and the BBC Store in the U.K., and on April 5 in the U.S.