Peter Dinklage Says Singing Live on Set Helped Him Connect With Cyrano
The latest retelling of Cyrano spoke to Peter Dinklage because this musical version isn't about a "handsome actor in a fake nose."
He stars as the titular character in the new musical which is based on the classic play Cyrano de Bergerac. Joe Wright directs while Haley Bennett and Kelvin Harrison Jr. co-star in the movie which is out in theaters on Friday, February 25.
On the film festival circuit and in early previews, the movie has been well-received, with various Golden Globe and BAFTA nominations, as well as an Academy Award nod too.
Dinklage, Bennett, Harrison Jr. and Wright all spoke to Newsweek ahead of the launch, and talked about adapting the musical from the stage, the challenges of shooting Cyrano near the height of the COVID-19 pandemic in Italy, and the expectations Dinklage's wife now has of him as a romantic soul.
Ditching the Cyra-nose
Cyrano is based on the 1897 play by Edmond Rostand and it's been adapted several times on the screen and stage over the last century. The original play told the story of a talented man in love with the beautiful Roxanne, but he fears she won't love him back because of his elongated nose.
While the tale has classically been told with facial prosthetics, Dinklage ditched the idea for his version. "It was always my opinion when I first came across [Cyrano] that it's a handsome actor in a fake nose isn't it?" Dinklage told Newsweek.
"It's a beautiful story but that guy gets to take that nose off after this performance. What if you took away the nose?" he asked. "Even if you don't know the story of Cyrano, you know about the nose."
Indeed, the story has been adapted, nose and all, by the likes of Steve Martin in Roxanne (1987) and recently by James McAvoy on the stage (2019).
"If you take that away, what are you left with? You're left with a real, more naked story that everybody can relate to in terms of all shapes, sizes and physical differences." Dinklage said, "Even if you're a good looking person, you have insecurities when you come across something as powerful as love. We all sort of fall apart no matter who we are, and feel perhaps unworthy and terrified that that love will not be reciprocated. So that's what the story is."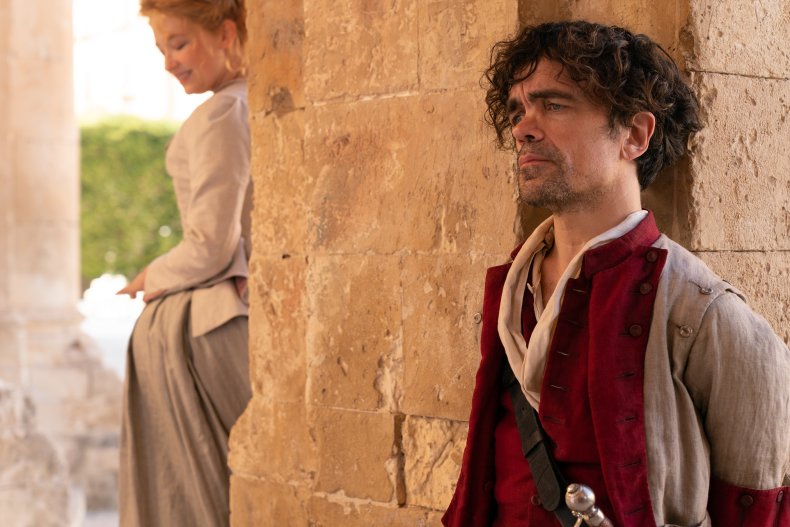 The Demands on Dinklage as a Husband
This musical version of Cyrano was initially created for the stage, with songs written by members of the band The National, and a script written by Dinklage's wife, Erica Schmidt. Dinklage and Bennett also played the leads, Cyrano and Roxanne in that version before taking their chemistry to the big screen.
"I'd never done theater before," Bennett told Newsweek, "It was all extremely intimidating but I was hungry for that kind of challenge, and it was a wonderful experience with Peter and Erica and The National."
During those years performing Cyrano on the stage Off Broadway, Bennett was thankful to have Schmidt in charge. "I was eight months pregnant by the time we finished the stage production, which is a wonderful testament to what an incredible supporter of women Erica is because I think most people probably would have fired me. Like 'we can't have a pregnant Roxanne' but she totally embraced that."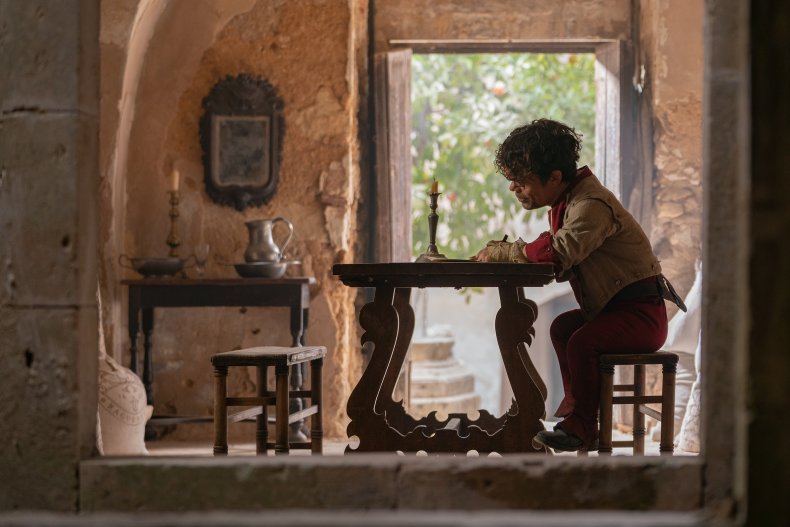 Even though this version of Cyrano was written by his wife, Dinklage is adamant the part was never intended for him. He said: "She definitely didn't write this for me. When she created this thing, I just happened to be in the room and unemployed at the time, truly."
The character Cyrano is an exceptional poet who is adept at expressing his thoughts and desires through his letters, something which Dinklage jokes is daunting considering his wife wrote Cyrano's words. "I always think she's writing like, the perfect version of me but the version of me that she wishes I was. No, but that's very egotistical of me to say and think that way, and unhealthy."
A Musical Joe Wright Could Stand
Joe Wright is known for his period movies, including Pride & Prejudice, Atonement and recently Darkest Hour, but Cyrano marks the director's first attempt at a musical.
"The problem I have with most musicals is that I don't like the music," Wright told Newsweek. "I've been offered musicals before and been excited about them but then realize that I'd have to listen to that god awful music for two years of my life.
"I wanted to make a musical that felt really intimate, and where the singing was as natural as speaking or as natural as singing along to the radio where we recorded the breaths and cracks, the faults in the voices really, which is where I think the emotion is."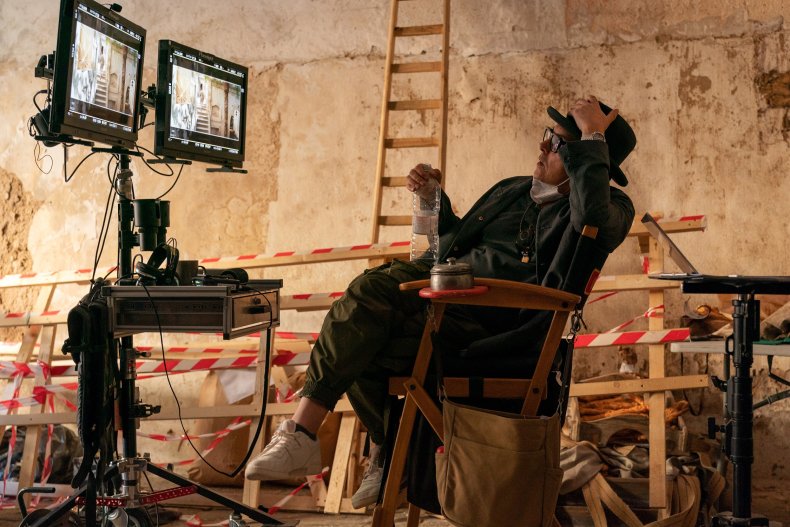 Dinklage agreed with Wright that singing live on set, as the actors had done in Les Misérables (2012), helped him connect to the piece. "I can't imagine doing it any other way because you really get emotionally attached in the moment with what you're doing. A lot of these songs, they're not big song and dance numbers, so it's less of a musical and more of a film with songs.
He admitted that in retrospect, he couldn't imagine lip-synching along to a pre-record because he could embrace the mistakes. "They're very personal, intimate songs. I like the element that it's not perfectly clean. I think a lot of music now, they take out all the the edges, they remove everything. So I love that we recorded live."
Shooting in Italy 2020
Cyrano faced a number of release delays, but is finally out in movie theaters on Friday. Prior to this though the production team did well to avoid major delays during shooting as it took place in Sicily, Italy, in October 2020.
Kelvin Harrison Jr., who plays Roxanne's other suitor, Christian, believes the challenges faced relating to the COVID-19 pandemic brought everyone together, despite having to stay 6ft apart. "I think we all knew that we agreed to leave our homes, our safe spaces, to come and do this movie when we didn't really know how COVID would work," Harrison Jr. told Newsweek.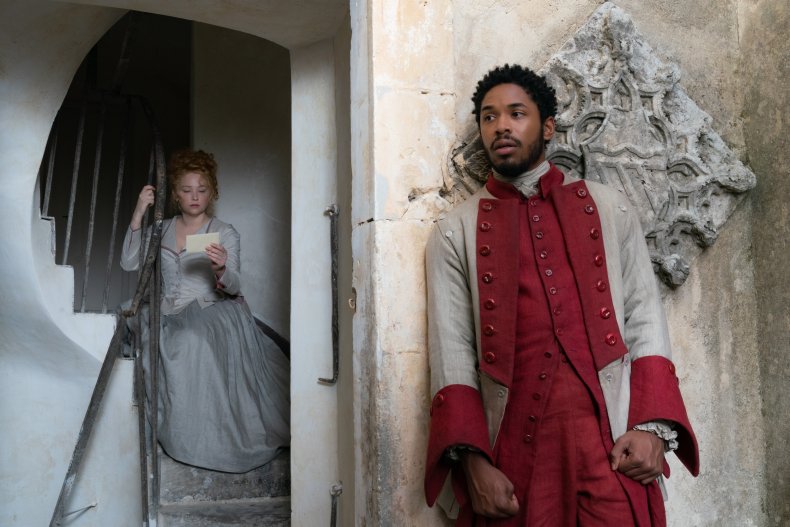 "I think the limitations of not being able to see your camera guy, the crew members, the grips and stuff like that, not having that sense of community, and only seeing the actors when the masks come off—obviously it made us work harder to cherish the moments when they did happen. We had to really lock in, and it worked."
Luckily for the cast, Harrison Jr. believes that distance and the challenges they faced fit in with the themes of longing within Cyrano. "It also made sense for a movie where there's so much about connection and so much about missing each other, and wanting and a desperation to be amongst people and having a community."
Cyrano is out in movie theaters everywhere from Friday, February 25, 2022.