Peter Fonda Dead: From 'Easy Rider' to 'Ulee's Gold,' the Late Actor's Best Performances
Two-time Oscar nominee and counterculture icon Peter Fonda died Friday after a battle with lung cancer. He died in his home in Los Angeles at the age of 79. In honor of his legendary career, Newsweek looks at some of his greatest performances.
In a statement, his sister Jane Fonda, said, "I am very sad. He was my sweet-hearted baby brother. The talker of the family. I have had beautiful alone time with him these last days. He went out laughing."
Peter Fonda, the son of legendary actor Henry Fonda, started his career in 1962, appearing in the long-running crime drama Naked City. Fonda played Joey in the episode "The Night the Saints Lost Their Halos." In the episode, Fonda and Martin Sheen played teenagers who broke into a store, resulting in Sheen's character being shot.
Fonda's career lasted until his death—he was even slated to appear in the film Skate God, which is currently in pre-production. He appeared in TV shows, cartoons and video games—including Grand Theft Auto: San Andreas—though his biggest triumphs were on the silver screen.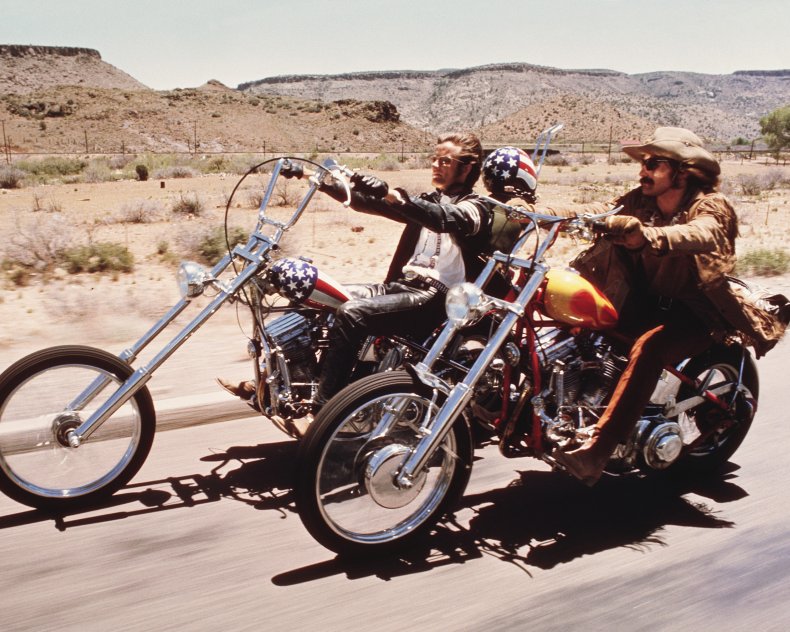 Though he'd appeared in several shows and films by that time, his breakout role was 1969's Easy Rider, which he not only starred in but co-wrote and produced. Fonda said in his 1998 autobiography Don't Tell Dad: A Memoir that he came up with the idea while staring at a poster for his earlier film The Wild Angels. That movie, directed by schlock-master Roger Corman and co-starring Nancy Sinatra and Bruce Dern, was about the Hell's Angels partying in the Coachella Valley and fighting with the local police.
Though Fonda had some success in a series of motorcycle films before Easy Rider, it was that picture that catapulted him from the world of cheaply-made exploitation films.
"[Easy Rider] would be about the Duke and Jeffrey Hunter looking for Natalie Wood. I would be the Duke and [Dennis] Hopper would be my Ward Bond; America would be our Natalie Wood. And after a long journey to the East across John Ford's America, what would become of us? We would be blasted to bits by narrow-minded, redneck poachers at dawn, just outside of Heaven, Florida, and the bed of their pickup would be full of ducks," he wrote in Don't Tell Dad.
Not only was the film a massive success—the third highest-grossing film in 1969—the film is still regarded as a classic today. Easy Rider, and Fonda's performance became iconic, immortalized in dorm room posters even today. Fonda received his first Academy Award nomination for the screenplay.
Though Fonda was praised highly for his work in Easy Rider, it was only until the 1997 film Ulee's Gold when critics and audiences would come back around to realizing Fonda's talents. The film starred Fonda in the title role as a beekeeper trying to save the wife of his jailed son Jimmy. As with Easy Rider, Ulee's Gold earned Fonda an Academy Award nomination, this time for Best Actor—though, as with the earlier film, he didn't win.
Speaking to Newsweek at the time, Ulee's Gold director Victor Nunez praised Fonda's career. "You realize he's not just the art film or the specialized filmgoer's actor," Nunez says. "He's like a country singer who had a couple of top-10 hits a few years ago, and he's still loved."
Two years after Ulee's Gold, Fonda starred in Steven Soderbergh's The Limey. In that film, Janet Maslin of The New York Times said that Fonda played his role "with what seems to be a sense memory of every Hollywood-style rich hipster he ever encountered, which is to say that he gets right into the spirit of things."
Though Fonda had a smaller role in 2007's 3:10 to Yuma as bounty hunter Byron McElroy, he again collected praise. Mick LaSalle called his performance "strong," and said he was "stone cold" as the bounty hunter.
His last films are The Magic Hours, where he stars as a reclusive author, and The Last Full Measure. Though neither film has been released—The Last Full Measure is due in October, and a date has not yet been set for The Magic Hours—the buzz is good on Last Full Measure after it the festival circuit. Though official reviews haven't been released, the film currently has a 7.8 rating out of 10 on IMDB.