Peter Høeg Reflects on Copenhagen, Denmark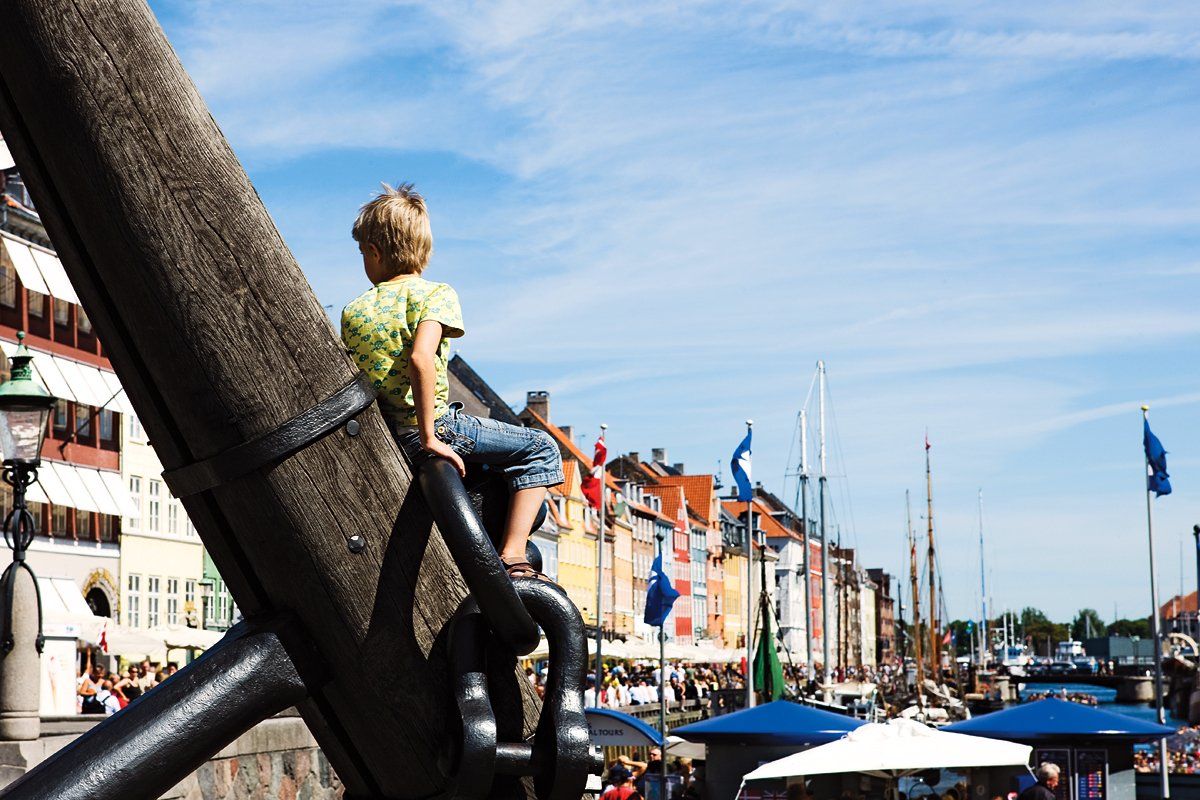 Last week, my 3½-year-old son Daniel and I discovered a hidden playground on the long, narrow square called Sankt Annæ Plads in Copenhagen.
Sankt Annæ Plads extends toward the harbor, the Royal Danish Playhouse, and the new Opera. It is neighbor to Amalienborg Palace, residence of the Danish queen, and is bordered by fine mansions, hotels, shipping companies, and law firms. The playground we discovered lies tucked away in the central garden complex that runs down the middle of the square. I must have passed by hundreds of times without ever noticing it. But now, in the company of a child, I did.
Daniel is a little over three feet tall. I got down on my haunches next to him, between the rocking horses and the pirate ship. And I asked myself this question: how does a child experience Copenhagen? Or rather: what would it be like as an adult to encounter the city from inside a smaller, weaker body, a more undecided system?
From that position you notice the playgrounds. You see objects you can scale and jump off. You see ice-cream vendors, drinking fountains, and public restrooms. You look for the gaps in the traffic.
But you also listen below the surface of the city for something deeper. The child, and the child inside the adult, listens for the emotional hum of the public space.
From this perspective, I discover that the city of Copenhagen gives out a certain kindness.
I don't think I'm sweetening reality by claiming this. Like all major cities, Copenhagen has its own greed, its fight for survival, its fear of the future. Yet beneath its traumas, I think I sense something else: an unobtrusive kind of mutual respect among its people.
It may be due to something as simple as the city being one of the smallest capitals in the world, with its 1.7 million inhabitants. Copenhagen has never developed a big-city ego.
When I was a child growing up in the early 1960s in Christianshavn, a harbor district dating back to the 17th century, traversed by canals, built on garbage and wooden stilts, I saw the last genuine poverty. It's gone now. Copenhagen is one of the world's few capital cities in which no real slum exists. Social tensions are a lot less pronounced here than in most other important cities.
The city itself thinks its wealth is both well deserved and long lasting. With such myopic optimism, it of course teeters, along with the rest of the Western world, on the brink of an abyss. But when the inevitable shift toward global empathy occurs, I think Copenhagen will have its own particular contribution to make in that process. Because somehow the people here have managed to create a societal structure and a cityscape distinguished by this singularly low-key sense of humanity.
I'm looking forward to showing Daniel some of the things about Copenhagen of which I am fond. I hope the winters will be cold enough for Søerne—The Lakes—to ice over so we can skate on them together and take in the steeples and towers across their frozen expanses. I want to take him to the sandy beaches of Helgoland and Charlottenlund Fort, 20 minutes by bike from the center of town. I hope we'll play soccer together in one of the numerous parks, with friends of many nationalities. I hope that like me he'll grow up in a system of public schools that I would not hesitate to call excellent, looked after by one of the most decent and most reliable public administrations to be found anywhere. I hope?.?.?.
When people are given the chance, when the pressure inside and out isn't going off the scale, we try to treat each other well. The human heart comprises its own natural ethics. I sense that almost physically in Copenhagen.
Even when Daniel, in just the blink of an eye from now, will have grown too big for playgrounds, I think I'll go back to that narrow garden on Sankt Annæ Plads. There I shall get down on my haunches and say this to Copenhagen: I'm keeping an eye on you, and I have a question, perhaps the most important question people and cities can ask themselves and each other. How are things going with your compassion? How does it stand with the city and the heart?
Peter Høeg Reflects on Copenhagen, Denmark | News