Is Peter Jackson Directing an Episode of 'Doctor Who'?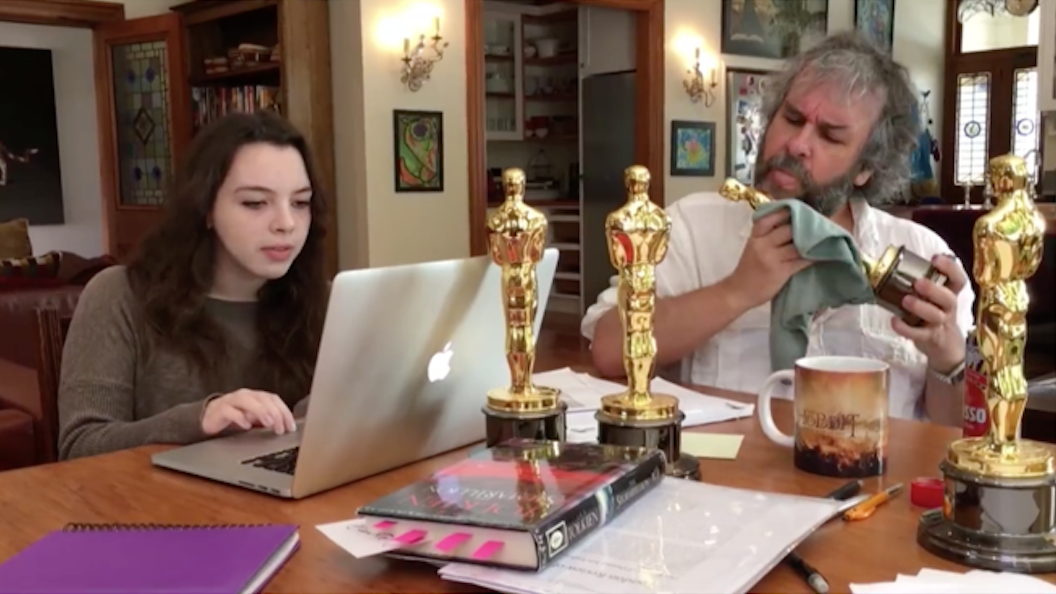 Peter Jackson is clearly comfortable basking in the golden afterglow of the Lord of the Rings and Hobbit franchises. In a video posted to his Facebook page early Monday morning, we see the director contentedly polishing his four Academy Awards as his daughter, Katie, reads him his emails. One is from Doctor Who showrunner Steven Moffat, who wants to know if Jackson will direct an episode. The Oscar-winner can't be bothered with email, though, so to force the issue, Peter Capaldi, the twelfth Doctor himself, shows up with a contract from the BBC. Unfortunately, a Dalek robot chases off Capaldi before pen could be put to paper, but it seems abundantly clear that Jackson will indeed be directing an upcoming episode of the sci-fi series. Never mind that he and Katie seem more excited about a new episode of The Walking Dead.
The news has been a long time coming. As early as December of 2013, Jackson confirmed that he was in "actually kind of serious" talks to direct an episode of the British TV institution. Less than a year later, in July 2014, Moffat said Jackson would "probably" direct an episode. "I think it will happen at some point," he told SFX. "He's still incredibly busy on The Hobbit. I've spoken to him face to face, and he would like to do one. I mean, he can do what the hell he likes—he owns New Zealand!"
All three Hobbit films are now in the books, of course, so there doesn't seem to be any major impediment to Jackson finally directing an episode of one of his all-time favorite shows. Let's just hope another year doesn't go by before we get an official confirmation.