NYPD Officer Peter Liang Found Guilty of Manslaughter in Death of Akai Gurley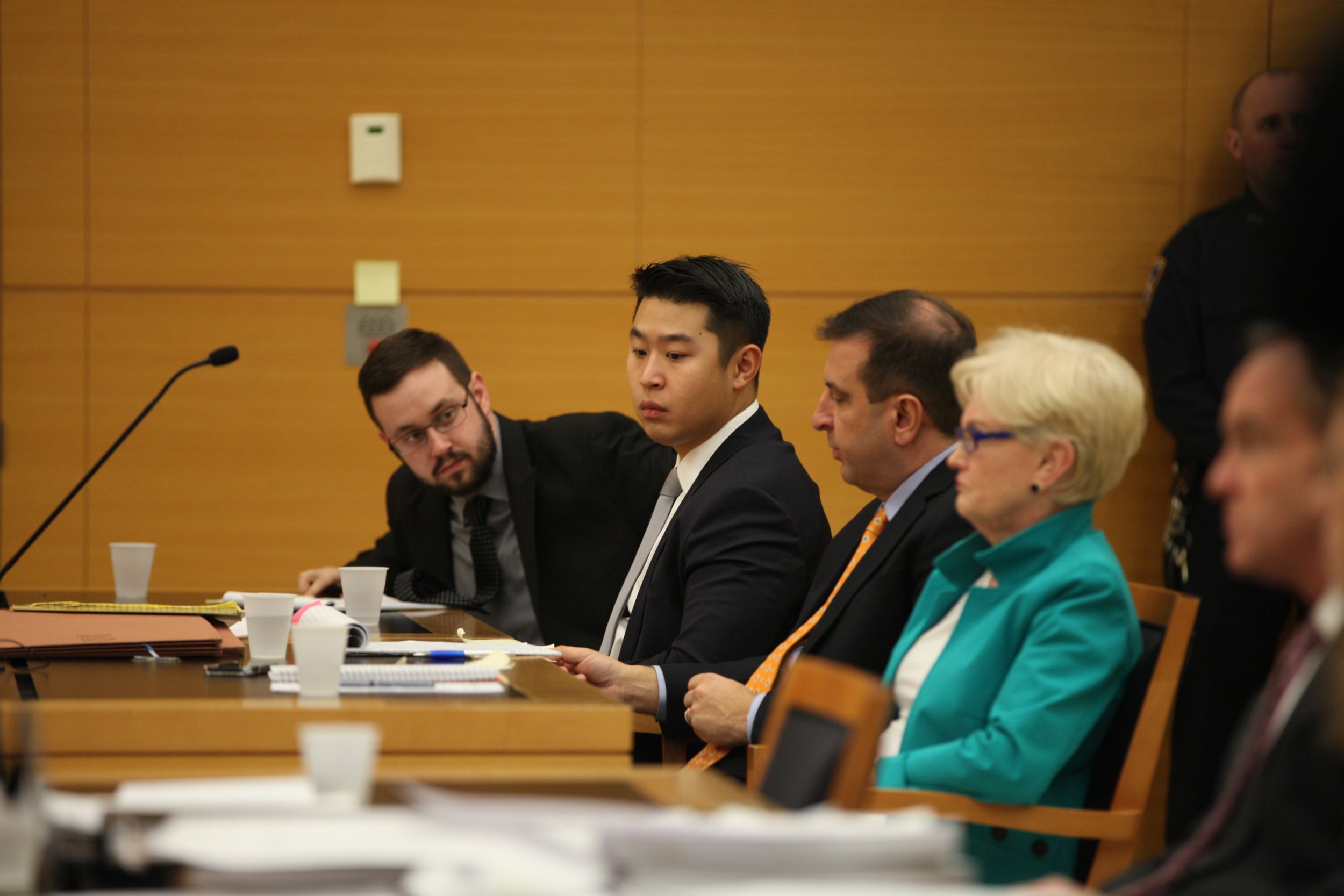 New York police officer Peter Liang has been convicted by a Brooklyn jury of manslaughter and official misconduct in the 2014 killing of Akai Gurley in a darkened stairwell.
Gurley was shot by the rookie cop in November 2014 in the stairwell of the Louis Heaton Pink Houses in the East New York, neighborhood of Brooklyn, as he and his partner were conduction a top-to-bottom patrol of the building, where Gurley lived. Liang maintains that his gun went off accidentally.
The 28-year-old officer was facing five counts in Gurley's death—manslaughter, assault, reckless endangerment, criminally negligent homicide and official misconduct—and up to 15 years in prison. Liang is due to be sentenced on April 14.
Gurley, 28, was unarmed at the time of the shooting. He was killed when a bullet from Liang's gun ricocheted off a wall and entered his liver and heart while he was a flight below. Prosecutors said that Liang did not provide Gurley with medical assistance and did not report the shooting for 4 minutes.
A 12-person jury began deliberations in the case just after 4 p.m. ET on Tuesday after a two week trial. On February 10, Justice Danny Chun denied a defense request for a mistrial.
"We are very disappointed in the verdict and believe that the jury came to an absolutely wrong decision," Patrolmen's Benevolent Association President Patrick J. Lynch said in a statement after the verdict was released. "This was a terrible and tragic accident and not a crime. This bad verdict will have a chilling effect on police officers across the city because it criminalizes a tragic accident."
Earlier this week, it was reported that police will be stationed in "key locations," around New York, including the Pink Houses and the Barclays Center, both in Brooklyn, in preparation for the jury's decision. Both of these locations have been the site of protests over the shooting deaths of Gurley and other unarmed black men.
This is a breaking news story. Check back for updates.