Trump Loyalist Peter Navarro Slams 'Thievery' of White House Documents
Peter Navarro, a White House trade adviser under former President Donald Trump, has hit out at the "thievery" of White House documents while condemning a number of figures close to the former president.
In his new book, Taking Back Trump's America: Why We Lost the White House and How We'll Win It Back, a copy of which was obtained by Newsweek, Navarro dedicates an entire chapter to "Bad Personnel" who played a part in the former president losing the 2020 Election.
Among those Navarro included in the list of so-called "Wall Street transactionalists" who worked against Trump were his son-in-law Jared Kushner, former Secretary of Commerce Wilbur Ross, former Treasury Secretary Steve Mnuchin and then-Director of the National Economic Council of the United States, Larry Kudlow.
Navarro describes how at the "top of the disloyalist pyramid" was fellow Director of the National Economic Council of the United States and Trump's former top economic adviser, Gary Cohn.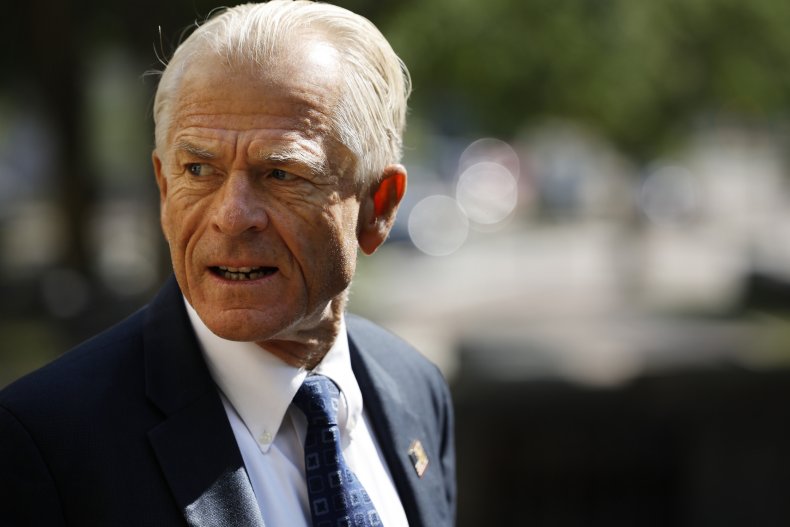 In 2018, Washington Post journalist Bob Woodward alleged in his book Fear: Trump in the White House that Cohn would often remove official documents from Trump's desk so he would not sign them and pull out of trade deals.
Such documents Cohn is reported to have taken is a letter for the United States to withdraw from the North American Free Trade Agreement, as well as the U.S.-Korea Free Trade Agreement, known as KORUS.
In his book, Navarro describes Cohn's actions as "arguably the worst act of disloyalty ever perpetrated" in the Trump White House by the so-called Wall Street transactionalists.
Navarro added that if he "had my way when I found about Cohn's thievery," he would have had him charged with "both a felony and treason."
"It didn't just happen once. It was a pattern," Navarro wrote. "If Cohn objected to the president signing an executive order or presidential memorandum that was in conflict with Cohn's free trade view of the world, Cohn would literally try to make the document disappear, even if the president wanted it to be implemented."
Navarro said the "poster child" of Cohn's "theft" was the taking of a document that would have pulled the U.S. out of the "toxic" trade treaty with South Korea within a specified timeframe, which Navarro drafted himself.
"What this felony-dumb Cohn never understood was that these kind of presidential actions were designed not necessarily to exit such agreements but rather to put pressure on other countries like South Korea so that we could quickly negotiate better deals for American workers and companies," Navarro wrote.
"I just hope that anybody who ever thinks about employing Cohn factors in his lack of moral fiber in their hiring decision."
While not discussed in the book, Navarro's remarks arrive as Trump himself is accused of removing classified White House documents and improperly keeping them at his Mar-a-Lago resort in Florida.
In a statement to Newsweek, a spokesperson for Cohn said the comments from Navarro were "so ridiculous that it's not worthy of a response."
Trump also denied the claims that Cohn had pulled documents ordering the withdrawal of trade deals off his desk, telling the Daily Caller in 2018 that the story was "just made up."
Navarro is awaiting trial after being charged with refusing to comply with the subpoena issued by the House Select Committee investigating the January 6 attack on the U.S. Capitol.
Former White House adviser Steve Bannon was also charged with similar offenses. Bannon is facing two years in jail after being found guilty of one count of contempt for refusal to appear for a deposition and another involving his refusal to produce documents subpoenaed by the January 6 panel.