Two more of Donald Trump's allies—Peter Navarro and Dan Scavino—are facing criminal charges after the House voted to hold them in contempt for defying subpoenas issued by the January 6 select committee.
In a 220-203 vote on Wednesday, the House voted to refer former White House trade adviser Navarro and ex-Deputy Chief of Staff for Communications Scavino to the Department of Justice (DoJ) for possible prosecution.
If the DoJ decides to charge the members of Trump's inner circle, the pair face up to a year in prison and a $100,000 fine.
However, any potential prosecution for refusing to comply with the subpoenas by the panel investigating the January 6, 2021, attack could take several months or even years.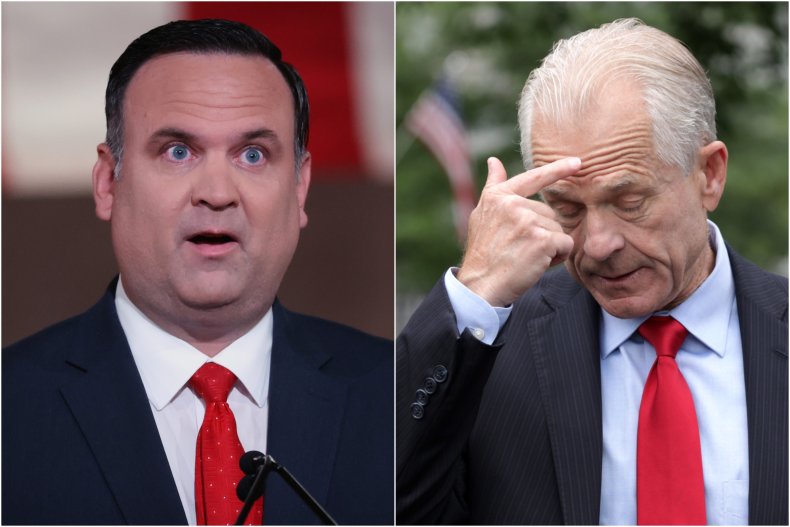 So far, only former White House adviser Steve Bannon has been charged with contempt for defying his subpoena after being referred to the DoJ by the House, with his trial set to start in July.
Former White House chief of staff Mark Meadows was also referred to face possible criminal charges, but the DoJ has still not made a decision of whether to charge the Trump ally, much to the frustration of the January 6 panel.
While announcing they will be recommending contempt of congress charges against Navarro and Scavino on March 28, panel member Rep. Elaine Luria told Attorney General Merrick Garland to "do your job so that we can do ours."
Former Justice Department official Jeffrey Clark was also referred to the DoJ for possible criminal charges, but later complied with his subpoena and showed up for a deposition. He reportedly pleaded the Fifth more than 100 times while answering questions in February.
The panel issued a subpoena for Navarro after he admitted in public, including in his book, that he was part of a team of Trump's inner circle to pressure then Vice President Mike Pence to stop the certification of the 2020 election, using the "Green Bay Sweep" football analogy to describe the plan.
Scavino was present with Trump during a January 5, 2021, meeting where they allegedly discussed how to convince members of Congress not to certify the election for Joe Biden.
He also tweeted out messages of support for the election protests prior to the mob storming the Capitol, as well as sending messages from inside the White House on January 6.
Rep. Liz Cheney, vice chair of the January 6 panel, said on the House floor on Wednesday that the committee would also like to speak to Scavino about his interactions on The Donald.win website, an offshoot from a banned Reddit community in which far-right extremists are said to have discussed attacking the Capitol.
Cheney said questions also need to be asked about Scavino's alleged online communications with supporters of the radical conspiracy movement QAnon.
Just like Bannon, Navarro and Scavino cited executive privilege—a protection for a president to make sure official conversations stay private—for their reasons not to hand over documents or provide information to the January 6 panel.
Trump had also invoked executive privilege in his attempts to withhold documents from the committee, but his attempts were thrown out by the Supreme Court.
During the debate on the House floor, Rep. Bennie Thompson, chairman of the January 6 committee, said that Navarro and Scavino were trying to argue that "their roles in trying to overturn an election had to stay secret" because they had official roles as advisers to the former president.
"If they want to make those claims—ridiculous as they sound—here's what the law requires: they need to show up and make those claims on the record. Under oath," Thompson said.
"They refused to do that. That alone means they're in contempt of Congress."