Peter Navarro and Dan Scavino One Step Closer to Jan. 6 Criminal Contempt
A House panel is calling for contempt charges for two Trump administration aides who've refused to answer a congressional probe's questions about their alleged roles in attempting to overturn the 2020 presidential election.
The House Rules Committee on Monday voted 9-4 to recommend the full chamber bring contempt charges against Peter Navarro, former assistant to the president, and former White House Deputy Chief of Staff Daniel Scavino. The party line vote is the latest as the House committee investigating the January 6 insurrection is closing in on what role former President Donald Trump and his associates had in trying to block certification of the 2020 election.
Representative Bennie Thompson, the Mississippi Democrat who chairs the January 6 committee, explained to the rules panel why he was seeking records and testimony from the two aides, who have rebuffed its subpoenas for documents and testimony by claiming executive privilege.
"To put it plainly, they were both involved in efforts to challenge or overturn the election," said Thompson. "Last I checked, a president's attempt to stay in power after the people voted him out of office aren't the sort of things where executive privilege apply."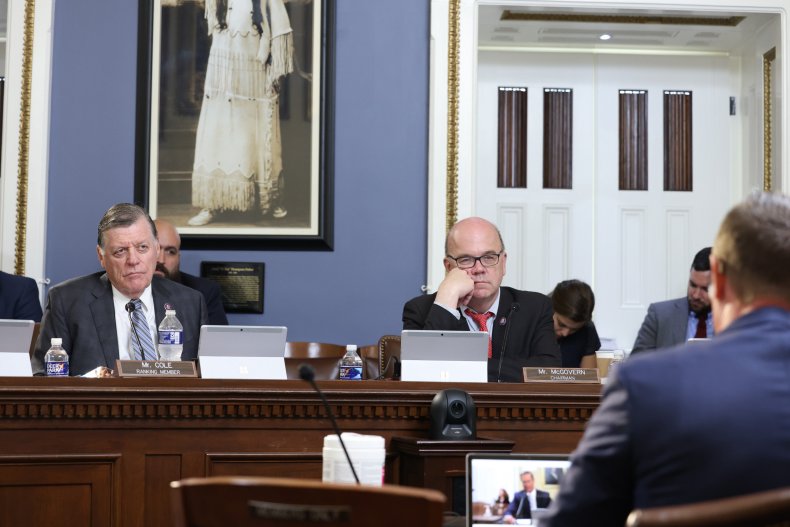 Representative Jim McGovern, the Massachusetts Democrat who chairs the committee, said in his opening remarks that Navarro had authored a report arguing that Trump had encouraged members of Congress to overturn the 2020 results. Scavino, a communications aide who had access to Trump's Twitter account, had been in contact with the former president as a mob of his supporters stormed the Capitol, McGovern said.
McGovern also pointed out that a federal judge has ordered the release of documents to the committee and concluded that Trump's claim of executive privilege wouldn't apply even if he were still president.
Representative Tom Cole, the House Rules Committee's top Republican, shot back saying that the January 6 probe had become an "inherently political investigation" and that Navarro and Scavino had a "legal duty" to comply with Trump's assertion of executive privilege.
"Criminal contempt is inherently punitive; it does not force the production of documents or compel acts of testimony," he said. "Rather it merely seeks to publicly punish and shame an individual for not complying."
Representative Liz Cheney, the Republican vice chair of the January 6 probe, told the Rules Committee that "we are entering a critical stage of this investigation."
Cheney, who has become a vocal critic of Trump, said the January 6 committee was seeking testimony from Scavino, who she said worked directly with the former president to spread the "false message that the election was stolen and to recruit Americans to come to Washington with the false premise that January 6 would be an opportunity to 'take back to their country.'"
"The committee has many questions for Mr. Scavino about his political social media work for President Trump," she said.
She said the committee is seeking testimony from Navarro about his communications with other top Trump allies, including Roger Stone and Steve Bannon, in the lead-up to the riot.
Cheney referenced how last month a federal judge ruled that Trump "more likely than not committed multiple federal crimes" during his attempt to overturn the 2020 election.
Previously, Bannon was indicted and is facing trial for failing to appear before the committee last year. McGovern said that contempt of Congress can be punished with up to a year in prison and fines of up to $100,000.
"This is not a step that we take lightly," he said.
Newsweek has reached out to Scavino and Navarro for comment.