Former Trump adviser Peter Navarro is skeptical about Jared Kushner's cancer revelation and thinks that the former president's son-in-law is using the diagnosis to help sell his forthcoming memoir.
Asked about why Kushner would not tell former President Donald Trump about having thyroid cancer, Navarro told Newsmax, "That thyroid thing, that came out of nowhere."
"I saw the guy every day. There's no sign that he was in any pain or danger or whatever. I think it's just sympathy to try to sell his book now," he said on Thursday night, adding that he believes Kushner's book to be "fiction."
In Kushner's new book, Breaking History: A White House Memoir, the former senior adviser to the president revealed that he was diagnosed and treated for thyroid cancer while he was working in the White House in October 2019.
According to the memoir, Kushner tried to hide his cancer from Trump, but his father-in-law eventually found out.
Newsweek reached out to HarperCollins Publishers for comment.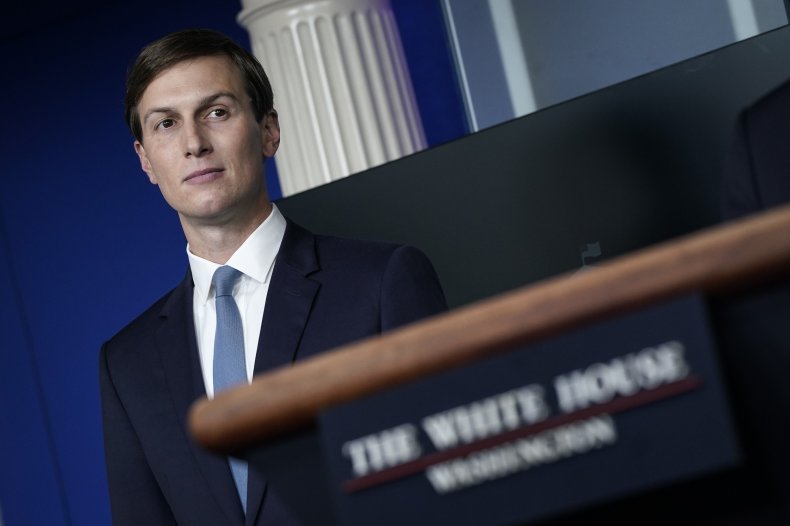 Navarro, who helped lead the Trump administration's response to the COVID-19 pandemic alongside Kushner, has been critical of his White House colleague in the past.
On Thursday, he called Kushner a "one-man wrecking crew" and said his "only qualification was that he was the boss's son-in-law." Navarro alleged Kushner would "take credit for whatever success we had" but then blame others whenever the administration failed.
"Time after time, whether it's mismanagement of the campaign, mismanagement of the pandemic, taking too much credit for NAFTA, taking too much credit for the Abraham Accords," the Trump loyalist said. "I mean, the guy was just a one-man wrecking crew, 36 years old, I think, when he got in there with no training."
While Navarro has been outspoken about the tensions between him and Kushner, it was reported by Vanity Fair that Navarro was only appointed by Trump after Kushner cold-called the economist after reading his book Death by China.
On Wednesday, the Justice Department sued Navarro, seeking to force the former trade adviser to turn over communications he had sent and received while working in the Trump White House.
According to the lawsuit, Navarro had a private email account that he used to "wrongfully retain" records that were supposed to be turned over to the National Archives. Prosecutors say those communications include roughly 200 to 250 emails.
"Mr. Navarro has refused to return any Presidential records that he retained absent a grant of immunity for the act of returning such documents," prosecutors said.
The lawsuit said that federal officials attempted to get a copy of the emails from Navarro and his legal team but that the former official refused unless he was granted immunity in exchange for the communications.