Peter Rabbit Features on 50P Coin For Beatrix Potter's 150th Birthday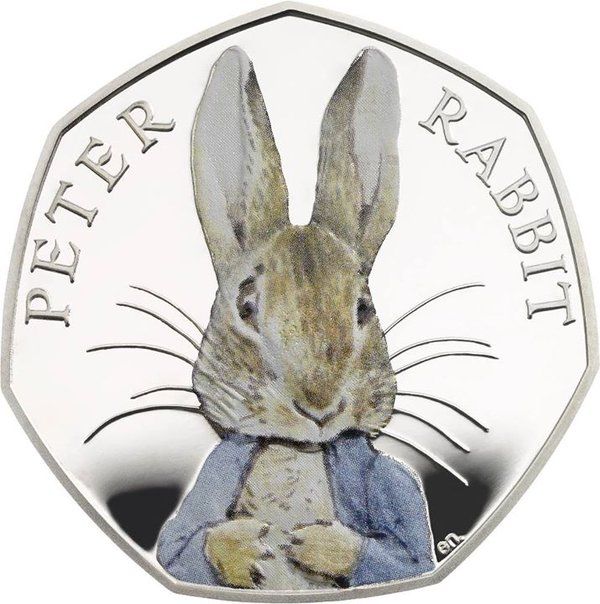 The Royal Mint on Monday unveiled a new 50 pence piece featuring the beloved bunny Peter Rabbit, marking the first time a character from children's literature has ever appeared on a U.K. coin.
The silver tribute to Beatrix Potter's most famous creation is being released in celebration of the 150th anniversary of the author's birth. "Peter Rabbit is immediately recognizable. He is a well-loved character," says Royal Mint designer Emma Noble, who has previously designed coins to commemorate the 60 th anniversary of The Queen's coronation and Remembrance Sunday in 2013.
"I've only ever designed commemorative coins and this will be the first time any have appeared in circulation. It will be great to find them in my change and see them in my pocket!"
Noble studied illustration at Swansea Institute in Wales before landing a job at Royal Mint as an engraver in 1997. Last year, she decided to enter an internal competition in which around a dozen Royal Mint staff and external designers were invited to design coins marking the anniversary of Potter's birth in 1866.
"The process is quite long," explains Noble. "Firstly, I focus on the designs, then I carve each character out with plaster. That takes a week or so to get the plaster right. I have to get it spot on."
The Royal Mint Advisory Committee loved Noble's designs and selected her as the winner. Her design will appear in color on commemorative versions of the coin and uncolored on those that enter general circulation later in the year.
"I was delighted to be selected and I'm really proud of the Peter Rabbit 50p," Noble says. "It will hopefully encourage more children to take an interest in coins: checking their change and collecting them."
Julia Hope, a lecturer in Children's Literature at Goldsmith's University, welcomes the special edition coin. "Children's literature is a huge and important genre," she says. "The number of children's books published every week is phenomenal and this needs to be represented in our national consciousness.
"Beatrix Potter is a stalwart of the Victorian age of children's writing and I'm really happy we are giving recognition to a woman writer."
The remaining three coins featuring other characters from Potter's books will be released later this year. "I just hope that the other coins they unveil will represent female protagonists as well as male ones," says Hope.