FBI Agent Peter Strzok Says He Had Information to 'Derail' Trump's Campaign, but It 'Never Crossed My Mind' to Release It
FBI agent Peter Strzok claimed he had potentially damning information that could have derailed President Donald Trump's 2016 campaign but the idea of releasing such information "never crossed" his mind, according to Strzok's opening statement released just hours before his appearance before a joint committee hearing Thursday morning.
Strzok, who served as a lead investigator into Hillary Clinton's private email server probe and the separate inquiry into the Trump campaign and Russia's alleged collusion to win the White House, has become a lightning rod and punching bag for Republicans and the president over claimed bias within the FBI and Justice Department against Trump.
His text message exchanges with former FBI lawyer Lisa Page, with whom he had an affair, caused outrage after one such message Strzok sent to Page suggested bias. Strzok wrote, in reference to a potential Trump election victory: "No. No he won't. We'll stop it."
But Strzok pushed back on the allegations of bias in his opening statement, first reported by the Associated Press, before appearing before the House Oversight and Judiciary Committees.
"Let me be clear, unequivocally and under oath: not once in my 26 years of defending my nation did my personal opinions impact any official action I took," Strzok said in the statement.
Strzok added that in 2016 he had information that "had the potential to derail and quite possibly defeat Mr. Trump. But the thought of exposing that information never crossed my mind."
Strzok noted that while he respected Congress's oversight role, he believed "today's hearing is just another victory notch in [Russian President Vladimir] Putin's belt and another milestone in our enemies' campaign to tear America apart."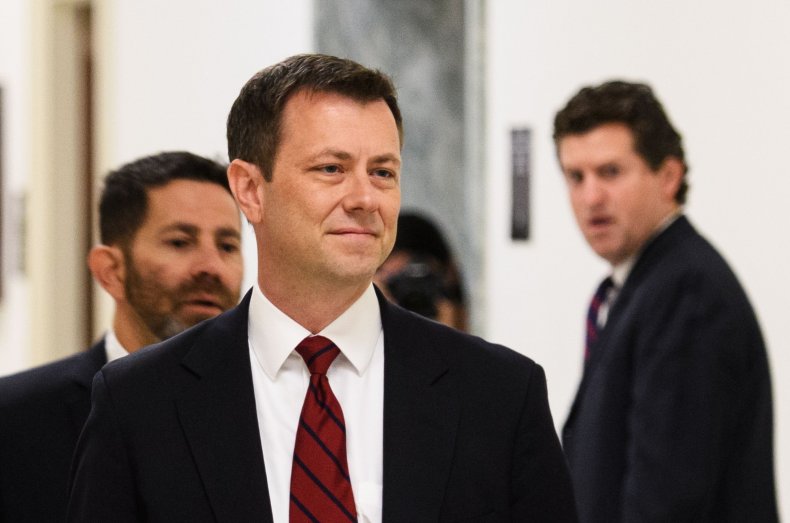 He also addressed Trump and several Republicans' rallying cry of a "witch hunt" or "hoax" to describe Special Counsel Robert Mueller's inquiry into Russia's meddling in the 2016 election.
"This investigation is not politically motivated, it is not a witch hunt, it is not a hoax," Strzok said.
Upon learning of the messages between Strzok and Page, the special counsel removed Strzok from his team of investigators.
Strzok's claim of no bias was backed up by the Justice Department Inspector General's report released last month, which stated that, while former FBI Director James Comey was at fault for several missteps in the Clinton probe, no "political bias" was found in the internal investigation.