Peter Thiel Dishes Out $1.5M to Support a New Dating App for Conservatives
Billionaire tech entrepreneur Peter Thiel is reportedly investing $1.5 million into a new dating app for conservatives.
The app, dubbed The Right Stuff, is meant to help conservatives living in large, liberal-leaning cities connect with one another. According to a Tuesday report from Axios, Thiel is dishing out more than $1 million to help the app in its seed round.
This is the latest in a recent trend of Republicans creating their own party-specific apps, social media platforms, and publishing houses. Next week, Trump is gearing up to launch his social media platform, Truth Social, on February 21 with the goal of providing "open, free, and honest global conversation without discriminating against political ideology."
The app has not yet launched for the public and is being developed by John McEntee, a former political aide during Donald Trump's presidency. When reached for comment about Thiel's involvement, McEntee told Axios "we're excited to launch The Right Stuff dating app this summer. Conservatives deserve an easy way to connect."
The Right Stuff is set to launch this summer in Washington, D.C., and will first be on a invite-only basis, according to the news outlet. To start, the dating app will be free to use, but investors eventually want to transition it into a subscription-based format.
Truth Social was developed after the former president was barred from nearly every major social media app including Twitter, Facebook, Instagram and Snapchat, due to his involvement with the violent January 6, 2021, attack on the U.S. Capitol.
Conservatives have stated that building their own virtual ecosystem is due to Big Tech companies cracking down on far-right voices, as critics have slammed Trump and other Republicans for spreading harmful misinformation online.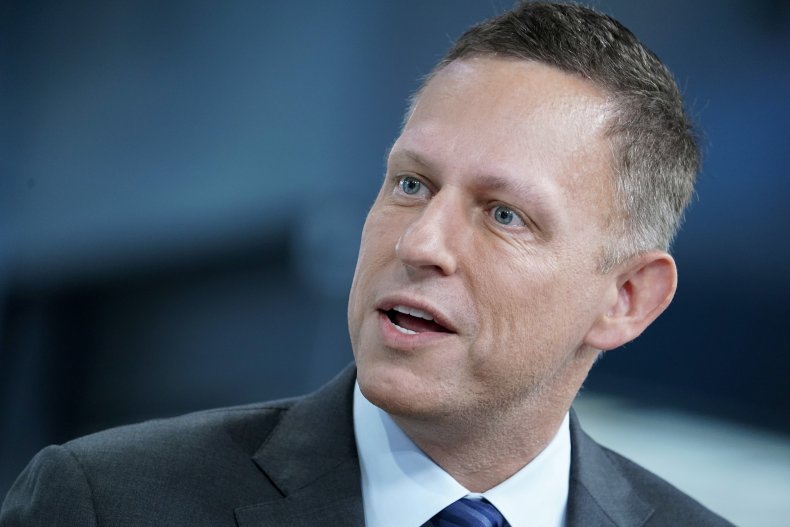 Thiel's reported involvement in The Right Stuff comes after he previously invested in Rumble, a video-streaming site that has become a conservative alternative to YouTube. Earlier this month, Rumble offered controversial podcast host Joe Rogan a $100 million deal to leave his contract with Spotify and come to the platform after he faced backlash for spreading COVID-19 vaccine misinformation and using racial slurs on air.
Thiel's latest investment also comes just one week after he announced he would be leaving Facebook's parent company Meta in an apparent effort to focus on backing congressional candidates who align with Trump in the upcoming midterm elections.
So far, Thiel, a longtime Trump supporter, has helped back Arizona Senate candidate Blake Masters, and J.D. Vance, who is running for Senate in Ohio.
However, Sean Freeder, an assistant professor of political science at the University of North Florida, previously told Newsweek that Thiel's financial backings "may be more muted than expected."
"While having a money advantage matters, the value of each additional dollar at some point diminishes quite a bit, and to the extent these candidates will receive support from other Trump-associated PACs, and even Trump himself," Freeder told Newsweek. "They may already have most of the money they'll need to run 24/7 advertising.