Peter Thiel Net Worth: Billionaire Trump Supporter Is Reportedly Looking to Launch His Own Fox News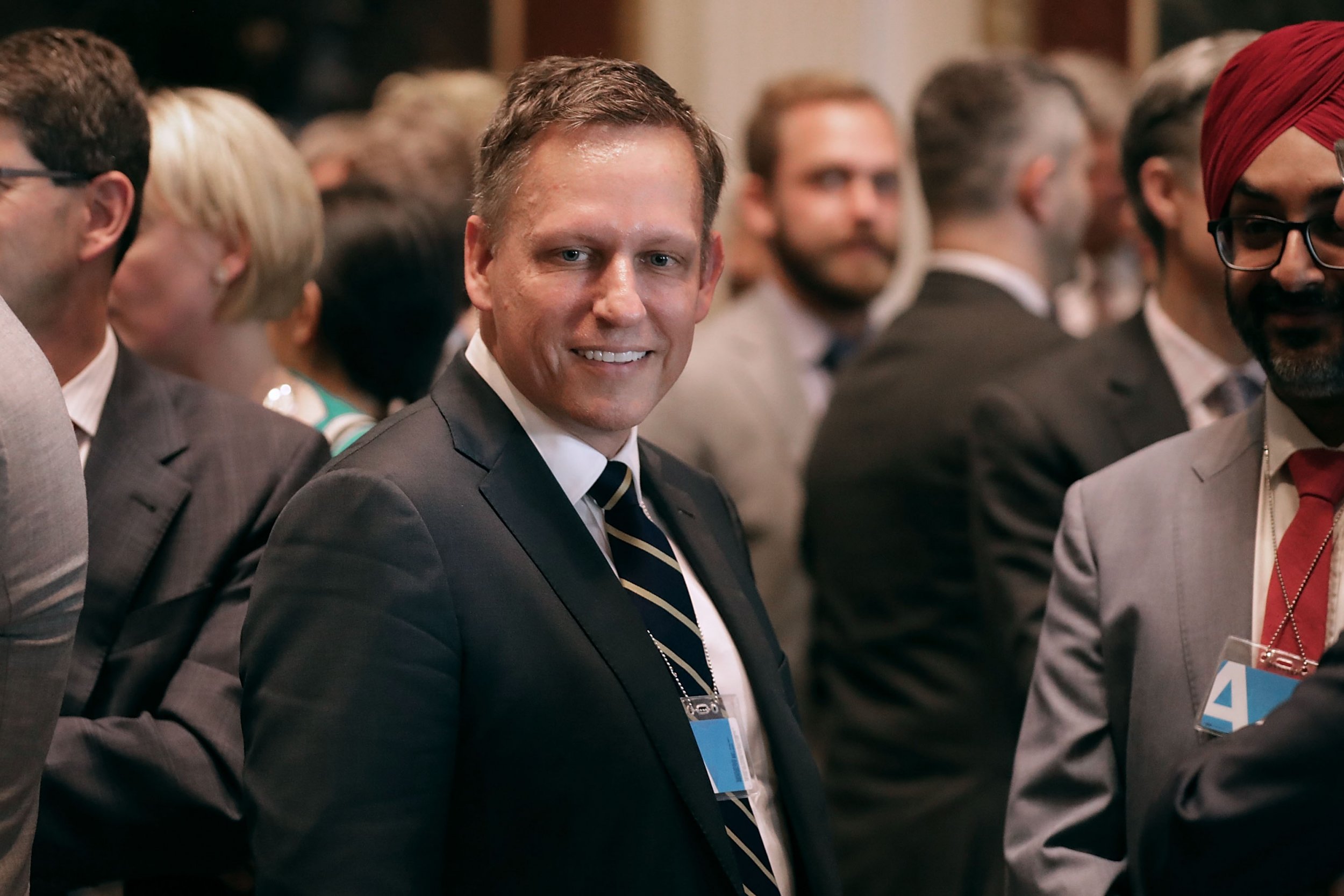 Donald Trump's favorite news channel, Fox News, may have a new right-wing cable rival competing for the president's affections.
Peter Thiel, the billionaire entrepreneur and venture capitalist who funded pro wrestler Hulk Hogan's lawsuit against now-defunct gossip website Gawker, is reportedly looking to launch his own conservative news channel.
Thiel is a Trump supporter—he donated $1.25 million to the president's election campaign—and served on his presidential transition team.
According to a BuzzFeed report Wednesday, Thiel, 50, has been in touch with fellow billionaires, the Mercer family, about funding his operation.
In a curious wrinkle to the story, Thiel also reportedly opened talks with ousted Fox News president Roger Ailes before his death in May 2017 to discuss his rival network. The report about his and Ailes's connection came from Michael Wolff's new Trump presidency biography, Fire and Fury: Inside the Trump White House, which caused headlines Wednesday when excerpts circulated in the media detailing quotes from former Trump chief strategist Steve Bannon that labeled meetings between Donald Trump Jr. and a Russian lawyer during the presidential campaign "treasonous."
In the book, Wolff wrote that both Thiel and Ailes were "worried that Trump could bring Trumpism down," according to BuzzFeed.
A meeting between Thiel and Ailes was planned for May 2017, but Ailes died aged 77 following complications from a fall before it could take place.
If the meeting had gone as hoped, Wolff's book describes that Thiel hoped to lure Ailes and fellow Fox News veterans Bill O'Reilly, since fired from the network, and Sean Hannity to his network.
BuzzFeed noted that Thiel declined to comment on its story.
A History of Thiel
Thiel made his name as co-founder of PayPal, the online money transfer service. He served as the company's chief executive officer until it was sold to eBay for $1.5 billion in 2002.
The billionaire is also a board member of Facebook. In 2004, he invested $500,000 for a 10.2 percent share in the social media site as its first outside investor. He sold most of his shares in 2012 for over $1 billion.
In 2016, Thiel helped fund Hulk Hogan's invasion of privacy lawsuit against Gawker, which, in 2012, published portions of a sex tape the retired pro wrestler appeared in. Gawker outed Thiel as gay in 2007.
Hogan was awarded $115 million in compensatory damages and $25 million in punitive damages. Gawker subsequently filed for bankruptcy. The two sides settled for $31 million in November 2016.
According to Forbes, Thiel has a net worth of $2.5 billion.