Peter Weber Says Mike Johnson 'Would Have Been Great' After Show Missed Opportunity To Cast the First Black Bachelor
Bachelor Peter Weber is speaking kindly of his former competitors. The Bachelor was chosen over two contestants: Mike Johnson and Tyler Cameron. Weber, however, said they both would have been great for the position.
Weber spoke about both Johnson and Cameron in an interview with Entertainment Tonight. "A, I didn't make this decision, right? I was very grateful to accept it and move forward, but listen, regardless of race, of identity or whatnot, everybody is deserving of love. And I'm not the only person," he explained. "Mike would've been a great Bachelor. Tyler [Cameron] could have been a great Bachelor. They picked me and I'm very excited and very humbled and I can't wait for this journey to begin."
Weber's promotion to the position caused major controversy within the Bachelor fanbase. In Twitter conversations even before the official announcement, it became clear Johnson was the frontrunner in fans' minds. This was seemingly because Johnson, if chosen, would have been the first black Bachelor.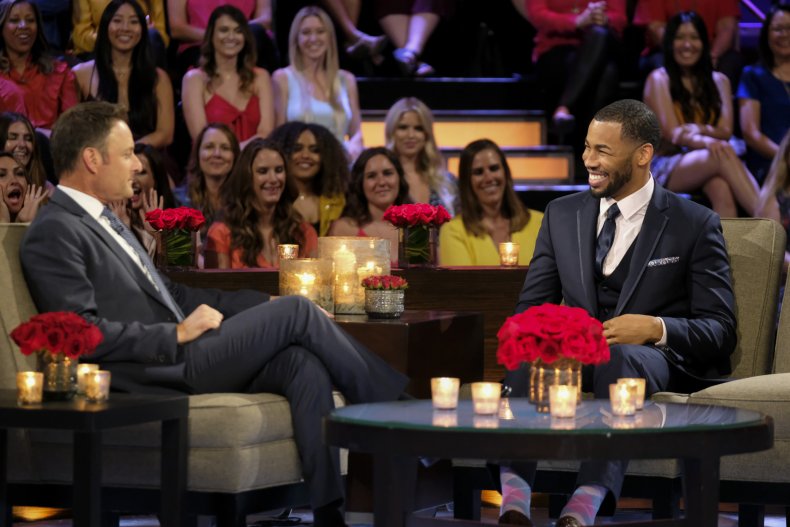 Most fans seemed to agree that by Season 24 of the longstanding reality show, an African American Bachelor should be given a shot at love. Franchise spinoff The Bachelorette had its first and only black Bachelorette in Season 13, which aired in 2017.
Johnson agreed with the point in a September interview with Entertainment Tonight. "After 24 Bachelors, a black Bachelor should have been cast," Johnson said. "At the same time, ABC has been successful. They know what they're doing for their audience. They know what they're looking for. I wasn't the guy they were looking for at the moment."
He also noted that Weber was the first Bachelor of Cuban descent. "I think of diversity more than just black and white," Johnson said. "And yes, Peter has a Cuban mom, but let's just be honest—he's white, right? And that's just being completely transparent. I think that there should be an Asian lead, an Indian lead... diversity is not just black and white. It's not just salt and pepper."
Both Weber and Johnson were popular contestants on Hannah Brown's season of The Bachelorette. They were praised by the public, along with Cameron, for seeming genuine throughout the series.
As for Cameron, the model was apparently passed up for the coveted position since he was dating model Gigi Hadid while the show was casting. Bachelor host Chris Harrison explained that Cameron's public dating life didn't fit into the show's message.
"If Tyler is bouncing around from girl to girl and loving the life and enjoying the limelight—which, by the way, good on him. That's fine. If that's what you want to do right now, I don't blame him. He's probably enjoying life really, really well—but that's not someone we're going to want to have as our Bachelor or Bachelorette," Harrison told Entertainment Tonight in August. "So, it's about sincerity. It's about where you are in your life. And if that's where he is in his life, then he's not the guy for us."