A MoveOn.org petition asking the Senate not to hold hearings on who should replace the late Justice Ruth Bader Ginsburg on the Supreme Court until after the inauguration of the winner of the November 3 election has received nearly a half-million signatures in a day.
"Ruth Bader Ginsburg's dying wish was that her Supreme Court seat not be filled until a new president was installed. She was a champion for gender equality, among other issues rooted in fairness and justice for all. With less than 50 days until the election and voting already underway in many states, it's important that we demand all senators pledge not to move forward with any nominee until after the next inauguration," MoveOn.org said in its petition.
The petition, which was posted by the left-leaning political organization late Friday night, has at least 476,244 signatures as of publication. While most signatories who left comments posted condolences for the late Justice, others criticized Senate Majority Leader Mitch McConnell.
McConnell refused to hold a confirmation hearing in 2016 for then-President Barack Obama's nominee to replace the late Justice Antonin Scalia, Judge Merrick Garland.
At the time, McConnell said that it was too close to the election to hold a hearing, and that it would be better for the next president to name a successor to the bench. That successor ended up being Justice Neil Gorsuch, a Trump appointee and the current youngest member of the Supreme Court.
Following the death of Justice Ginsburg, however, McConnell has promised to hold hearings for President Donald Trump's nominee. Trump said he expects to choose his nominee next week, and that it will be a woman. Experts believe Amy Coney Barrett and Barbara Lagoa to be the current frontrunners.
"The 2020 election has already started—with voting already underway in many states—and it would be a truly inexcusable act of hypocrisy and injustice for Trump and Senate Republicans to move any nomination forward," MoveOn.org said it its petition.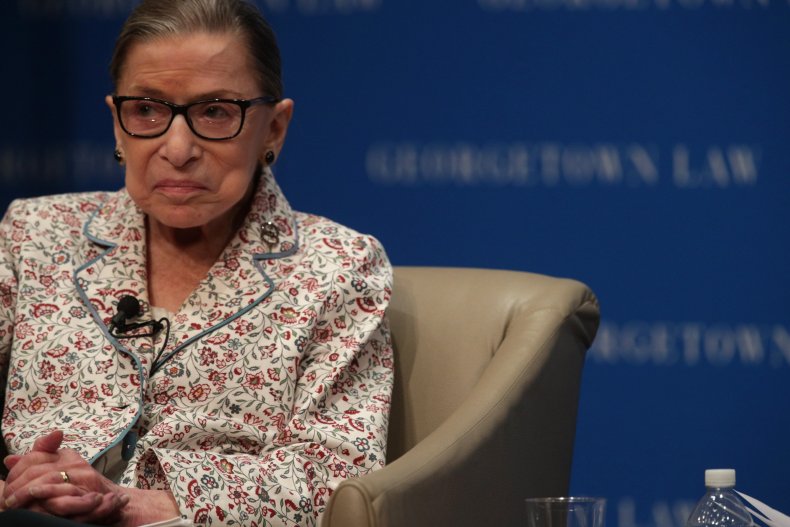 This difference in behavior has proven controversial. On Friday, Republican Senator Lisa Murkowski of Alaska told Alaska Public Media she opposed holding a confirmation hearing before the election.
"I would not vote to confirm a Supreme Court nominee. We are 50 some days away from an election," Murkowski said. She added that she agreed with McConnell's argument in 2016, saying "That was too close to an election, and that the people needed to decide."
"The closer you get to an election, that argument becomes even more important," she added.
Maine's Republican Senator Susan Collins agreed.
"In fairness to the American people, who will either be re-electing the President or selecting a new one, the decision on a lifetime appointment to the Supreme Court should be made by the President who is elected on November 3rd," Collins said in a statement.
A simple majority of 51 votes is needed to confirm a new justice. Currently, there are 53 Republican senators. If the vote on a potential nominee is along party lines, four Republicans would need to defect to stop the confirmation. This is assuming none of the 47 Democrats in the Senate break ranks, and the two Independent senators—who both caucus with the Democrats—also vote against confirmation.