Petition To 'Bring Back' Don Cherry Gains Traction After Hockey Commentator Fired For Comments About Immigrants
Following Sportsnet's dismissal of NHL analyst Don Cherry, a change.org petition to bring him back has garnered nearly 100,000 signatures.
Cherry was fired after he made anti-immigrant comments during his 'Coach's Corner' segment on Hockey Night in Canada.
"You people...love our way of life, love our milk and honey. At least you could pay a couple of bucks for poppies or something like that. These guys paid for your way of life that you enjoy in Canada," Cherry said on the program, referencing individuals he believed to be immigrants that were not wearing poppies to honor military veterans during Canada's Remembrance Day.
Following backlash across social media, Sportsnet released a statement on Twitter Monday, detailing their decision to fire Cherry.
Newsweek subscription offers >
"Sports brings people together – it unites us, not divides us. Following further discussion with Don Cherry after Saturday night's broadcast, it has been decided it is the right time for him to immediately step down," Sportsnet tweeted. "During the broadcast, he made divisive remarks that do not represent our values or what we stand for."
Newsweek subscription offers >
Despite his dismissal from the network, some people believe that Cherry did not deserve to be fired, including the creator of the petition.
"Don Cherry is a Canadian icon and symbol of the working class. He may be politically incorrect, and may not have been as careful as he should have in his remarks, but his offence does not warrant firing. Sportsnet and CBC should not cave into a mob of liberals and twitter activists and should immediately restore Cherry to his job," the petition reads.
Fans also used Twitter to express their support for Cherry.
"After what @sportsnet did to Don Cherry's long historic career, I will be cancelling my Rogers Center ice account and Boycotting them completely #BoycottRogers," said Twitter user Bowman Keith.
"Four decades of service. And terminated in one day – for speaking the truth. Stand firm #DonCherry. Never apologize. Never explain," Tweeted Katie Hopkins.
It's not the first time Cherry has gotten in trouble for comments some considered controversial. In 2013, Cherry said he didn't think women -- or female reporters -- should be allowed in male locker rooms and in 2018 Cherry expressed his unhappiness regarding European-born players being part of the Canadian Hockley League (CHL) and the National Hockey League (NHL).
"I'm not happy for that, to be truthful," Cherry told the media while coaching the annual Canadian Hockey League (CHL)/ NHL top prospects game. "What happens is, if you look at it, there is a Canadian kid not playing. No matter how you cut the mustard."
Following his dismissal from Sportsnet, Cherry refused to apologize for his comments when speaking to The Toronto Sun.
"I know what I said and I meant it. Everybody in Canada should wear a poppy to honor our fallen soldiers," he said.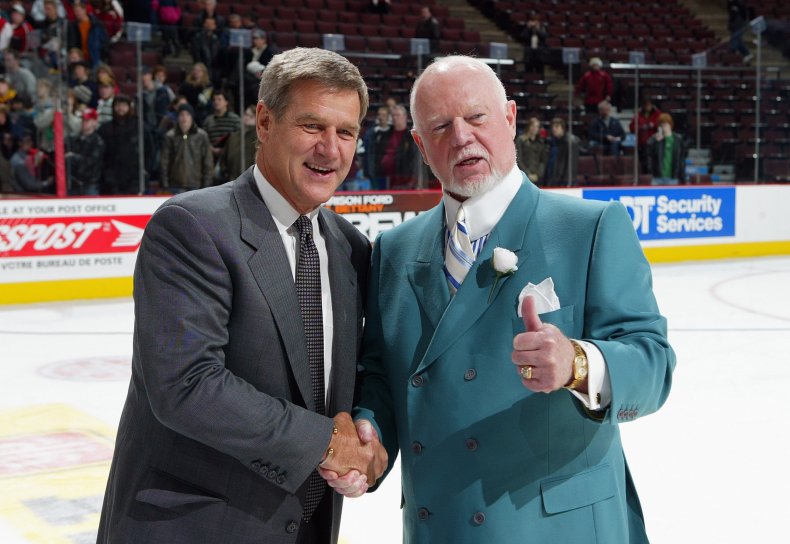 Petition To 'Bring Back' Don Cherry Gains Traction After Hockey Commentator Fired For Comments About Immigrants | Sports