Petition to Charge Officers in Jacob Blake Shooting Surpasses 30,000 Signatures in 12 Hours
As demonstrators pushed for justice for Jacob Blake at in-person protests, others showed their support online with more than 30,000 people signing a Change.org petition to charge the officers involved in the shooting.
Kenosha, Wisconsin, officers shot Blake, 29, multiple times on Sunday, as he opened the door of a parked car. He was transported to a local hospital in serious condition and video of the shooting went viral, prompting protests and clashes between demonstrators and officers.
The Wisconsin Department of Justice opened an investigation into the shooting and Governor Tony Evers condemned the officers' actions. Evers noted Blake wasn't the first Black man or person to be shot or "mercilessly killed" by law enforcement and said he stands with those demanding justice.
"I have said all along that although we must offer our empathy, equally important is our action. In the coming days, we will demand just that of elected officials in our state who have failed to recognize the racism in our state and our country for far too long," Evers said.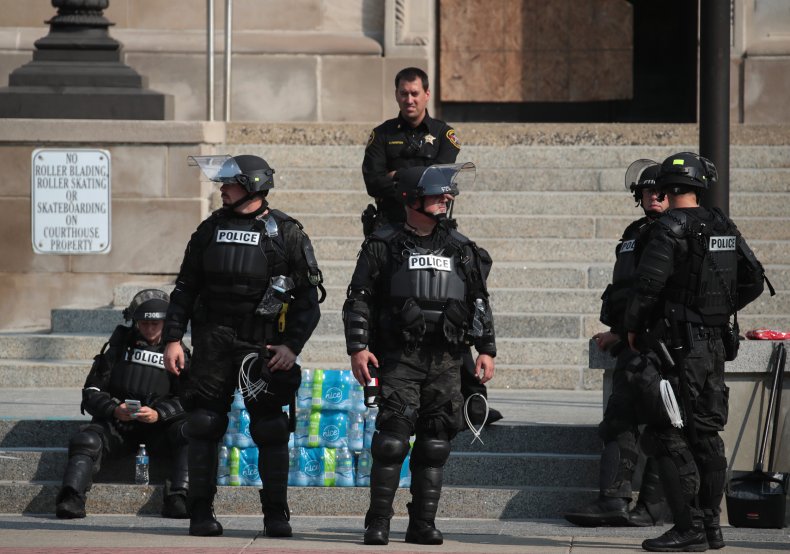 Among those demanding justice for Blake are 31,832 people who signed a Change.org petition calling for the officers involved to charged with "at least attempted murder." The petition was created 12 hours earlier and has a goal of reaching 35,000 signatures. It's addressed to Evers and the Kenosha Police Department.
Newsweek reached out to the Wisconsin Department of Justice for comment but did not receive a response in time for publication.
Officers were responding to a reported domestic incident. In a video of the interaction, Blake is seen walking away from the officers as they point their firearms at him. When he opens the driver's side door to a car, an officer grabs his shirt and then fires his weapon at Blake's back. Seven gunshots can be heard in the video.
Blake's family retained attorney Benjamin Crump, who also represents the family of George Floyd, a man who died after a Minneapolis officer knelt on his neck. In a statement, Crump said Blake was helping to deescalate the domestic incident when he was shot in front of his three sons, who were in the car at the time.
"Their irresponsible, reckless and inhuman actions nearly cost the life of a man who was simply trying to do the right thing by intervening in a domestic incident," Crump said. "It's a miracle he's still alive."
Following a "complete and thorough investigation," the Division of Criminal Investigation will turn over investigative reports to a prosecutor. The goal is to provide a report to a prosecutor within 30 days, at which point the prosecutor will decide if charges are appropriate. If the officers aren't charged, the report will be made public.