Petition to Count Every Pennsylvania Vote Nears 150,000 Signatures As Gap Between Trump and Biden Tightens
A petition demanding that all votes in Pennsylvania, including provisional ballots, are counted despite GOP efforts to block them is closing in on 150,000 signatures.
The petition, started by Pittsburgh resident and community organizer Eva Resnick-Day, was approaching 130,000 names early Thursday as vote counting continued in the key swing states that will decide the presidential election.
Most of the votes now swinging the race one way or the other are absentee mail-in ballots. In some states, they are being counted after the in-person voting from Election Day. Pennsylvania is particularly close, and its 20 Electoral College votes could represent the key to the White House.
These absentee ballots have been breaking favorably for Democratic candidate Joe Biden, handing him wins in Wisconsin and Michigan, and putting him within touching distance of President Donald Trump's lead in Pennsylvania and Georgia.
Resnick-Day's Pennsylvania petition is focused on provisional ballots—those cast when there are questions over a person's eligibility. These issues must be resolved before the vote can count, meaning it can take several days for the vote to be recorded.
"The voters we reached were voters who never received their mail in ballot and weren't sure quite where to go to have their vote counted. Voters who didn't even know they were on a mail in ballot list, and were told to vote provisional ballots at their polls," Resnick-Day wrote.
"Voters with disabilities, immunocompromised, elderly or sick that either didn't receive their mail in ballot or whose ballot wasn't received by mail, and needed coordinated assistance to have their ballots counted," she added. "Despite these hurdles, we're seeing record turnout. Every single one of these votes must count."
Those using provisional ballots are more likely those disenfranchised by strict voting laws, including minorities and those who cannot immediately prove their identity or a place of residence.
A 2014 report by the liberal Center for American Progress think tank found that counties with high rates of minority voters used provisional ballots more than predominantly white counties. The same report found that around a quarter of provisional ballots are rejected.
Republicans in Pennsylvania are suing to prevent those voters whose mail-in ballots were rejected from submitting provisional ballots instead. They argue that notifying these voters to tell them their mail-in ballots were rejected is prohibited under state election laws that prevent officials from revealing early results.
"Republicans are currently working persistently through the courts to invalidate tens of thousands of votes of hardworking Pennsylvania voters who simply missed their 'secrecy envelope' or a signature and showed up in person to correct it," the petition reads. "All of these voters deserve to have their voice and vote heard."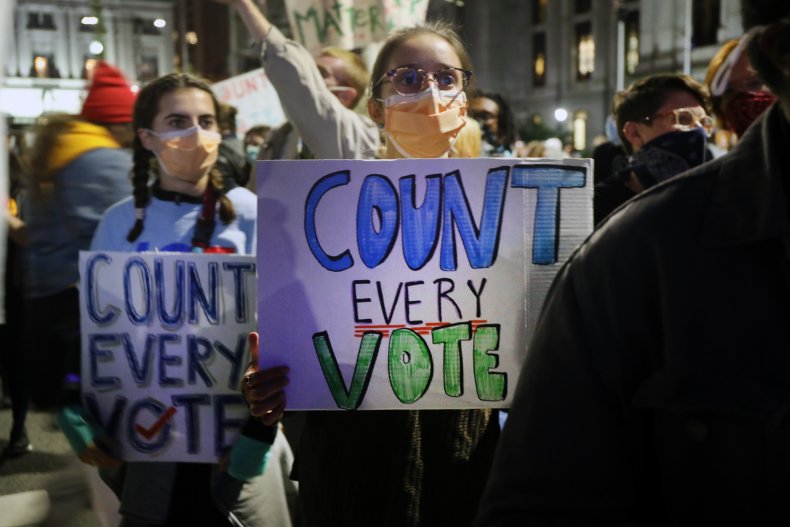 The Trump campaign—its pathway to victory narrowing—has taken legal action to try and stop vote counting in Michigan, Pennsylvania and Georgia, and is demanding a recount in Wisconsin which has been called for Biden.
The president and his allies have long been laying the groundwork to challenge the result of the election, including by spreading baseless conspiracy theories about absentee ballots and electoral fraud. The president has claimed electoral fraud against him multiple times since the polls closed, but has presented no evidence to support the assertion.
The race is razor-thin, and the result could come down to tens of thousands of votes. Already, Trump supporters are protesting outside counting centers to stop the tally in areas where the president is ahead and continue it where he is behind. Democratic and pro-democracy protesters, meanwhile, are gathering to demand that all votes be counted.
In 2016, more than 2.4 million provisional ballots were cast, of which around 800,000 were rejected. The 2016 Cooperative Congressional Election Study found that 60.1 percent of respondents who said they had cast a provisional ballot identified as Democrats.
In 2016, four states—Arizona, California, New York, and Ohio—accounted for nearly three quarters of the 2.4 million provisional ballots.