Nearly 2,000 people called for the termination of a New York City professor after she reportedly fell asleep during an anti-racist meeting held on Zoom.
Patricia Simon, a theater arts associate professor at Marymount Manhattan College, is facing requests for her removal after a June 29 Zoom meeting to discuss the adoption of an "anti-racist framework."
The Change.org petition reached 1,902 supporters before being closed.
"This is a petition that is demanding the removal a faculty member who does not align with the anti-racist views and actions that were promised to be adopted by the department earlier this week at the Town Hall meetings," wrote Marymount student Caitlin Gagnon, who started the petition two weeks ago.
Simon also serves as the coordinator for musical theater, a position she has held since 1991, according to her profile on the college's website.
"Pat supervises a faculty of over forty musical theatre professionals in the fields of music theatre history, music theory, dance, private voice, auditioning, and acting for musical theatre," the profile says.
Gagnon wrote in the petition that Simon has a history of "enabling the racist and sizeist actions and words of the vocal coaches under her jurisdiction."
"She has also been known to use her power to intimidate and bully the students in her program who have made efforts to advocate for themselves or for their fellow peers," according to the petition, which Gagnon created after the Zoom meeting took place.
Simon refuted the students' claims that she had fallen asleep at the meeting.
"I was not asleep as is implied at any point during the meeting," she told Campus Reform, a higher education website. She added, "The photo used was taken without permission when I was looking down or briefly resting my Zoom-weary eyes.
"I listened with my ears and heart the entire meeting," Simon concluded.
Newsweek contacted Simon for comment but did not hear back in time for publication.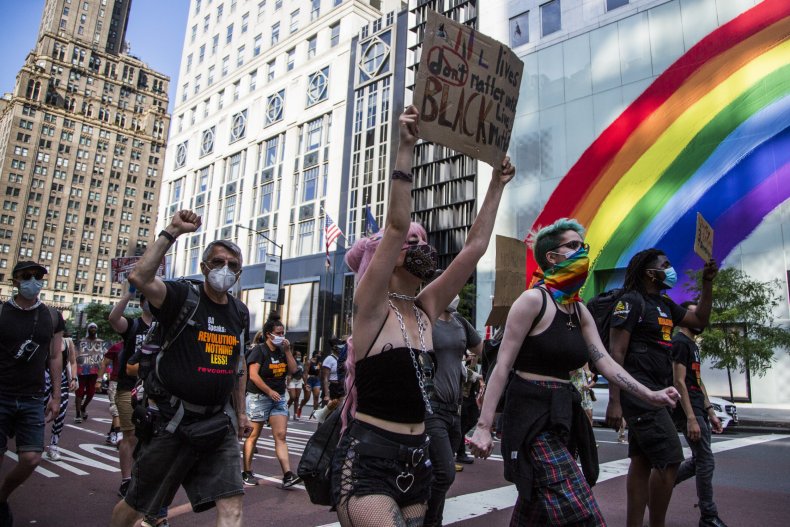 Several people voiced their support for Simon's termination in the petition's comment section.
Clair Rundhaug, a parent of a Marymount student, wrote that Simon's "complete disinterest...in the issue of racial justice & LGBTQ plus inclusion" had been "on display" in front of at least 150 students and other faculty members during the Zoom meeting.
Another commenter, Alyssa Tryon, wrote that Simon is "racist and fatphobic and a toxic professor that should have been removed from MMC a very long time ago."
Others shared stories of past interactions they said they had with Simon.
"She told me that I, being Asian, wouldn't be successful as an actor if I didn't have an 'Asian song' in my book," Ethan Wong wrote. "She also bullies the students into not speaking up when they're having issues."
Newsweek contacted Marymount Manhattan College for comment but did not hear back in time for publication.