Petition to Fire Santa Monica Police Chief Gets 50,000 Signatures After Cops Fail to Stop Looters
A Change.org petition calling for the firing of Santa Monica, California Police Chief Cynthia Renaud has received nearly 50,000 signatures.
Critics accuse Renaud of deploying police in the wrong area of the city during the May 31 protests related to the death of George Floyd, a black man who died in the custody of Minneapolis Police. Though a mostly peaceful protest happened on the city's Ocean Avenue, the downtown business area was hit by looters and vandals taking advantage of the demonstration.
Santa Monica resident Oliver Green started a petition on Change.org earlier this week calling for Renaud to be fired. The petition, as of 4:45 p.m. ET on Saturday, has 49,679 signatures, just shy of its goal of 50,000. The petition alleges that under Renaud, "as of 2019, Santa Monica is only safer than 2% of all US cities on a per population basis for both violent and property crimes," based on statistics from real estate website NeighborhoodScout.
"After seeing the widespread looting and vandalism of our city and local businesses, we can do better. After seeing our brave law enforcement officers stand by without strong leadership or overarching strategy to protect themselves, our city, and its citizens, we have to do better," Green wrote.
Newsweek subscription offers >
Business owners in the area have also been critical of Renaud's response. The owner of the Tar & Roses restaurant, Andrew Kirschner, told the Santa Monica Daily Press he saw police standing "all in one spot—while all the looters were destroying properties behind their backs." The city of Santa Monica reported that 225 businesses were vandalized, and 76 had been looted.
In a blog post posted Friday, Renaud defended her choice in how to deploy police. She said that, based on the violence she'd seen in neighboring areas—the night before, the Santa Monica Police Department (SPMD) had been dispatched to Beverly Hills to stop looting in the luxury shopping area Rodeo Drive—she had scheduled five times as many officers as normal. After the protest started, she increased that deployment to the entire SMPD.
During the protest, police fired tear gas and rubber bullets at demonstrators. Renaud said that though the protest was mostly peaceful, there were "violent agitators" that the SMPD were trying to stop.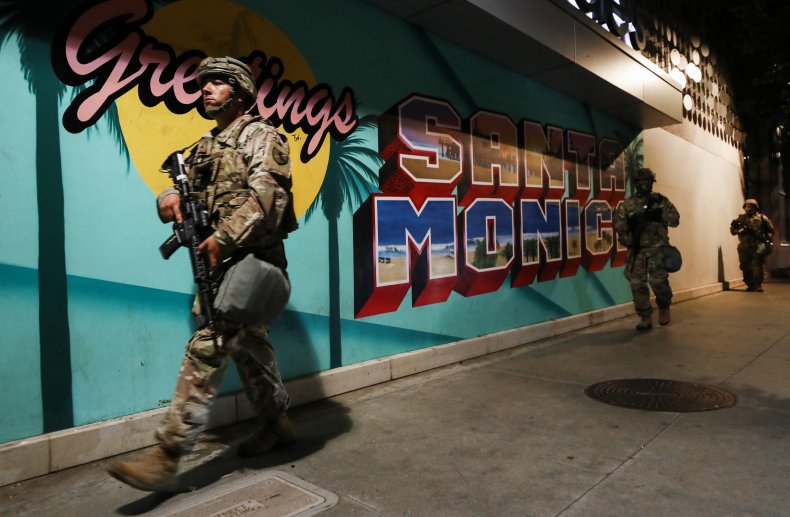 Newsweek subscription offers >
Renaud said that while the SMPD was engaged nearby, "a new type of criminal activity through mass, organized looting" was happening in the downtown area.
"It was this looting that was captured by media. As that was happening, officers were actively engaged just west of them where businesses were threatened along the Third Street Promenade and in Santa Monica Place. We were successful at maintaining order in that area," Renaud said.
She added that the SMPD learned and changed their tactics for future protests. Renaud also admitted that, "we realized we would not be able to save every storefront and every business. While we secured many sections of the downtown area and important community assets, every broken window, fire, and loss of goods hurts us and our community."
"Broken windows can be replaced and buildings can be repaired, but the lives of Santa Monicans, peaceful protestors, my officers, and even the looters, would have been impossible to restore if lost that day," she added.
Newsweek reached out to Renaud for further comment. This story will be updated with any response.
Petition to Fire Santa Monica Police Chief Gets 50,000 Signatures After Cops Fail to Stop Looters | U.S.