A petition pushing for New York City Mayor Bill de Blasio to be impeached has almost reached 120,000 signatures amid criticism of his response to local protests against police brutality.
The Change.org petition first created 10 months ago has picked up a lot traction over the last few days as critics of the mayor have circulated the document on social media.
At the time of writing, more than 119,000 people have signed the petition calling for de Blasio's ouster. The petition's overall signature target stands at 150,000.
"Mayor Bill DeBlasio is destroying New York City. We cannot have him continue as mayor for the next two years," the petition reads. "The people of NY want change, and now is the time to act before it becomes any worse."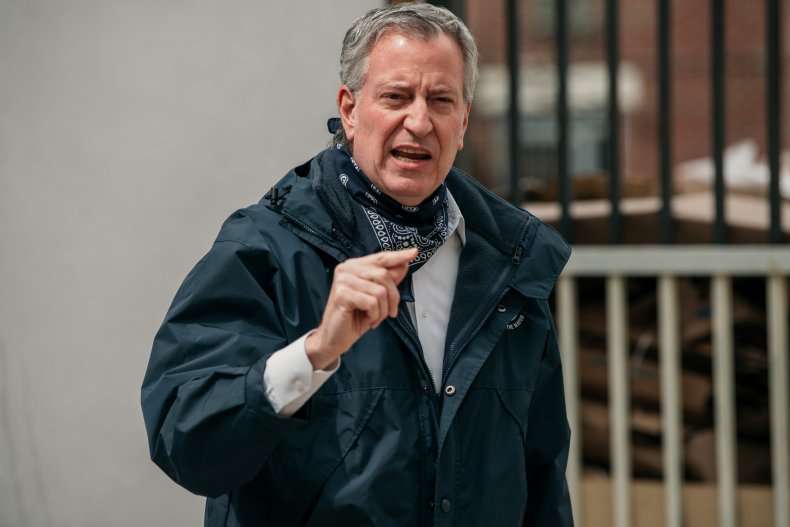 The author of the petition also claims that Mayor de Blasio "does not care what New Yorkers think" and has been both "absent and neglectful" of the city since taking office.
"Sign this petition to say Impeach Mayor de Blasio! We want our New York back to being safer, supported, and loved," the petition adds.
When the New York Post reported on the revival of the petition on Wednesday, it had picked up more than 60,000 signatures—a little more than half the number it has two days later.
As of Friday morning, the petition was still collecting fresh signatures and appeared likely to hit the 120,000 mark.
Its call for Mayor de Blasio's impeachment has picked up pace as some New Yorkers have taken an issue with his praise of "tremendous restraint" shown by police amid protests against the killing of George Floyd in Minneapolis Police custody.
The New York Times reported on Thursday that de Blasio was met by jeers and calls to resign from locals attending a memorial for Floyd in New York City.
Footage from his speech at the event also showed his speech being met with widespread boos and attendees turning their backs on the mayor.
Although the city has been struck by some instances of looting over the last week, local media outlets reported that protests had been largely peaceful on Wednesday.
However, after some protesters defied an 8 p.m. curfew on Thursday night, the Times reported that police penned in demonstrators in the South Bronx area and later charged at them with batons.
Two police officers in New York were also suspended without pay this week after they were filmed shoving a 75-year-old man to the ground, causing his head to bounce off the pavement with an audible crack.
Newsweek has contacted the office of Mayor De Blasio for comment. This article will be updated with any response.