Petition Leads Florida State to Possibly Renaming Its Football Stadium
Doak S. Campbell served as the president of Florida State University from 1941-57. He oversaw its transition from a women's college to a co-ed university, he started the school's athletic program and spearheaded the on-campus football stadium, which has his name on it still today.
Campbell also had personal views on race that don't resonate with much of today's society, especially in the backdrop of nationwide protests against police brutality against Blacks and social injustice. These protests were sparked by the May 25 death of George Floyd, a Black man who died while in custody of four Minneapolis police officers.
In the last four weeks of protests, statues commemorating the Confederacy have been torn down or removed, Confederate flags have been banned, and schools, counties, municipalities and states have reexamined the historical names tied to them.
This is where Florida State's Doak Campbell Stadium comes into play. Among the more notable of Campbell's stance on race happened in 1957, when he forced graduate student John Boardman out of FSU for "for bringing three Negro students to a Christmas party on the campus" and making a speech about integration, the Palm Beach Post-Times wrote.
Boardman said the school's administration was just "pandering to the demands of fanatic segregationists" and "doing the dirty work of the Ku Klux Klan," a Miami Daily News story stated.
Doak Campbell defended Boardman's removal, saying "racial tension has cooled down considerably."
But Campbell did not stop there. That same year, Campbell tried to limit or ban white students from going to church gatherings and opposing segregation.
"If they were holding these mass meetings in a juke joint, it certainly would simplify matters," Campbell said. "I would just put it off limits."
Campbell also tried using his position to dissuade the FSU student newspaper from supporting the end of bus segregation, or endorsing integration at all.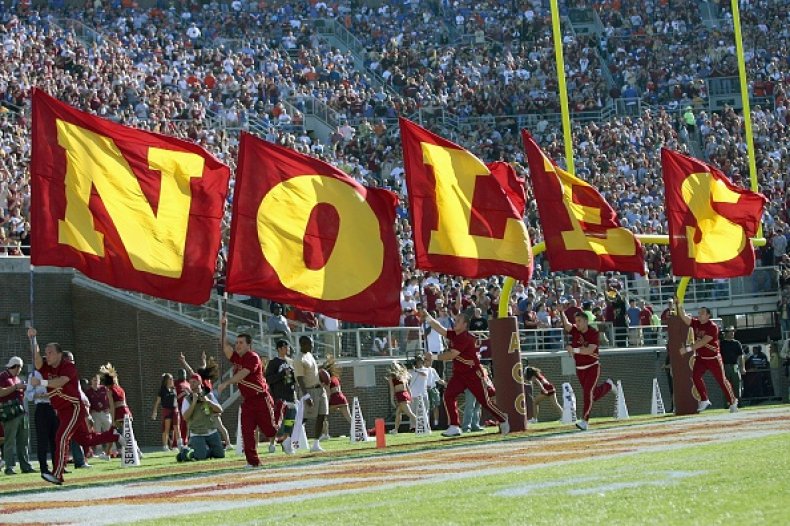 Kendrick Scott, who was a linebacker in the early 1990s and a member of the Seminoles' 1993 national championship team, recently started a petition to have Campbell's name removed from the stadium.
"We can't erase his history of him being a president of FSU," Scott said in the Tampa Bay Times. "But for him being the front name of a stadium for black football players, predominantly, and representing so much to this university ... his name should not be on the stadium."
"That whole thing is just divisive..." Scott said. "That is not the way we want to look at the world."
Scott's petition, and others on social media, have not fallen on deaf ears—especially those of FSU president John Thrasher, who addressed it Monday afternoon through Twitter.
"I have been following with great interest the petitions circulating on social media asserting that Doak S. Campbell ... resisted integration and asking that the stadium no longer bear his name," Thrasher wrote. "I have asked Athletics Director David Coburn to immediately review this issue and make recommendations to me. I look forward to receiving his report soon."
The Florida State news is happening just one week after in-state rival, the Florida Gators, banned their "Gator Bait" cheer because of the song's horrific past.
If FSU does, indeed, change the name of its football stadium, then getting fans to ban the "Tomahawk Chop" could perhaps be next.