Petition to Recall Wisconsin Democratic Governor Tony Evers Launched Over Coronavirus Response
A petition drive is underway to recall Wisconsin Governor Tony Evers over his pandemic response policies and handling of protests taking place in Kenosha.
Misty Polewczynski, a Burlington resident, filed preliminary documents to register the petition with Wisconsin's election commission on Thursday. After registration is complete, Polewczynski's petition will require close to 670,000 signatures over a period of 60 days in order to prompt a recall election.
The registration documents include Polewczynski's rationale for petitioning to recall Governor Evers. In a statement of intent, she claimed Evers "has proven to be unfit for office."
"His gross negligence and incompetence in all matters pertaining to the duties of governor regarding the health, safety, and economic well being of the citizens of Wisconsin," Polewczynski wrote in a list of grievances. "The unconstitutional mandates and lockdowns have cost citizens their businesses, homes, jobs and livelihood [sic]."
Polewczynski did not specific which mandates she felt were unconstitutional. Governor Evers issued a statewide stay-at-home order in response to the novel coronavirus outbreak in March, alongside governors across the United States, in efforts to curb the spread of infection. Most nonessential businesses, ordered to close in-person operations under the executive order, began to reopen in late April and early May.
Wisconsin health officials reported a spike in COVID-19 cases months later, as transmission rates rose nationwide. After extending Wisconsin's state of emergency in mid-July, Evers issued a mandate requiring all residents older than 5 to wear face masks in enclosed spaces when individuals from other household units are present.
Polewczynski's petition registration documents additionally criticized Evers' response to ongoing protests in Kenosha. Rallies surfaced in the Wisconsin city after police shot 29-year-old Jacob Blake in the back seven times on August 23. Blake suffered severe injuries as a result of the shooting.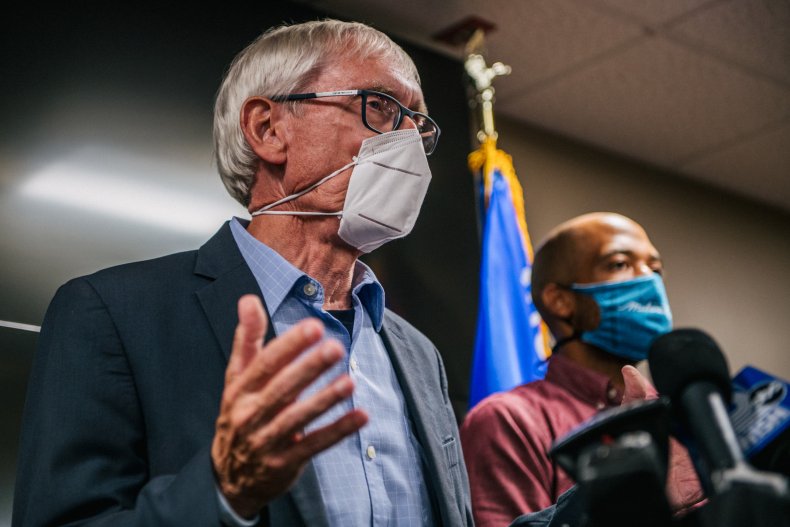 The Wisconsin Democratic Party opposes Polewczynski's petition to recall Governor Evers.
"Trying to recall a governor with a 57% job approval rating in the midst of a global pandemic and civil unrest is irresponsible and absurd," said Courtney Beyer, spokesperson for the party, in comments to Wisconsin Public Radio on Friday. Polewczynski told the Milwaukee Journal Sentinel one day earlier that the state's Republican Party is not officially supporting her petition drive either.
Polewcyznski is launching a separate petition drive to recall Wisconsin Lt. Governor Mandela Barnes. Further documentation shared to a Facebook group titled, "Recall Governor Evers Petition", last week confirmed she filed registration forms for a petition targeting Barnes. The arguments against his leadership were similar to criticisms of Evers.
Newsweek reached out to Governor Evers' reelection campaign for comments but did not receive a reply in time for publication.