Petition Urges University of Virginia to Remove 'Monument to Genocide'
About a month since its creation, a petition calling for the removal of a statue on the University of Virginia's campus was about 60 signatures short of its goal.
The petition, created by local activist David Swanson, called for the school to remove a statue of George Rogers Clark, the brother of William Clark, one of the leaders of the Lewis and Clark Expedition. It was addressed to UVA President James Ryan and as of Friday afternoon had more than 440 signatures of its 500-signature goal.
The Clark statue isn't the only controversial monument on UVA's campus and a statue of its founder, former President Thomas Jefferson, has been a target of vandalism and removal calls.
Located at the intersection of West Main Street and Jefferson Park Avenue, the George Rogers Clark statue was completed in 1921. It shows Clark, with a sword in his hand, aboard a horse facing several Native Americans, some of whom are on the ground. Behind him is at least one man with a firearm. The inscription on the statute says "Conqueror of the Northwest."
The petition labeled it a "monument to genocide" and advocated for removing the statue from campus. While the petition's creator disagreed that the statue was appropriate on campus, he didn't want it to be completely destroyed and called for it to be placed in a museum where it can be presented as a "shameful memory."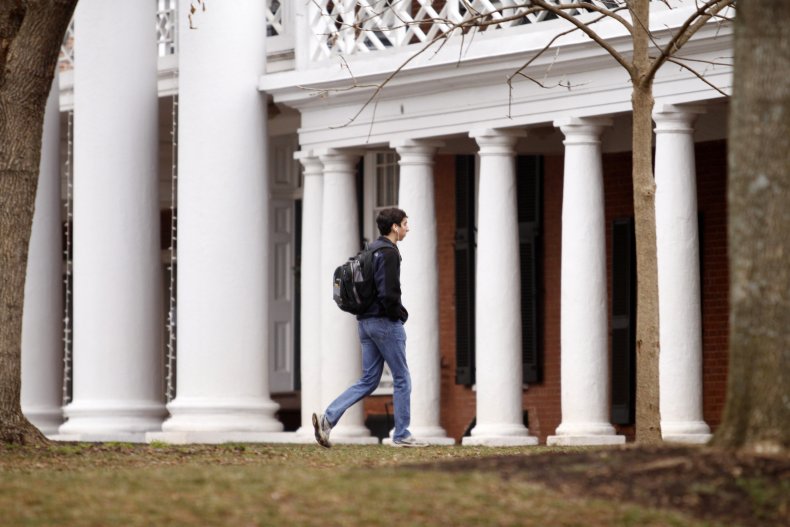 Newsweek reached out to the University of Virginia but did not receive a response in time for publication.
Assistant Dean and History Professor Kirt von Daacke, who is a co-chair of the President's Commission on the University in the Age of Segregation, told The Cavalier Daily, UVA's student newspaper, that the commission was already considering the statue.
"We may well make recommendations that the statue, being on University property and being deeply problematic, represents a moment for reconsideration," von Daacke said. "But we're only about a year into our work, we're not yet at the point of making recommendations for the University."
While the commission considers the statute, the university will continue its work on the Memorial to the Enslaved Laborers, which is currently being constructed.
Clark participated in Lord Dunmore's War, a conflict between the colony of Virginia and the Shawnee and Mingo American Indian nations, and gained recognition as a "formidable Indian fighter," according to the Indiana Historical Bureau. He was also credited with expanding the frontier and aiding in America's victory during the Revolutionary War.
In Indiana, Clark is honored with the George Rogers Clark National Historical Park, which includes a statue and seven murals.