Elephant Trophy Hunting: Over 1.3 Million Urge U.S. Ivory Import Ban After Trump Reversal
More than one million people have signed a petition urging a ban on ivory and tusks being imported into the U.S. after the Trump administration reversed an Obama-era block on bringing elephant sport hunting trophies into the country.
The Change.org petition, which is aimed at President Donald Trump and Secretary of the Interior Ryan Zinke, is gaining signatures rapidly since the U.S. Fish and Wildlife Service announced it will lift the ban and that requests will now be dealt with on a "case-by case-basis."
At the time of publication, the petition which was launched four months ago by Kathleen Martin, has now attracted more than 1.3 million supporters.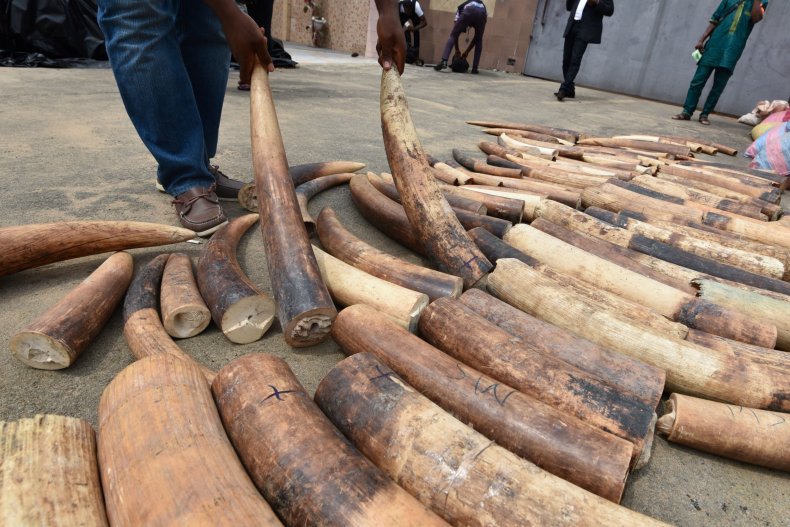 On the description page, Martin writes: "The Trump administration wants to start issuing permits for elephant trophy hunting.
"I have been to Africa and have seen first-hand the impact of hunting elephants for ivory. Dead elephant carcasses left to rot with only the tusks taken is a sight no one should have to endure. A gross waste of life and resources for the environment and community. I cannot stand silent as this change is made.
"Elephants are a majestic animal and are a protected species. To condone killing this animal for sport and importing the ivory and tusks into the U.S. is a legacy I would prefer we not leave."
The announcement on March 1 that the ban will be reversed contradicts the view taken by Trump in November 2017. In a tweet, Trump referred to the potential of any relaxation on trophy hunting imports as a "horror show."
"Big-game trophy decision will be announced next week but will be very hard pressed to change my mind that this horror show in any way helps conservation of elephants or any other animal," he wrote.
The decision to reverse the decision was also met with dismay from many wildlife conservation groups. It also came up during Secretary of State Rex Tillerson's recent visit to Kenya, a country which has banned trophy hunting since 1977.
Tillerson was in Kenya in early March, visiting an American-funded forensics lab that tracks down elephant poachers for prosecution in Nairobi.
"The whole world is against it," said Paula Kahumbu, chief executive of Kenyan environmental group Wildlife Direct, ahead of Tillerson's visit.
She said that past U.S. support for banning the ivory trade had also pushed other countries such as China to back a ban as well.
"To then say, 'Oh, but we have a special case for some of our people, they should be allowed to have ivory,' it totally undermines the U.S. leadership role," Kahumbu said.