Petition Urging Joe Biden to Back $2,000 Monthly Basic Income Crosses 365,000 Signatures
A Change.org petition calling on former Vice President Joe Biden to throw his weight behind universal basic income is gaining traction online and has almost 75 percent of its goal signatures.
When President Donald Trump signed the bipartisan CARES Act, people started seeing economic impact payments deposited in their accounts. The intention was to help people struggling from the financial burden of the pandemic, but it didn't go far enough, according to the petition.
The petition asks Biden and the Democratic National Committee to publicly endorse a Universal Basic Income of $2,000 a month for every United States resident. The monthly payments should remain in place until the health epidemic passes and "people are able to return to work."
In the four weeks since its creation, the petition received 367,413 signatures, about 75 percent of the signatures needed to reach its 500,000 signature goal.
A separate petition calls on Congress to support families by giving adults $2,000 monthly checks and children $1,000 monthly payments for the duration of the crisis. It received more than 1.26 million signatures since it was created three months ago.
Newsweek reached out to Joe Biden's campaign for comment but did not receive a response in time for publication.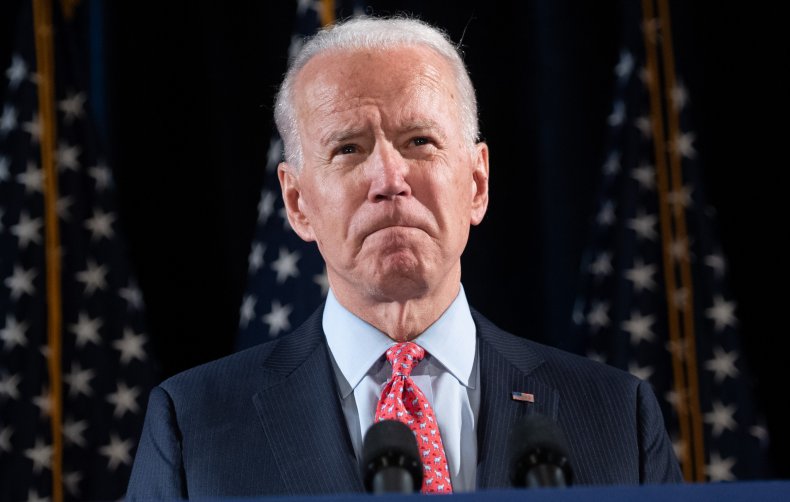 The Universal Basic Income program would guarantee a minimum income for all Americans and Biden, the presumptive Democratic nominee for president, hasn't been a fan of the idea. In 2018, he said it's not the way "America is built," during an interview on Pod Save America. He acknowledged that people "mean well" but told a story about a lesson his father taught him about the importance of having a job.
"Every time someone would lose a job, my dad would say, 'You know, Joey, a job is about a lot more than a paycheck. It's about dignity, it's about respect.' It's about your place in the community. It's about being able to look your kid in the eye and saying, 'Honey, it's going to be OK.' That's what it's about. Dignity," Biden said. "Getting an annual wage, you sit home and do nothing. You strip people of their dignity."
Entrepreneur Andrew Yang made Universal Basic Income a pillar of his presidential campaign and continued to champion the concept even after he dropped out of the race. Biden retold the story of his father's lesson during a conversation with Yang on his podcast in May and talked about the importance of Americans having jobs.
During their conversation, Biden touted increased access to education and living wages of at least $15 an hour as America's path forward to help the middle class.
A Democrat-backed bill, the HEROES Act, would send a second round of stimulus checks to people in America, but three senators want to go even farther. In May, Senators Kamala Harris, Bernie Sanders and Ed Markey introduced a bill that would provide $2,000 checks on a monthly basis throughout the pandemic and for three months after. Every individual with an income below $120,000 would be eligible and payments would be retroactive to March.
"If we can bail out large corporations, we can make sure that everyone in this country has enough income to pay for the basic necessities of life," Sanders said in a statement.