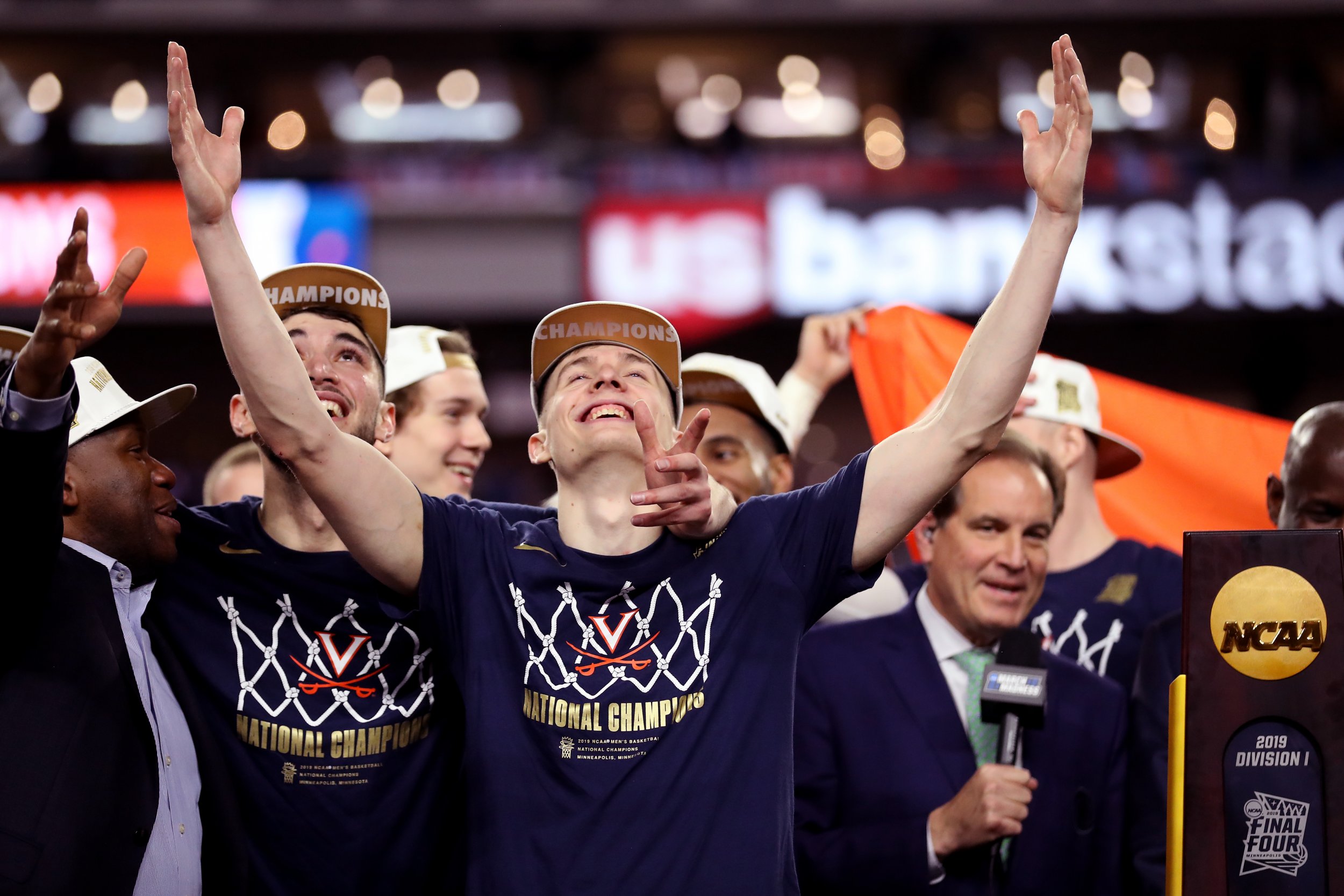 In the days since the University of Virginia (UVA) men's basketball team claimed the title of National Champions on April 8, a petition calling for them to celebrate "without hate" and refuse an invitation to visit President Donald Trump at the White House gathered thousands of signatures.
Lacey Kohlmoos, a UVA alumna and Care2 Organizing Strategist, told Newsweek she felt it was her "duty" as an alumna to use the tools she had available to "make this important statement." The Care2 petition, created on April 10, had 10,850 of the 11,000-signature goal as of Tuesday morning.
Kohlmoos called the basketball victory an exciting one for the entire community and agreed a wholehearted celebration should be had, albeit one without the president.
"The president's tepid response to the white nationalists who invaded Charlottesville, tainted our beloved lawn, and killed a peaceful protester was insulting," Kohlmoos told Newsweek. "There were not 'very fine people on both sides.'"
The UVA alumna added that the university and Charlottesville community was still healing from the 2017 tragedy that claimed the life of Heather Heyer, who was fatally struck by a car while protesting a "Unite the Right" rally. Kohlmoos told Newsweek she believes Trump was "partly responsible for what happened," and therefore doesn't want him to have any part in the victory party.
"It is clear that I am not alone in my feelings about our team going to the Trump White House," Kohlmoos said. "Knowing the integrity of the UVA community, I'm not surprised that we've gotten so many signatures so quickly."
Newsweek reached out to UVA but did not receive a response in time for publication. However, Kohlmoos said she hoped the basketball team would listen to the request of the petition's supporters.
After the Cavaliers' 85-77 victory over Texas Tech University, Trump posted a congratulatory message on Twitter, calling it a "great game." However, it's unclear if the White House has extended an invitation for the team to visit.
On Saturday, Coach Tony Bennett told the Richmond Times-Dispatch he had no information about the White House and said that day was all about celebrating the national championship with the team and the UVA community.
In 2017, the University of North Carolina Tar Heels said they would have liked to visit, but couldn't find a date that worked for both the White House and the basketball team. The next year, the Villanova University men's basketball team said they didn't receive an invitation.