Petition for Warning Signs at California Lake Where Naya Rivera Disappeared Garners Over 20,000 Signatures
More than 20,000 people have signed a petition asking authorities to place warning signs about rip currents at California's Lake Piru where actress Naya Rivera disappeared this week.
The change.org petition, titled "lake piru wanting signs," said that even Ventura County locals won't venture into the lake because of the danger.
"Naya Rivera is not the first, nor the last to go missing at Lake Piru," wrote petition organizer Erin Jordan. "Lake Piru is a very deep lake with very bad whirlpools, people have been asking for years for the city to put up warning signs for swimmers."
A photograph attached to the petition shows a sample warning sign about rip currents that includes safety tips for what to do swimmers are caught in one.
The petition, which Jordan created July 9, has a goal of 25,000 signatures. It has accrued nearly 21,000 in the 24 hours since its posting.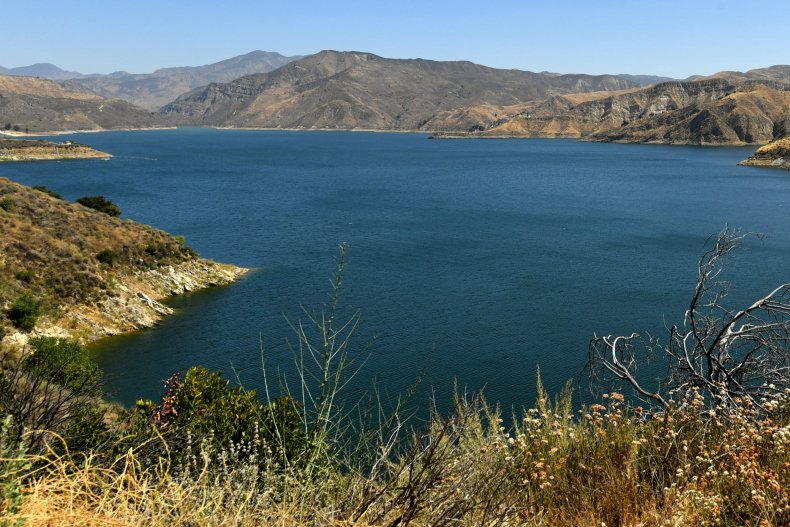 Lake Piru is a 1,200-acre reservoir in Southern California, located about 50 miles north of downtown Los Angeles. Between 1994 and 2000, seven people had drowned in the lake, the Los Angeles Times reported.
Steven White, who previously served as a Ventura State Beach lifeguard supervisor, had told the LA Times in the past that novice swimmers are at a particular risk of drowning in Lake Piru.
"Someone will come to the beach, maybe wade out a little, step into a deeper hole or get picked up in a rip current and they begin to panic," White told the Times in 1997.
Another change.org petition is calling for a complete shutdown of Lake Piru.
"Lake Piru has been the site of numerous drownings over the years due to chilly temperatures that can overwhelm swimmers—as well as strong winds that are powerful enough to tip over a small boat," wrote petition organizer Selina K., who explained each of the seven reported drownings.
This petition, which was also started July 9, has nearly reached its goal of 500 signatures.
"The safest way is to shut the lake down so no more tragedies will happen ever again," the petition stated.
Both petitions were addressed to Ventura County. Newsweek contacted the county for comment but did not hear back in time for publication.
Rivera, 33, is presumed dead after the Ventura County Sheriff's Department found her rental boat floating in the northern part of Lake Piru on Wednesday, with Rivera's four-year-old son sleeping alone on board.
Agencies from around California arrived at the lake early Friday morning to continue the search effort.
Divers are reported to be using sonar equipment to help them navigate the cumbersome waters, CBS Los Angeles reported.
"Under the water, it's a lot," Max O'Brien, a Ventura County diver, told CBS Los Angeles.
"There's a lot of shrubbery and sticks that we have to break through," he said, adding that the team used the "braille" diving technique, which involved using their hands to maneuver underwater because visibility was so low.
Ventura County Deputy Chris Dyer told the Times that while Lake Piru isn't necessarily more dangerous than other lakes, its water is deep in some areas and the tall underwater vegetation could entangle some swimmers.
Ventura County Sheriff's Sgt. Kevin Donoghue told reporters Thursday that "if the body is tangled in something beneath the water, it may never come back up."
Update (07/10/20, 1:51 p.m.): This article has been updated to include comments from Ventura County Deputy Chris Dyer and Sgt. Kevin Donoghue.