Petitions for Monthly Stimulus Checks of $2,000 Surpass 3.5 Million Signatures
Six ongoing petitions calling for President Joe Biden and Congress to deliver monthly stimulus checks of $2,000 for the duration of the pandemic have now collectively surpassed 3.5 million signatures—as COVID-19 cases, deaths and hospitalizations continue to decline across the U.S. following a summer surge.
But while petitions for cash payments continue to gain traction online, that support isn't translating to pressure on members of Congress.
The largest Change.org petition for recurring stimulus checks—created by Denver restaurant owner Stephanie Bonin—asks the U.S. Senate and House of Representatives to pass a bill that would provide monthly "$2,000 payments for adults and $1,000 payments for kids" until the pandemic ends.
The petition has gained more than 2,935,731 signatures as of Saturday, with about 48,731 new supporters in the past month. It will become one of Change.org's most-signed petitions if it reaches its goal of 3 million signatures.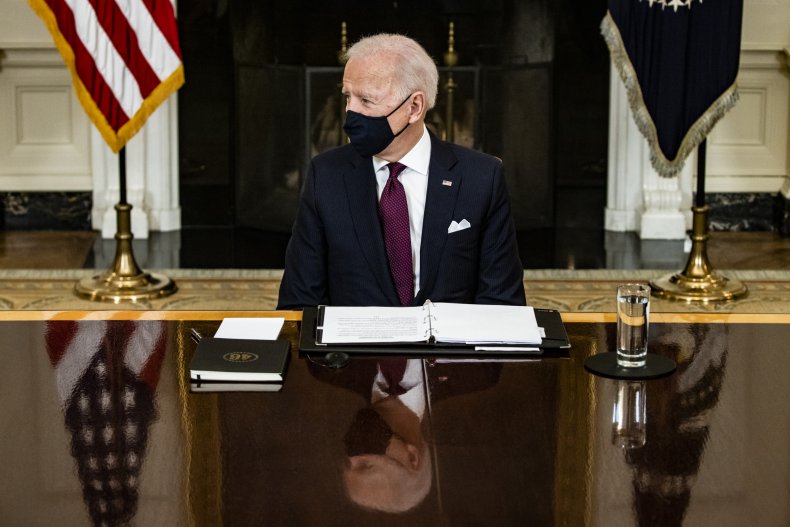 Five smaller petitions on Change.org calling for recurring cash payments have also gained support in recent months.
The first smaller petition, launched during the Trump administration, calls for the federal government to "fight for monthly payments." More than 74,000 have signed the petition as of Saturday—just 1,000 signatures short of its 75,000 goal.
A second smaller petition asks Biden and both chambers of Congress to back a group of senators who called for the White House to include further stimulus checks in the next federal recovery bill. The petition has drawn 60,877 signatures as of Saturday.
In March, Senators Bernie Sanders of Vermont and Elizabeth Warren of Massachusetts along with other progressive lawmakers sent a letter asking the Biden administration to support recurring stimulus checks.
A third smaller petition asks the Biden administration and Congress to immediately deliver "$2,000+ for every American per month." The petition was initially launched by John Smith with a goal of 50,000 signatures, but Smith amended the benchmark to 300,000 after it gained more support than anticipated. More than 219,832 have signed the petition as of Saturday.
A fourth petition, launched by Tyson Su, asks the Senate to deliver legislation that would provide $2,000 monthly checks until the pandemic ends for unemployed individuals and those with an annual salary under $130,000. The petition has gained 179,539 signatures as of Saturday.
A fifth smaller petition, started by Clayton Morris, demands "the richest country in the world" to provide its citizens with $2,000 monthly cash payments until the end of this pandemic. It has garnered about 31,354 signatures as of Saturday.
Collectively, the six petitions have drawn over 3,501,333 signatures and continued to receive support this weekend.
More than 80 congressional Democrats and over 150 economists, including Jason Furman, former chair of the Council of Economic Advisers under the Obama administration, have supported further stimulus payments this year.
Representative Ilhan Omar, a Minnesota Democrat, introduced legislation on July 30 that would establish a federal universal basic income system. Under the proposed five-year pilot program, U.S. adults earning under $75,000 would receive $1,200 a month and $600 for each dependent child.
The bill has only drawn support from four legislators—Democratic Representatives Cori Bush, Dwight Evans, Jamaal Bowman and Pramila Jayapal.
Despite the pressure, the Biden administration has signaled that stimulus is no longer a priority, pivoting instead to advancing a $1.2 trillion infrastructure bill and multi-trillion-dollar spending package, neither of which contain any direct payments.
Congressional leaders have also not expressed any intention to add cash payments to their fall legislative agenda.