Petr Cech in Depth: 'We Are Going to Be Under Pressure Every Game Now'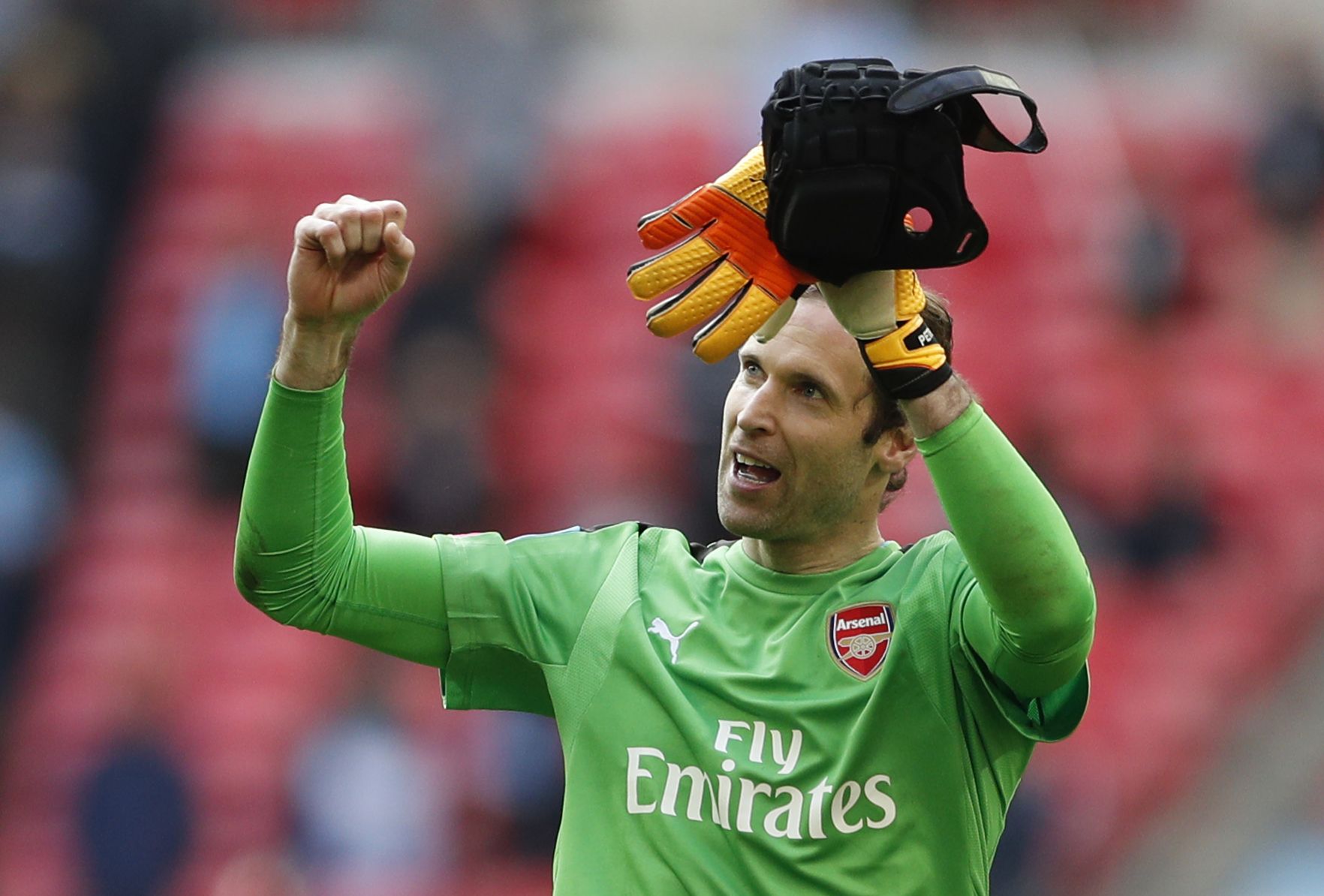 Petr Cech will come up against his former club Chelsea in the FA Cup Final, after Arsenal came from behind to beat Manchester City at Wembley on Sunday.
Arsenal, roundly criticized in recent weeks for a poor run of form that has dropped it to seventh in the Premier League, produced a gritty display after Sergio Aguero had given City a 62nd-minute lead, equalizing through Nacho Monreal before an Alexis Sanchez winner in extra time.
After the game, Cech spoke to reporters including Newsweek about a potential turnaround in Arsenal's season.
How Arsenal turned the semifinal around
"Obviously I thought we had a very good game in the first half. At the start of the second half you could see they [City] tried to push a little bit more. Obviously we gave them the goal in a way a little bit because we had a corner and obviously it's very disappointing to concede from a set play when you have it in your favor. But I have to say it was probably one situation where we failed to control them and they scored. On the other hand I thought the reaction of the team was great. I think the comeback from there, the importance of the equalizing goal, it obviously lifted us and the crowd. I thought from there it could have gone either way."
'Pressure' of Arsenal's Premier League position
"I think we are going to be under pressure every game now. Because of the position we are in in the league, there is no other option we are in other than to keep getting three points every game to hope that we can get the automatic qualification for the Champions League for next season. This is going to be one challenge. You play football to win games, to be involved in the big occasions and you want to play finals. I think that today everybody showed it's not only about taking part in a semifinal and hoping that it's going to be your day. We will make sure we work very hard when we go into the final. I thought with the effort everybody put in we deserved to get through.
"Obviously, the FA Cup is at the end of the season. There will be a lot of conditions [circumstances] before we play the FA Cup. Our target is obviously to finish as high as possible. At this moment we have games in hand but the situation in the league is a bit complicated for us. We will be able only to judge and measure at the end of the season. And then we will see for the final. If you don't qualify for the Champions League obviously it will be a big loss and a big disappointment."
On criticisms of Arsenal's mentality
"I think it's easy to hide behind saying, 'We lack leaders.' These guys have it. You need to see what's happening behind the scenes, how well the team works. How we operate. Sometimes obviously you have periods of games where you prepare, you do the right things but the game starts and you don't [do the right things]. We had a difficult period where the team was losing games it should not have lost and we were in situations where we were playing under pressure. You need to find a way out — sometimes you find it quickly, sometimes you take a little bit of time and you can take damage. I think this season we had this problem. Obviously when you have games and lose three out of four, you put yourself in a difficult position.
"At the start of the season we overcame a lot of games when we fell behind. Sometimes you find a way to answer difficulties you faced during the game. Sometimes you try to find them and you don't. I think today, obviously, the most important [thing] was the discipline of the whole team and the effort. Everybody stuck to the plan. I thought the individual performances were brilliant. It was a very difficult game against a very difficult opponent. At times they have been brilliant, even in this game, although they lost but it was very difficult. We managed to find the answers."
Looking ahead to Arsenal vs Leicester City
"We have a game on Wednesday. It's not only about top six. We need to make sure we win every game. That the effort and focus and domination will be the same. Especially the confidence. I thought the difference was that the confidence we started the game with. Although we went behind we felt it was not a problem, we had 30 minutes and although in a game like Crystal Palace [Arsenal lost 3-0 at Selhurst Park on April 10], I was watching the game when we fell behind. It looked like the team wasn't finding the right answers to what happened. Today (Sunday), we could feel the energy and belief."
Facing Cech's former team Chelsea in the final on May 27
"It's going to be special. Obviously every FA Cup final is special itself. I will play against a team I had huge success with and spent so many wonderful years [with]."