Petraeus Advising White House on ISIS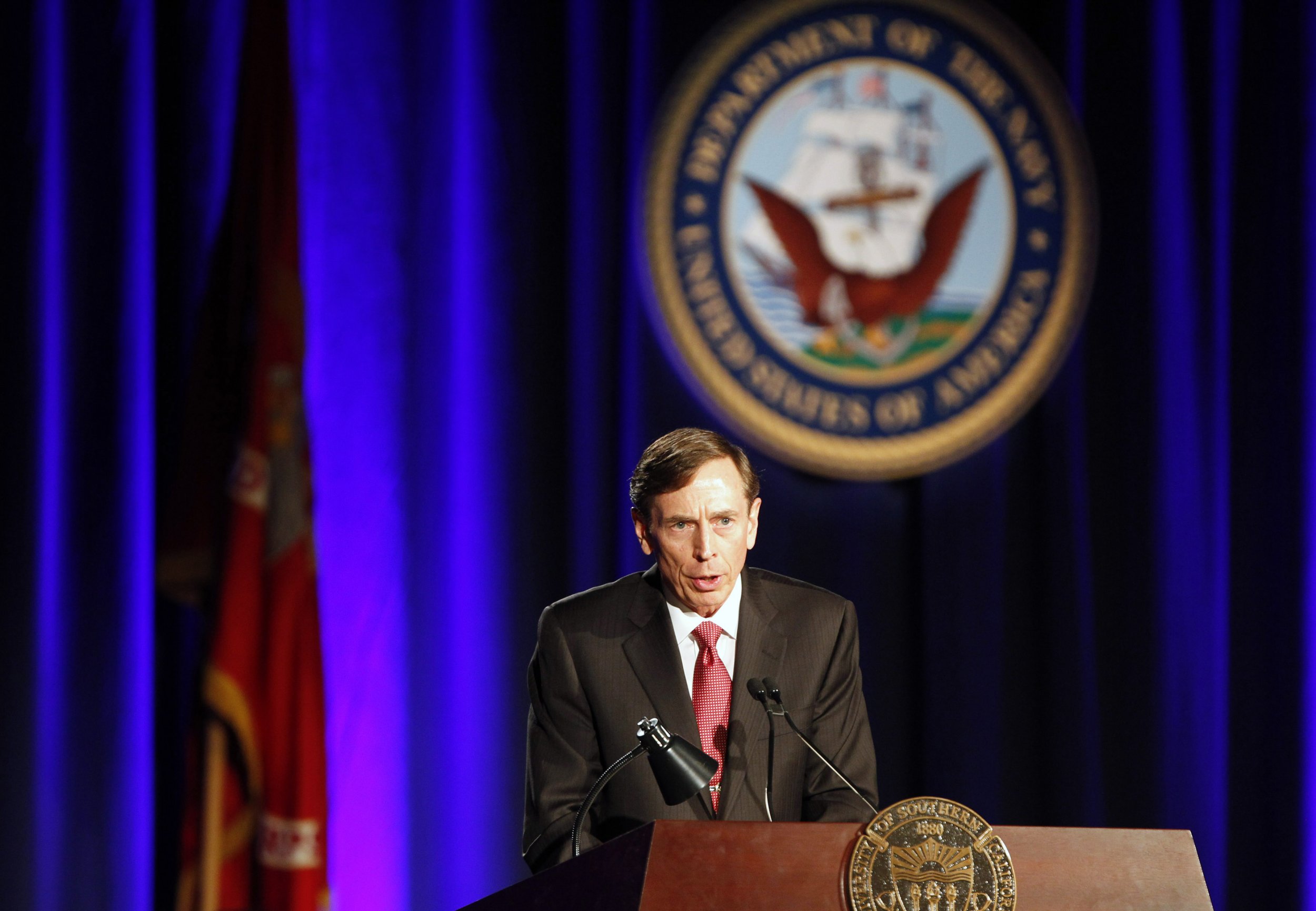 Disgraced former Army Gen. David Petraeus remains a trusted White House adviser, despite admitting to sharing highly classified information with his erstwhile mistress Paula Broadwell and lying to the FBI about it.
A White House official confirmed to Newsweek, on condition of anonymity, that the former CIA director and Iraq war hero has been advising the National Security Council on Iraq and the Islamic State, known as ISIS, since last summer. He no longer has a CIA security clearance, a government official said.
Petraeus has long led a charmed life with the Obama administration. While several other low-ranking national security officials have been prosecuted on espionage charges for leaking information, Petraeus was charged with only one count of mishandling classified information, under a plea deal approved this month by Attorney General Eric Holder—and fiercely opposed by prosecutors.
According to Justice Department documents filed with his plea agreement, Petraeus admitted not only that he kept highly classified information in his unsecured home after he resigned from the CIA, but he shared with Broadwell several of his personal "black books," 5-by-8-inch personal diaries that contained highly sensitive information. When questioned by the FBI, he admitted that he lied—a felony—but he was only charged with a misdemeanor.
A hearing on the plea deal is set for April 27 in Charlotte, N.C., the hometown of Broadwell, who began an affair with Petraeus after she started interviewing him for a biography. While judges routinely rubber-stamp such deals between prosecutors and defendants, U.S. Magistrate Judge David Keesler could decide to ditch the lenient arrangement Petraeus's attorneys negotiated—a $40,000 fine and probation—in favor of something stiffer, a knowledgeable government official said. The judge could sentence him to up to a year in prison, a $100,000 fine and five years' probation.
The prosecutors and FBI special agents who worked on the case reportedly wanted Petraeus charged with a felony. But the administration put on the brakes, according to some close observers, in order to keep Petraeus from joining other top former officials, such as former defense secretary Robert Gates and Leon Panetta, who ran both the Pentagon and CIA under President Barack Obama, in criticizing the president's handling of foreign policy. The four-star retired general, once touted as a possible presidential candidate, is one of the few U.S. commanders to emerge from the wars in Iraq and Afghanistan with high approval ratings.
Petraeus could not immediately be reached for comment and the White House refused further comment.
The Petraeus case is studded with curiosities. By choosing not to file a criminal complaint against Petraeus, which would almost certainly be supported with a detailed affidavit from the FBI, the Justice Department avoided airing even more embarrassing details about what was contained in his "black books." But the department's 15-page statement of facts was suggestive enough: In a taped August 4, 2011 interview with Broadwell, his biographer and mistress, Petraeus can be heard saying of his black books, "They're really--I mean they are highly classified, some of them. They don't have [top secret] on it, but I mean there's code word stuff in there."
Importuned by Broadwell, Petraeus later delivered them to a house where she was staying in Washington, D.C. When FBI agents showed up with questions for the former general, according to the government's statement of facts in the case, Petraeus "stated that (a) he had never provided classified information to his biographer, and (b) that he had never facilitated the provision of classified information to his biographer."
The FBI did not videotape its questioning of Petraeus, according to a former senior national security official--a practice that had become standard operating procedure since James Comey became director of the bureau in 2013.
But the starkest departure from practice was not charging Petraeus under provisions of the 1917 espionage act, which the Obama administration has used to prosecute nine lesser-ranking leakers and whistleblowers. Most cut plea deals like Petraeus, but ended up with prison terms ranging from 13 months to more than three years.
Some have opted for trials, with negative results. Chelsea Manning, the Army private formerly known as Bradley Manning, was convicted and sentenced to 35 years in prison. Jeffrey Sterling, the former CIA operative convicted of leaking details of a failed mission against Iran to New York Times reporter James Risen, was convicted at trial in January and awaits sentencing. Fugitive former NSA contractor Edward Snowden has been indicted under espionage charges.
Petraeus, meanwhile, is going about business like a man with little to fear. Since 2013 he has chaired the KKR Global Institute, a unit of private equity firm Kohlberg Kravis Roberts & Co. that studies "macroeconomic trends and government policies to assess their implications on the firm's investments." In January he visited Kazakhstan's Nazarbayev University for an event the school's website said was "attended by a host of Kazakhstan's 'Who's Who' in finance, banking and policy," according to the New York Times. But he's no armchair warrior: This week he was the star attraction at a conference in Kurdistan, only miles from the battle with ISIS. The topics of discussion, according to its organizers at the American University of Iraq, Sulaimani (AUIS), included "Strategy to defeat Daesh," the Arabic acronym for the Islamic State.
The general has provided good advice, a White House official said, refusing to be quoted.
Jeff Stein is Newsweek's national security correspondent in Washington, D.C. He can be reached more or less confidentially via spytalk@hushmail.com.