Fans of Judge Judy were left with mixed emotions when it was announced that its star, Judith Sheindlin is launching a new show—but without a key sidekick.
Late last month, a trailer for IMDB TV's upcoming courtroom show Judy Justice was unveiled, but Petri Hawkins Byrd—who had served as Sheindlin's bailiff for 25 years on Judge Judy, since its 1996 premiere—was nowhere to be seen.
And in a recent interview, Byrd admitted that he isn't following Sheindlin into the next chapter of her hugely successful TV career because he wasn't asked.
Byrd told Entertainment Weekly that he learned of the new show, which debuts on November 1, when Sheindlin announced it on The Ellen DeGeneres Show in March of 2020, though he never spoke with her about it afterward.
They continued to work together on the final season of Judge Judy, though the pandemic meant they were physically apart, with Sheindlin taping remotely from New York while Byrd worked in Los Angeles with the rest of the crew.
And while a 25-year TV relationship may seem to be one for the record books, Byrd had actually been working with Sheindlin since the late 1980s, when he was a real-life bailiff in the New York City court system.
In an interview with the Associated Press, published in December, Byrd revealed that he wrote Sheindlin a congratulatory letter in 1995 when he learned that she had landed a TV show—jokingly adding that he was available for work.
After a test shoot with an actor didn't work out, Sheindlin contacted Byrd to join her in the courtroom, drastically altering the course of his career.
"I think she was nervous about doing this Hollywood thing. It was something out of her wheelhouse," Byrd said. "To have a Brooklyn-born, fellow Brooklynite start this adventure with her and somebody who knew how she was... I think that made her feel comfortable."
While he has extensive experience as a bailiff, both on and off the screen, he boasts singing and acting talents, and presents an Instagram Live show with his wife, Makita Bond-Byrd, called Bonding with Byrd.
In his December interview, Byrd seemed hopeful of joining Sheindlin on her new show, saying that he would be "honored" to be a part of the project.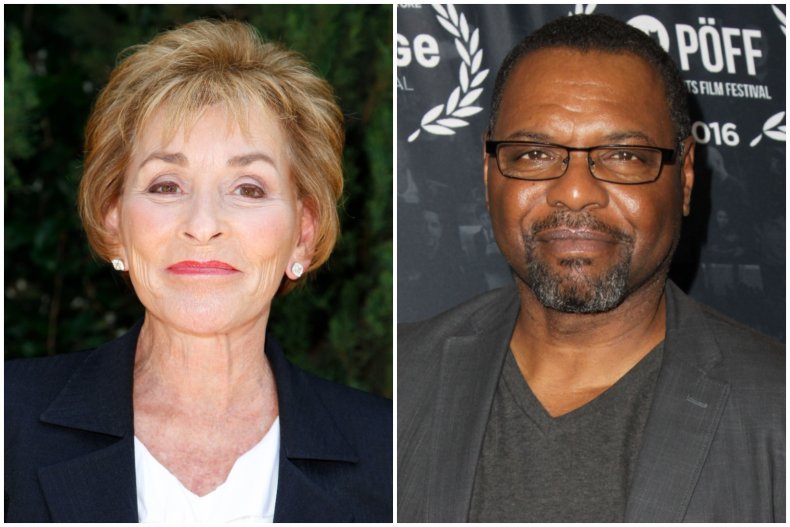 He said: "I've gotten a chance to fulfill a lot of dreams that I probably wouldn't have gotten the chance to do if it hadn't been for Judge Judy Sheindlin taking very seriously a funny comment at the end of a letter.
"It just goes to show you that if you want to make God laugh, just tell him your plans. And then he'll go, 'You have no idea what you're about to embark on.' But I trust God and I trust the ride, and the process has been wonderful."
Since learning he will not be on the new show, Byrd told Entertainment Weekly: "My assumption is if you were going on to do something else, that you were at least going to ask me if I wanted to have the opportunity to audition for the role."
He recounted that after production wrapped on Judge Judy in April of this year, he turned his attention to caring for his wife, a longtime producer on the show, as she underwent brain surgery.
"I didn't have time to think about or ask about Judy Justice," said Byrd, who added that his wife recently completed her third round of chemotherapy, with doctors having successfully removed 95 percent of her tumor.
"It wasn't until July that I called the judge and asked, 'Hey, should I look for something else or am I included in the Judy Justice project?'
"She informed me I was not being asked to come along on the project," he went on. "I didn't inquire as to why, that's her choice. But she did inform me that fundamentally, I was priced out as the new bailiff on her new show.
"My salary would have been too much. I was curious: How would she know? She didn't ask me. She didn't give me an opportunity to have accepted a lower salary."
"The call with Judy ended pleasantly enough," he recalled. "I don't think she understood how confused and dismayed I was after being there for 25 years, from the beginning of her career, and not being at least given the opportunity to say whether or not I wanted to continue that relationship."
Instead, Byrd has been replaced by new bailiff Kevin Rasco in the upcoming show, who the actor said previously provided personal security for Sheindlin during her time on Judge Judy.
Byrd went on to state that his wife was asked to join the team on Judy Justice, though her health issues forced her to decline the offer.
"I'm like if I did something wrong or offended you or brought shame to the show, or if was involved in numerous scandals in the 25 years we were together, I might understand why you didn't want to bother in the end," said Byrd. "That's just the way it went. I just know that God has something else for me."
A spokesperson for Sheindlin had told Entertainment Weekly in a statement: "Byrd is terrific and we had a great 25-year run. This is a whole new program with a whole new cast and an exciting energy."