'Petty': Partner Dragged for Leaving Husband in Hospital After Surgery
Thousands of commenters were quick to call out one internet poster who explained why they left their husband in the hospital just ten minutes after he came out of surgery.
In a viral Reddit post published on r/AmITheA**hole, Redditor u/throwaway5tkl5466 (otherwise referred to as the original poster, or OP) said they were upset when their husband asked for his mother (instead of them) after coming out of anesthesia and detailed the aftermath of their decision to leave the hospital soon after.
Titled, "[Am I the a**hole] for leaving the hospital after my husband called for his mom instead of me?," the viral post has received nearly 10,000 votes and 4,000 comments in the last 7 hours.
"My husband was in the hospital for a surgery that involved anesthesia," the original poster began. "His mom came to wait with me there but didn't speak to me because we have been having some minor disagreements."
After the operation, the original poster said they were informed that their husband would be allowed one visitor at a time, the first being his mother.
"From what I understand, he woke up calling for his mom," they wrote. "The nurse asked for his mom to go in and she did."
"I was irritated and felt like all this waiting and stressing out got ignored," they continued. "The nurse told me that he was still not fully awake...she was basically hinting that I shouldn't get worked up over a natural reaction from my husband but I couldn't help [feeling] irked."
Ten minutes later, the original poster said they decided to forego seeing their husband and left the hospital, much to the dismay of their mother-in-law.
"She said this was not okay and I flew off the handle for no reason," they wrote. "I said that her son acted like I wasn't there but she said that he can not be blamed for something he can't control and I'm just being unfair to him."
"I cut the conversation short after I sensed that she somehow blamed me for being unacknowledged and ignored," they continued.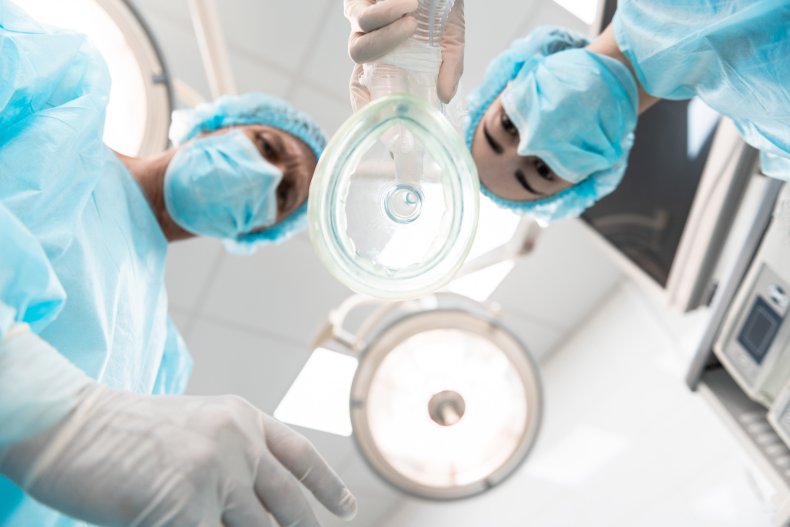 "Her husband texted later saying I'm being hostile over nothing and that I should focus on my husband's health instead of being petty but I don't think I did anything that qualifies as petty," they concluded.
Every day, approximately 60,000 people in the United States undergo surgeries which require general anesthesia, according to the U.S. Department of Health and Human Services.
Following anesthetic operations, the Mayo Clinic reports that patients can expect to feel "groggy and a little confused," as well as a myriad of possible side effects including nausea, dry mouth, sore throat and muscle aches.
While it is imperative that patients rest for at least 24 hours following the administration of anesthesia, the American Association of Nurse Anesthesiology (AANA) recommends that a "responsible adult" is present to drive the patient home, provide extra care and report any complications if necessary.
"An individual who is capable of providing post-procedure care at home and report any post-procedure or post-anesthesia complications may be considered for inclusion in a facility's discharge policies and procedures," the AANA said in an informational statement.
Throughout the comment section of the viral Reddit post, Redditors agreed that the original poster should have stayed at the hospital and remained adamant that their husband was not to blame for calling for his mother while coming out of anesthesia.
"[You're the a**hole,]," Redditor u/RB1327 assured in the post's top comment, which has received nearly 25,000 votes.
"Even if it wasn't a groggy reaction from coming out of surgery, he's allowed to ask for his mother," they added. "Unbelievable that you went home instead of waiting to see him."
Redditor u/mdthomas, whose comment has received more than 10,000 votes, echoed that sentiment.
"He was still waking up from surgery. He was still medicated. It's like when you wake up and are groggy and still half asleep," they wrote. "You chose to put your spat with his mother over your concern for his health."
"Absolutely. I cannot even begin to describe how absolutely disorienting waking up from anesthesia is," Redditor u/catcat712 added. "OP taking this as a slight...is so ridiculous and petty."
Newsweek reached out to u/throwaway5tkl5466 for comment.