Democrats Remain Open-Minded, Enthusiastic About Array of 2020 Candidates
Despite the rough-and-tumble primary season getting underway, Democratic voters don't appear to have succumbed to the divisiveness playing out on the debate stages: a large majority, 63 percent, of Democratic voters expressed enthusiasm for several 2020 contenders in a new Pew Research Center survey.
This suggests that while former Vice President Joe Biden may be reigning in the polls, the Democratic electorate is far from tethered to their first choice.
Notably, Biden and independent Senator Bernie Sanders registered as two of the most all-or-nothing candidates, those whose supporters were much more inclined to say their enthusiasm did not extend to anyone else. The supporters of Senators Elizabeth Warren and Kamala Harris, on the other hand, were at least 78 percent likely to say that several other candidates in the field excited them.
Supporting the theory that Democratic voters remain open-minded, one quarter did not express a candidate preference whatsoever. Though this and other preferences may well be influenced by each candidate's name recognition, the overall impression is that Democratic voters are generally flexible, despite the exception of Sanders and Biden supporters.
Get your unlimited Newsweek trial >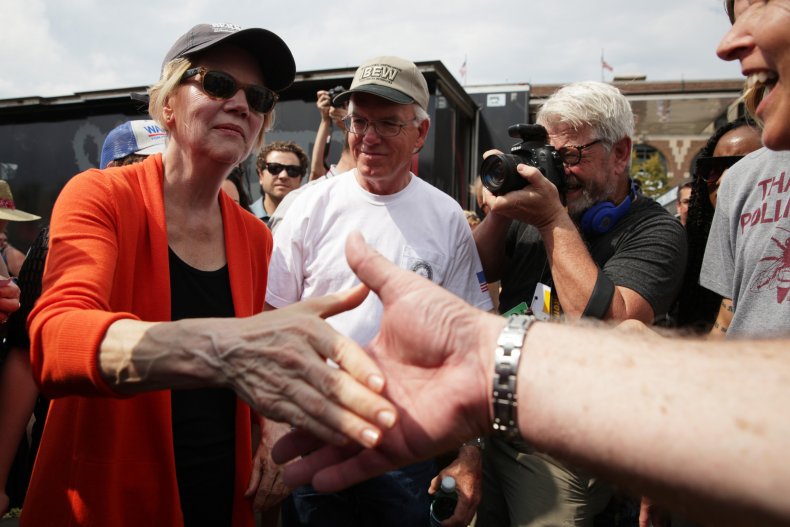 But as for the current temperature of the race, polling trends among the various candidates have largely continued apace, producing a now-familiar lineup. Twenty-six percent of the Democratic electorate prefers Biden, 16 percent choose Warren, Sanders follows in third place at 12 percent and Harris closes out the top four at 11 percent.
While underperforming candidates are hoping to gain more traction with an enthused electorate, the Pew survey tamped down expectations of more immediate returns. Harris is the only lower-tier candidate who has managed to break through and maintain a consistent presence in the upper-echelons of the polling since her performance on the first debate stage in June.
Democrats were also surveyed about their priorities in candidate selection, and a 28 percent plurality responded that personal characteristics were the most important quality in the party's nominee, just outranking traditionally important policy issues. Twenty-one percent said that the ability to beat President Donald Trump was the most important quality in a candidate.
Get your unlimited Newsweek trial >
Trump remains deeply unpopular with the American public, and the report confirmed that the president continues to lie underwater in his job approval numbers, as he has for much of his presidency.
"Americans show little change in their approval of Donald Trump in recent months," the report assessed. "40 percent say they approve of the way Trump is handling his job as president, while 59 percent disapprove."
Democrats Remain Open-Minded, Enthusiastic About Array of 2020 Candidates | Politics