The Hourglass Is 'Nearing Empty' on the Newspaper Industry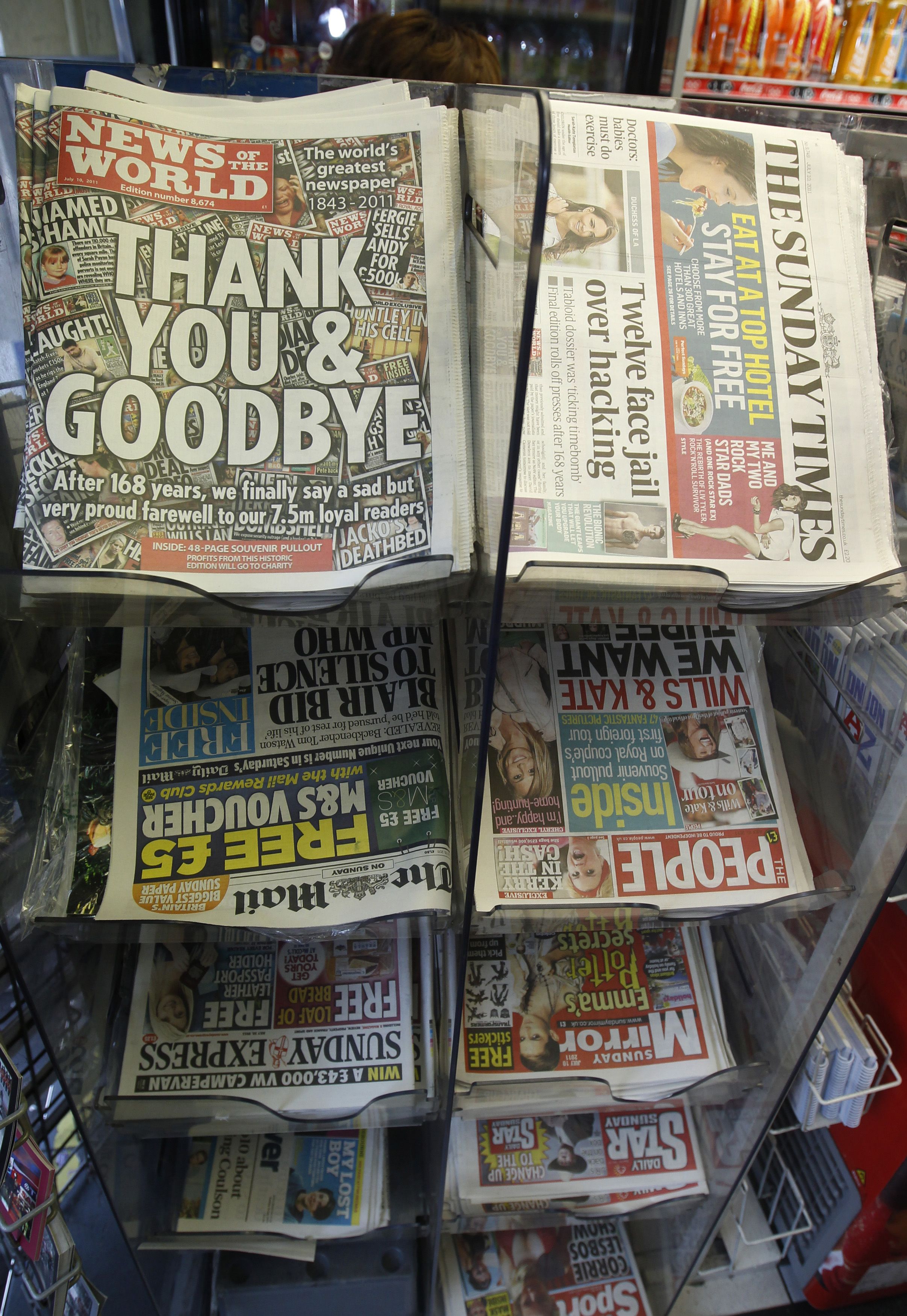 The Pew Research Center just released its annual examination of American news media, and the numbers are grim. 2015 marked the newspaper sector's worst year since the Great Recession, with average weekday circulation for both print and digital subscriptions falling another 7 percent, the biggest dip since 2010. It's not just circulation—most of the stats point down. In 2015, publicly traded newspaper companies' overall advertising revenue fell 8 percent, the greatest decline since 2009. Accordingly, newsroom employment has continued to plunge, with an overall loss of about 20,000 positions (39 percent) over the past 20 years.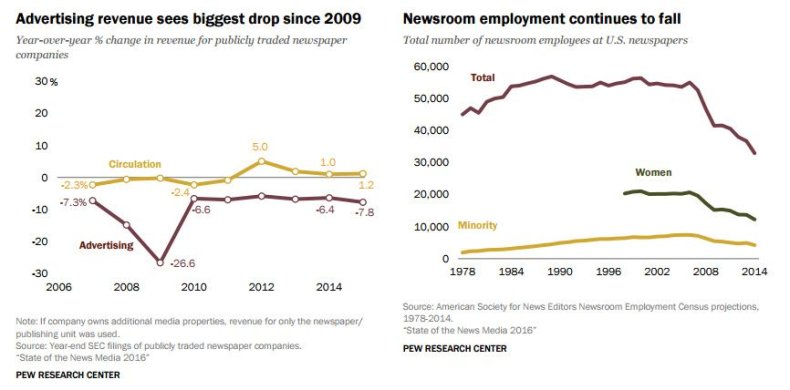 These numbers aren't exactly surprising—newspapers have been on their way out for years. What's striking about 2015, however, is just how dire the situation has become.
"What this shows is confirming what a lot of people have seen on the horizon," says Michael Barthel, a research associate and co-author of the report. "2015 was an unusually bad year. There have been some good years in the past—circulation went up in 2013. We were looking to see if it could continue stabilizing, and it just hasn't."
"Recent data suggests the hourglass may be nearing empty," the report says. Even during presidential campaigns, when Americans are heavily tuned in, newspapers lag behind. A January 2016 Pew Research Center survey found that 36 percent of U.S. adults learned something about the election in the past week from a print newspaper, lower than those who learned from radio (44 percent), digital sources (65 percent) or television sources (78 percent). Until 2006, newspapers had outranked radio and the internet as the public's main source of news, according to the report.
Meanwhile, both cable TV and network TV grew in 2015, with more viewers turning to cable news in 2015 than in 2014, the first bump in three years for the sector. Revenue is also on the rise for cable channels—it's been steadily climbing for the past several years, according to the report.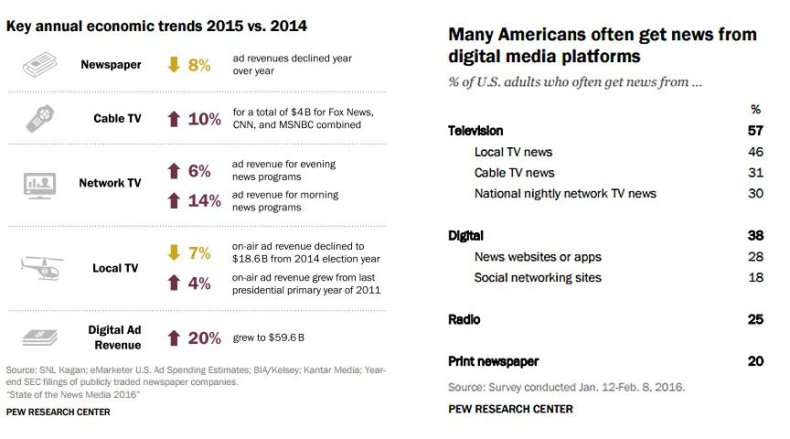 The death of newspapers seems imminent. But Americans are still news junkies. The problem for newspapers, specifically, is the extent to which their information is being aggregated by alternative digital news sources and the tech companies monetizing that information. A majority of Americans already get news on social media platforms, and digital news has expanded beyond social media to mobile apps, podcasting and even email newsletters that aggregate news content from various internet publications, newspaper and otherwise. Headlines are being sliced, diced and baked into veritable news pies for consumers, delivered hot and fresh to their email inboxes. It seems sluggish just to type "www.Newspaper.com" into a browser now.
Advertisers are still capitalizing on Americans' voracious news habits—total digital ad spending grew 20 percent in 2015 to $60 billion. But newspapers don't exactly benefit from this capital. It's being swallowed up (65 percent) by five major tech companies—Google, Facebook, Twitter, Microsoft and Yahoo—most of which integrate news into their offerings.
In other words, newspapers no longer own the news. And not just financially. Newspapers are losing their grasp end to end, as tech companies become more integral to the news experience by introducing new distribution platforms (e.g., Facebook's Instant Articles) and overtaking the core elements that have traditionally defined the newspaper industry.
"Facebook has in some ways become the printing press for newspapers online," Barthel says. "Newspapers often used to own their own printing plants, and they do not own Facebook, or these other digital distribution methods."
The sole upward trend in the newspaper industry is marked by mobile traffic on newspaper websites. Unique visitors on mobile rose for 43 of the top 50 U.S. newspapers (by circulation) that Pew Research examined. Unfortunately, the opposite is true for time spent on the sites—minutes per visit on a mobile device fell for 34 of the 50. Overall, 44 of the 50 had more mobile traffic than desktop.
It remains to be seen how legacy news publications will fare in a world increasingly dominated by tech. If newspapers don't find a way for their relationship with tech companies to be symbiotic, they may soon become a collector's item.