PewDiePie Explains He Isn't 'Quitting' YouTube in Latest Video
Over the weekend YouTuber Felix "PewDiePie" Kjellberg released a video announcing he would be taking some time away from the platform in early 2020. A few days later, he released a video sharing that he would also be taking a break from Twitter. These two pieces of information created by a media landslide of presumptuous coverage.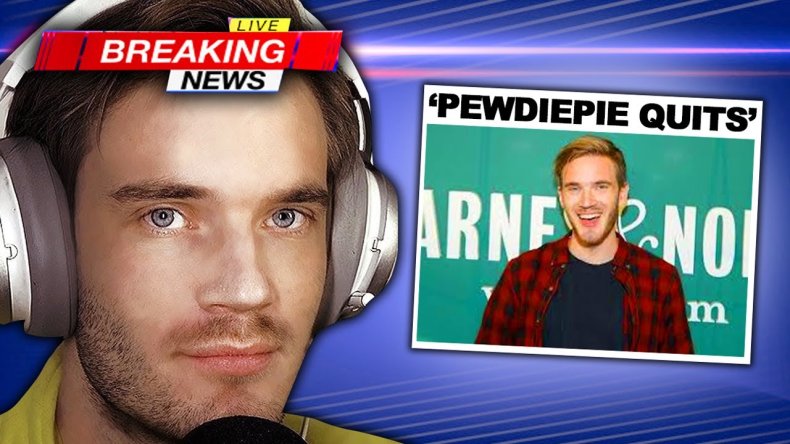 Traditional media outlets from CBS to the Daily Mirror claimed the star was "quitting YouTube" in their own stories. In Kjellberg's latest video released on Tuesday, "Breaking News: 'Pewdiepie Has QUIT YouTube'" the content creator explains that he is only taking a break from the platform to recharge and start the new year fresh.
"I've been uploading YouTube videos every single day for 10 years. YouTube is the kind of job that isn't very stable. They are always changing legislation and rules and policies," Kjellberg said. "It's such a new thing that any day, it can be over for anyone."
In the video, Kjellberg says he has "never taken a break before" and does not know "what it feels like not to upload a video." This is not the first break for the PewDiePie channel, which briefly suspended activity in November 2016, ending the uploads of his daily blogs. Creating content everyday puts a strain on you, regardless of how successful you are. Burnout is a common topic among YouTubers, who sometimes struggle with the balance of work and everyday life.
'I don't want to look at myself 10 years in the future and I've done the exact same thing as I've done now," Kjellberg said in his latest video.
2019 has also been a rollercoaster of a year for Kjellberg. In a joyful moment, he married Marizia with much fanfare from his internet colleagues and legion of followers. There was also a fair bit of controversy, with the New Zealand Christchurch Mosque shooter saying "subscribe to PewDiePie" before killing 40 people.
As YouTubers continue their march toward being pop cultural cornerstones, media outlets are going to have to keep up with the fast pace of news developments around the scene. These content creators have massive followings that are only going to get bigger as fan bases mature. With that in mind, PewDiePie's case remains a cautionary tale suggesting news of potential breaks from activity should be handled with care.
PewDiePie will take a brief break from YouTube and other platforms in 2020.