Peyton, Eli Manning Commentary With Charles Barkley Dominates Monday Night Football
There used to be a time when Monday Night Football was must-see TV. The prime-time game has seen dwindling ratings over the years with switched TV stations, subpar matchups and a lesser-known broadcasting crew.
ESPN launched an alternative broadcast Monday for the Baltimore Ravens-Las Vegas Raiders matchup that featured Hall of Fame quarterback Peyton Manning chatting with his little brother, Eli Manning. The Manning brothers spoke candidly during the first quarter with NBA Hall of Famer Charles Barkley, who's about as candid as it gets.
The broadcast was carried on ESPN2. The live ESPN broadcast was led by Steve Levy of the worldwide sports network.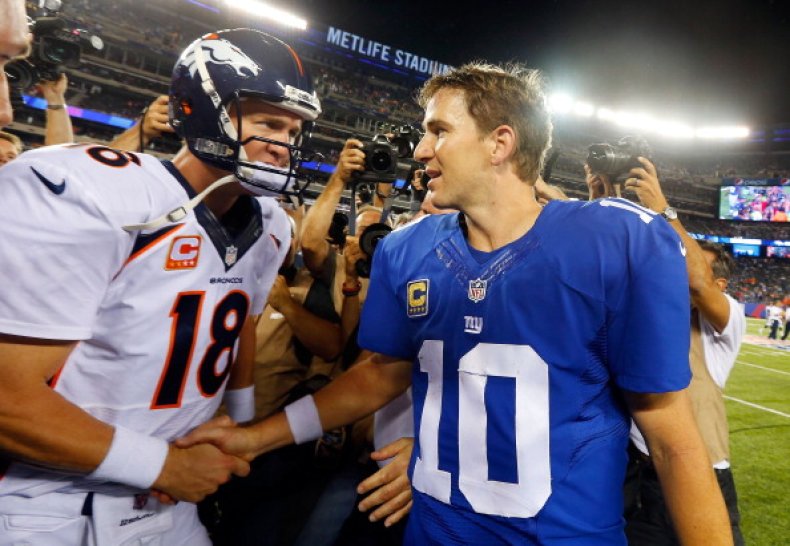 The Manning brothers brought Hall of Fame linebacker Ray Lewis to the virtual set in the second quarter. Needless to say, the Manning brothers bring more spark to live football than they do their TV commercials.
The Baltimore Ravens led the Raiders, 14-7, at halftime. The Mannings broadcast was a hit Monday night. Adding Barkley and Lewis didn't hurt, either.
"​​@ESPN finally has something here with #MNF! #PeytonandEli with guests like @raylewis and Charles Barkley, this feels like you're watching football with your friends and it's fun AF!," wrote Dave Saitzyk on Twitter.
"​​Manning #MNF : Charles Barkley and now Ray Lewis! Just keeps getting better," Craig Graydon wrote.
"Can't emphasize enough how fun this Manning broadcast is. First Charles Barkley, now Ray Lewis. Just sitting around talking about football. No dumb cliches, etc," another tweeted.
Sports Business Radio, which has a little less than 15,000 Twitter followers, said "The Manning brothers are dropping next level knowledge, telling stories and mixing in interviews with great guests. This is fantastic."
"Loving Peyton and Eli with guests Charles Barkley and Ray Lewis. Great Animal House reference GPA 0.0. I love they can laugh at themselves. Plus game education," another said.
As for the game itself, the Ravens and quarterback Lamar Jackson were in the lead for most of the contest. Las Vegas tied the game at 17 when running back Josh Jacobs scored on a 15-yard run.
Ravens running back Latavius Murray scored on an 8-yard run, and then Raiders tight end Darren Waller caught a 10-yard pass to even the score at 24. The teams traded field goals to send the game into overtime.
The Raiders and Ravens both squandered opportunities, and the Raiders pulled some trickery to win the game.
Facing a 2nd-and-long, it appeared the Raiders would mildly work the clock and field for a game-winning field goal. However, Raiders quarterback Derek Carr lofted a pass down the right sideline to a streaking Zay Jones, who caught it for the 33-27 win for the hometown Raiders.