Former NFL quarterback Peyton Manning praised Tom Brady for an "unbelievable" career after Brady announced his retirement from the NFL.
"Congratulations to my friend Tom on an unbelievable football career. To do it as long as he did, at the highest of levels is absolutely incredible. It was an honor & a privilege to compete against him on the field, and I truly appreciate his friendship off the field," Manning said Tuesday in a statement, according to ESPN's Adam Schefter.
"I have always admired & respected his competitiveness, his dedication, his discipline, and his commitment to being the best. I wish him the best in his next chapter. Congratulations again, pal!"
The statement by Manning came shortly after Brady officially announced his retirement on Tuesday morning.
"This is difficult for me to write, but here it goes: I am not going to make that competitive commitment anymore. I have loved my NFL career, and now it is time to focus my time and energy on other things that require my attention," Brady said in the post.
As Manning noted, the two quarterbacks competed against each other many times on the field. Throughout their NFL careers, they met 17 times, with Brady leading the rivalry 11-6.
The two also competed off the field, too, as they participated in a golf match with Tiger Woods and Phil Mickelson in 2020.
Brady also attended Manning's Hall of Fame induction ceremony in 2021.
"I just need to make sure he's really done. Can't risk this guy coming back..." Brady tweeted ahead of the ceremony.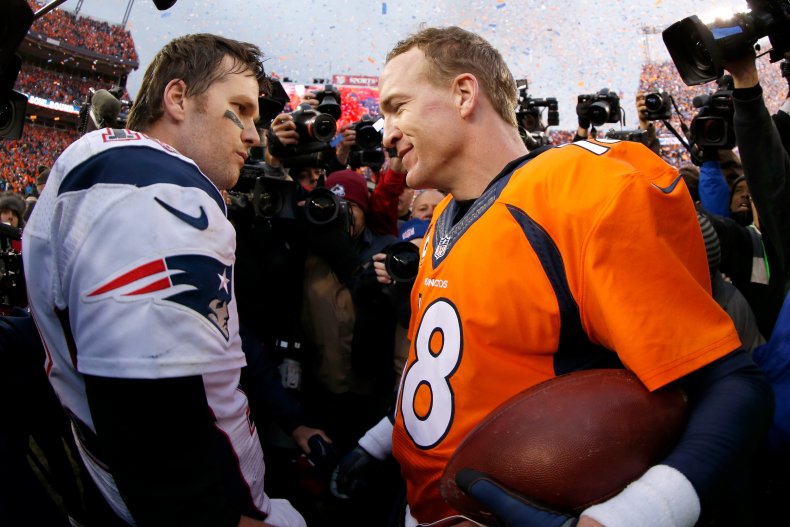 Brady's retirement comes after 22 NFL seasons. He garnered dozens of accolades and is widely considered the greatest quarterback of all time. Brady won seven Super Bowl titles, six of which came with the New England Patriots, and five Super Bowl MVP trophies. He was also named NFL MVP three times and holds several NFL records, such as the most career wins, the most career passing touchdowns and the most career passing yards.
In addition to Manning, dozens of others praised Brady following his retirement announcement.
NFL Commissioner Roger Goodell said in a statement that Brady "will be remembered as one of the greatest to ever play in the NFL."
"Tom made everyone around him better and always seemed to rise to the occasion in the biggest moments. His record five Super Bowl MVP awards and seven Super Bowl championships set a standard that players will chase for years," the statement said.
"He inspired fans in New England, Tampa and around the world with one of the greatest careers in NFL history. It has been a privilege to watch him compete and have him in the NFL. We thank him for his many contributions to our game and wish Tom and his family all the best in the future."
ESPN reporter Field Yates posted to Twitter: "When Tom Brady won his first Super Bowl in his second NFL season, he was the youngest starting QB to ever win a Super Bowl. When Tom Brady won his last Super Bowl in his second-to-last season, he was the oldest starting QB to ever win a Super Bowl. Greatness start-to-finish."
The Buccaneers posted a tribute video on Twitter, with a caption that said, "Forever a part of Buccaneers history. Thank you for everything, @TomBrady."
Update 2/1/22, 11:41 a.m. ET: This article was updated with additional reaction and background information.
About the writer
Matthew Impelli is a Newsweek staff writer based in New York. His focus is reporting social issues and crime. In January 2023, Matthew traveled to Moscow, Idaho where he reported on the quadruple murders and arrest of Bryan Kohberger. Matthew joined Newsweek in 2019 after graduating from Syracuse University. He also received his master's degree from St. John's University in 2021. You can get in touch with Matthew by emailing m.impelli@newsweek.com. Languages: English.