'God Bless Football': Peyton Manning Officially Announces Retirement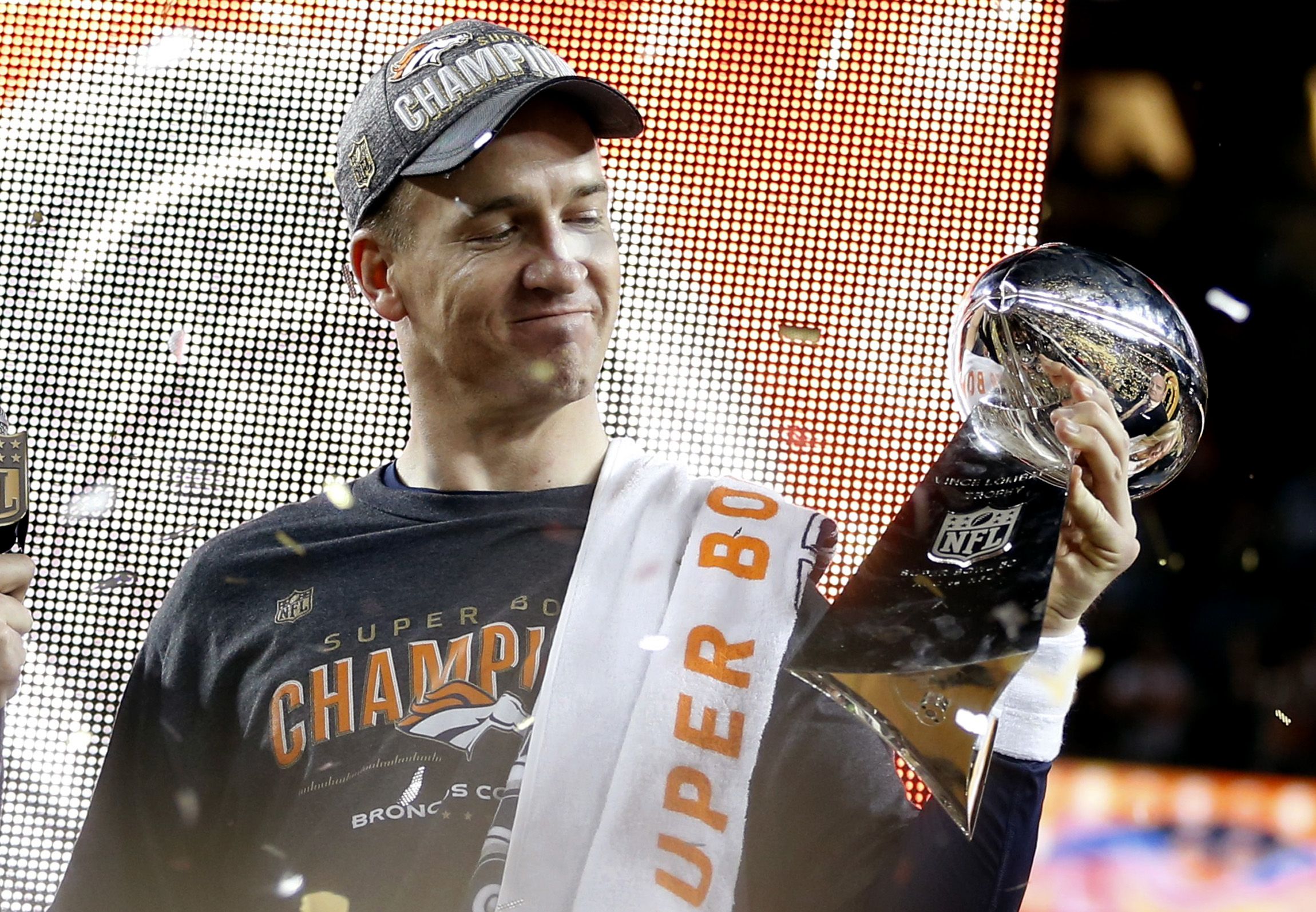 On Sunday, ESPN's Chris Mortensen reported what many of us expected following the Denver Broncos' 24-10 victory over the Carolina Panthers in Super Bowl 50: Peyton Manning is retiring. The five-time league MVP couldn't have asked for a better way to end his career, and considering his health issues and poor production this season, it comes as no surprise that Manning has decided to hang it up. On Monday afternoon, he made his decision official at a press conference held at a Broncos training facility in Englewood, Colorado.
After introductions by Broncos president Joe Ellis, general manager John Elway and head coach Gary Kubiak, a teary-eyed Manning took the stage. "There's something about 18 years," Manning said after gathering himself. "Eighteen is a good number, and today I retire from pro football."
Number 18 went on to recount his first game in the NFL and his early years with the Colts, getting choked up when recounting a meeting with Hall of Famer Johnny Unitas. He thanked the city of New Orleans, where he was born, Knoxville, Tennessee, where he went to college, Indianapolis, where he became a pro, and Denver, where he finished his career. He became especially emotional while thanking his family and his fans. "Fans are at the core of what makes this game remarkable," he said.
Toward the end of his speech, Manning reflected on his journey through the game and the game's impact on his life. "[Football] has taught me not to be led by obstructions and setbacks, but to be led by dreams." He acknowledged that his "life is not shrinking," but "morphing into a whole new world."
Manning retires after enjoying one of the most decorated careers in the history of professional sports. His 5 MVP awards are the most in NFL history, and he holds the career record for passing touchdowns, passing yards, wins and game-winning drives. After playing collegiality at the University of Tennessee, Manning's 18-year NFL career began after the Indianapolis Colts made him the first overall pick in the 1998 draft. He played the first 13 seasons of his career with the Colts, winning the Super Bowl in 2006. After missing the entire 2011 season with a neck injury, he signed with the Broncos, where he played four seasons, winning the Super Bowl in his last. In Manning's 17 seasons as a starting quarterback, his teams won less than 10 games only twice while winning 12 game or more 12 times.
Manning will also retire as the highest-earning player in NFL history, bringing in over $248 million for his duties on the field. But this number doesn't include the money Manning earned from his many endorsements, including Papa John's, Nationwide, Gatorade and several other corporations. So brand-minded is Manning, that after winning the Super Bowl last month he assured the nation that he would be enjoying some "Budweiser" later that night. Budweiser claims they did not pay Manning for the plug.
The pristine, All-American image that allowed Manning to land so many endorsement deals has been called into question in recent months, though. In December, an Al Jazeera America report connected Manning to human growth hormone, a substance banned by the NFL that he allegedly used in 2011 to help recover from neck surgery. Manning has vehemently denied involvement. On Monday, Pro Football Talk reported that the NFL's investigation into Manning's potential HGH use will continue despite the future Hall of Famer's retirement.
Regardless of what may come of the NFL's investigation, Monday was a day to celebrate Manning's time on the field and all that he gave the game. What was most striking about his farewell speech was just how much he loved football. He mentioned how though most characterized his career by his "mastery" of the game, he clarified that all of the tireless work he put into preparing himself for success was not about mastery, it was about "reverence for the game."
"I fought the good fight, I finished my football race, and after 18 years, it's time," he concluded. "God bless all of you, and God bless football."