Peyton Manning Says Brother Eli 'Was My Favorite Player After Dad and Dan Marino'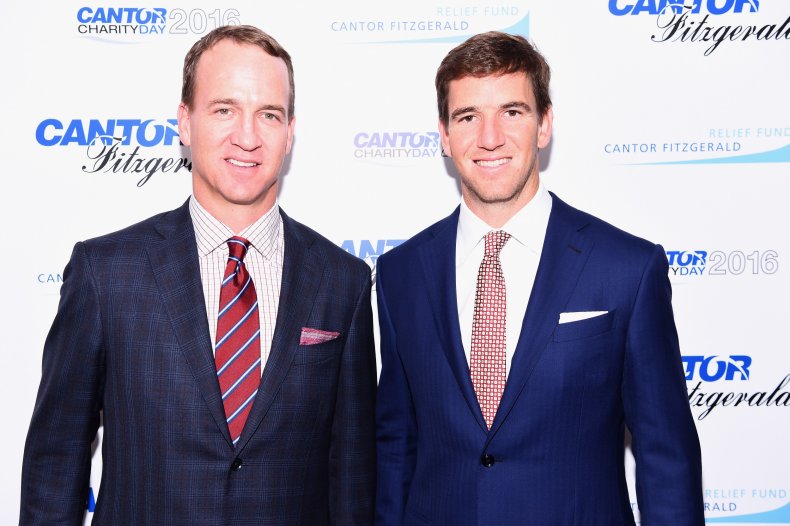 Ahead of Eli Manning's retirement announcement on Friday, his brother, former Denver Broncos quarterback Peyton Manning named Eli as one of his top three favorite players.
"I'm happy for Eli, because I know he's at peace and he put a lot of time and thought into this decision," Manning said in an interview with DenverBroncos.com. "But I am sad, because I won't get to see him play anymore. And after my dad and Dan Marino, Eli really was my favorite player. So I have to find a new one."
While Peyton may place Eli behind his father, Archie Manning and Dan Marino, he is in good company, considering the careers for Archie and Marino.
After being drafted second overall in the 1971 NFL draft, Archie Manning went on to play for 13 seasons, spending most of his time with the New Orleans Saints. He was selected for the Pro-Bowl on two separate occasions as well as being awarded the Saints Ring of Honor and placed in their team Hall of Fame.
Peyton's second favorite player, Marino, had a much more illustrious career. After being drafted in 1983, Marino went on to spend his entire 17-year career with the Miami Dolphins, where he compiled a number of accolades including, nine Pro Bowl selections, an NFL MVP Award and an NFL Offensive Player of the Year Award. He also led the NFL in passing yards in five different seasons and led the NFL in passing touchdowns in three separate seasons, which helped place his name in the Pro Football Hall of Fame in 2005. Marinos No. 13 has also been retired by the Dolphins.
Peyton will enter his first year of Hall of Fame eligibility in 2021 and is expected to be inducted after finishing his 18-year career with two Super Bowl rings, 14 Pro Bowl selections and five NFL MVP awards, but he thinks that his brother is likely to join him.
"I certainly have my strong feelings and opinions on it," Manning said regarding his brother's Hall of Fame candidacy. "that when you're the Super Bowl MVP twice against the greatest dynasty of all time – the New England Patriots [with] Tom Brady and Bill Belichick – and you join a list that includes Terry Bradshaw, Bart Starr, Tom Brady, Joe Montana, Eli Manning as the only [two-time] Super Bowl MVPs that kind of – I don't know what the term 'Drop the mic' is but I guess if there was one, if I had a mic...there really is no 'Yeah, but' after that. That kind of ends it."
This is also not the first time Peyton has named Eli as one of his favorite players to watch. During an interview with the Broncos in 2019, Peyton was asked about his favorite players to watch during the different stages of his career, naming his father as his favorite player to watch during elementary school, Marino as his favorite to watch while he was in college, and Eli as his favorite to watch while playing in the NFL.
While Peyton named his brother as his third favorite player to watch, he also stated that their brotherly love made it hard for them to enjoy playing against each other, which happened three times in their careers.
"It's funny, those games – he and I really did not enjoy those games, because look, nobody pulled harder for Eli than me. Nobody pulled harder for me than Eli. There's just this always kind of having each other's backs," Peyton said.
Despite the fact that the two may have not enjoyed playing against each other, they are both known for their comedic antics off the field, appearing in an ESPN commercial where they can be seen constantly messing with each other.
Eli will hold a press conference on Friday to announce his retirement from the New York Giants and the NFL.